25 years of operation: GP on a roll, Robi yet to find strong footing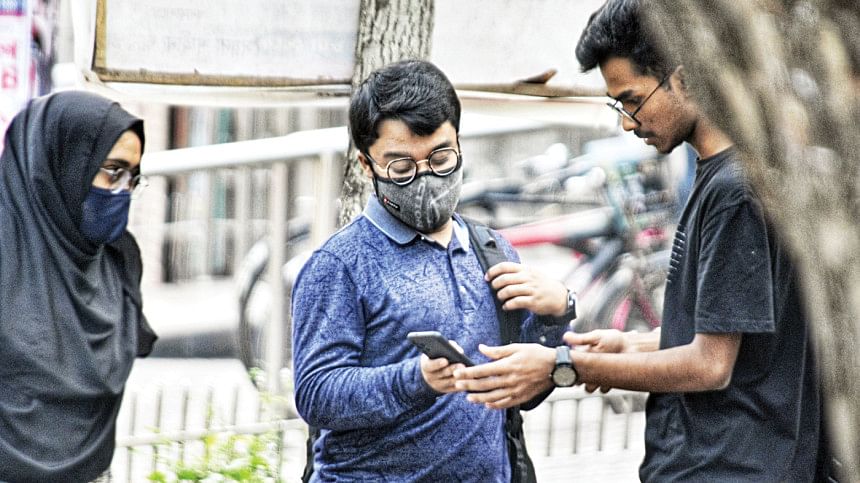 The entry of mobile network operators Grameenphone and Robi Axiata, which was then Aktel, in 1997 was a watershed moment for Bangladesh as the country embraced Global System for Mobile Communications (GSM) technology, the second-generation digital cellular network used in mobile phones worldwide. 
Since then, both operators have attracted huge foreign direct investments, introduced technologies and brought in innovation, directly contributing to the country's development.
"They not only ensured connectivity in rural areas and among the underprivileged communities but also played a big role in facilitating digital services," said TIM Nurul Kabir, a telecom and technology expert.
"In the last 25 years, the GSM technology has brought about huge social and economic changes, including boosting financial inclusion through mobile financial services."
But whereas Grameenphone has been on a roll, the latter is struggling to post a decent profit despite operating in the same market.
"From the beginning, Grameenphone has been aggressive in market penetration and network expansion. It had more spectrum than Robi," said Kabir. 
"GP also adopted innovative techniques and provided GP-to-GP offers, giving it a fast-mover advantage. And eventually, it became the market leader."
GP VERSUS ROBI
Grameenphone began its journey in March 1997 to empower the rural population with the connectivity of the network.
Now it is the largest MNO in terms of subscribers, revenue and profit and holds more than 45 per cent of the market share.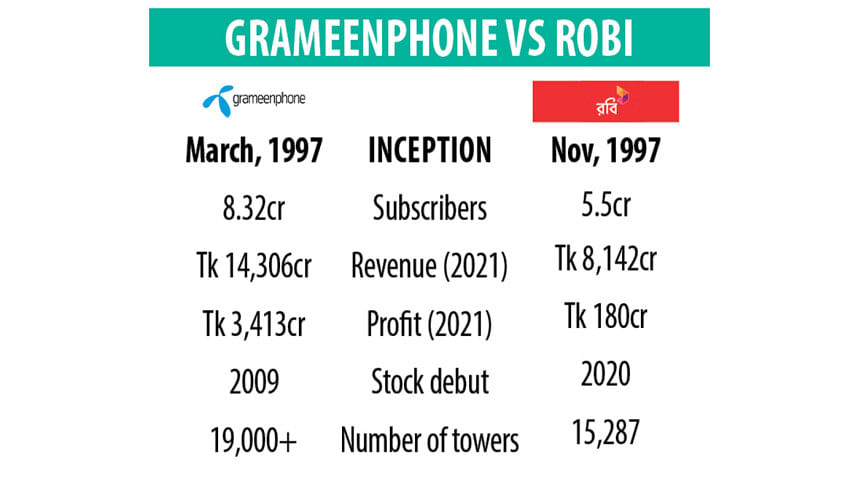 Chattogram-based AK Khan & Company and Malaysian-government-owned TM (Telekom Malaysia) International formed a joint venture to launch Aktel in November 1997. This month, Robi celebrates its 25th anniversary.
In the past 25 years, it has witnessed changes in ownership, departure of a global investor, merger, appointment and acrimonious departure of the first Bangladeshi CEO.
Today, Robi is the second-largest operator serving about 5.5 crore customers. Despite acquiring a large customer base and earning big revenues, the company has failed to generate a decent profit.
GP turned over Tk 14,306 crore in 2021 compared to Robi's Tk 8,142 crore. The largest operator raked in a profit of Tk 3,413 crore last year versus the second largest operator's Tk 180 crore. 
Such a big gap in the financial numbers has raised eyebrows about the business strategies of Robi.
But Mohammed Shahedul Alam, Robi's chief corporate and regulatory officer, described the company's profit situation good and hoped that it would reap the benefit of the current investment in the future.
"We are a profitable company and the way we are progressing we are hopeful about doing much better."
The smartphone penetration among Robi's users is more than 65 per cent while it is 45 per cent among GP subscribers, giving the former a competitive edge as voice revenue is expected to shrink in the coming years.
ROBI WENT THROUGH MORE DIFFICULT PERIODS
AK Khan Group, which held about 30 per cent of the share at the inception of the company, exited the business by selling its stake to Japanese mobile phone operator NTT DoCoMo at over $300 million in 2008.
Since the beginning, the Japanese telecom investors were unhappy with the telecom policies and regulatory regime of Bangladesh and as a result, they even did not consider any further investment in the country save some requisite technological support.
In 2013, it decided to squeeze its stake to 8 per cent from 30 per cent. When Robi and Airtel merged in November 2016, DoCoMo's share was diluted and came down to 6.33 per cent.
It handed over its remaining 6.33 per cent share to Indian multinational company Bharti Airtel in 2020.
Now Axiata Group of Malaysia holds the controlling stake in Robi at 61.82 per cent. Bharti Airtel of India holds 28.18 per cent, and the general public the remaining 10 per cent.
Many of its milestones were spearheaded by its former CEO Mahtab Uddin Ahmed, the first Bangladeshi to helm the pole position of the operator.
He resigned on August 2, 2021, and Robi dismissed Ahmed on May 22 this year.
Ahmed filed a lawsuit against the telecom operator, its board chairman and former group CEO seeking Tk 227 crore in retirement benefits and compensation for 'wrongful dismissal.
MILESTONES AND MARKET LISTING
Robi was the first company to launch the 4.5G service in all 64 districts of Bangladesh in 2018. It successfully conducted the first-ever trial of 5G technology in the country in the same year.
In December 2020, Robi was listed with both Dhaka and Chattogram stock exchanges.
In less than one month, its share jumped to Tk 70 from a face value of Tk 10. But poor dividend announcements have kept customers dissatisfied, causing its stocks to plummet.
Robi shares traded at Tk 30 on the DSE yesterday.
GP was the first operator to have launched 3G service and 4G service in Bangladesh and pioneered classified marketplace in the country.
Listed in 2009, GP's shares rose as high as Tk 387 in September last year. It traded at Tk 282 on the DSE yesterday.
GP is a joint venture between Norwegian Telenor, which holds a 55.8 per cent stake, and non-profit Grameen Telecom, which has a 34.2 per cent stake. The rest is traded on the exchanges and held by retail and institutional investors. 
NEW CHALLENGES AND OPPORTUNITIES
Customers are still not satisfied with the quality of service provided by GP and Robi as they frequently face call drops, voice breaking up during calls, poor network and agonizingly low internet speed.
Robi has got the biggest opportunity to expand its market share as the regulator banned GP from selling SIM cards for what it called the "failure to provide quality services".
On June 29, the Bangladesh Telecommunication Regulatory Commission ordered GP to stop selling new SIM cards.
Amid this new opportunity, Axiata Group, which operates telecom business in 11 countries in Asean and South Asia, named Rajeev Sethi as CEO of Robi in September.
He is a former chief executive of Grameenphone and headed an operator in Myanmar in his last stint, and Sethi will face challenges to satisfy customers.
He seems to have pinpointed the challenges.
He said his approach will be that of an operator who listens to customers and acts on them, without making outlandish promises that can't be kept.
"We will give high priority to ensuring the quality of service that helps customers to enjoy a smooth digital lifestyle."
According to Sethi, 50.9 per cent of Robi's total subscribers are now 4G users, and 67.3 per cent of data users are 4G users.
In the last several years, Robi's capital expenditure has been the highest among operators and that means it is investing heavily in the market.
"So, we have really a great future," said Sethi.
Nurul Kabir also sees a great future in Robi.
"Since its rebranding in 2010, Robi has increased its spectrum, and expanded its digital business, making it a strong player in the telecom industry," he added.
GP CEO Yasir Azman said Grameenphone has been an integral part of the development journey in Bangladesh over the last 25 years for people from all walks of life.
"Twenty-five years ago, Grameenphone believed in Bangladesh and invested across the country to ensure access and contributed to minimising the digital divide at large."
From Prime Minister Sheikh Hasina making the first call to Laily Begum to today's 5G trial to drive growth and efficiency in the Fourth Industrial Revolution era, the journey talks about GP's determination to bring inclusivity and innovation, Azman said.
"As a digital connectivity partner, we look forward to continuing our journey to bring innovation and remove inequalities from our society through high-speed connectivity, ICT solutions for education, health, agriculture and digital lifestyle towards becoming a smart and connected Bangladesh."