Govt to target 7.5pc GDP growth next year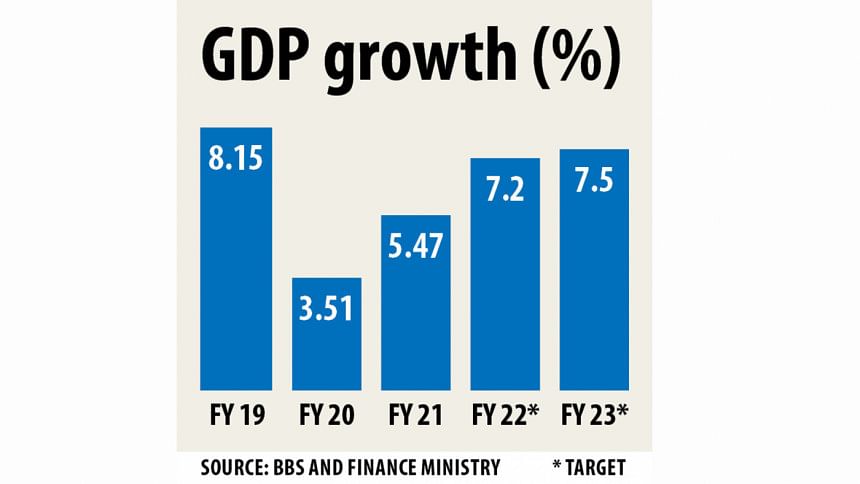 The government plans to raise its economic growth target to 7.5 per cent for the next fiscal year, banking on the recovery of business activities and rising export earnings.
The government aims to ensure a 7.2 per cent expansion of the gross domestic product (GDP) in the current fiscal year, ending in June 2022.
The target is higher than forecasts by various international agencies, such as the International Monetary Fund (IMF), which projects that the country's economy will grow 6.6 per cent in FY2021-22.
The 7.5 per cent growth projection for FY2022-23 was shared at a virtual fiscal coordination council meeting held yesterday with Finance Minister AHM Mustafa Kamal in chair, according to a source in the finance ministry.
The high-ups of different ministries and government agencies attended the meeting.
Kamal is upbeat about the potential higher GDP growth in the next fiscal year on the back of Bangladesh's speedy economic recovery from the Covid-19 fallout, increasing trend of export earnings, and higher revenue generation, the source said.
Bangladesh's exports surged in November as it raked in $4.04 billion, reflecting the strong demand for apparels from the country following the reopening of western economies.
November was the third time export earnings from merchandise shipments crossed the $4-billion mark in a single month in the country's history.
Exporters brought home a record $4.72 billion in October and $4.16 billion in September. November's receipts were 31.25 per cent higher year-on-year.
This week, the IMF projected that Bangladesh would have GDP growth of 6.6 per cent by the end of the current fiscal year. The IMF also said the country's GDP growth for fiscal 2022-23 will be 7.1 per cent.
Citing the IMF's higher growth projection for the next fiscal year, Kamal said the organisation has recognised Bangladesh's speedy economic recovery from the Covid-19 fallout.
Bangladesh has maintained record GDP growth of more than 7 per cent for more than a decade now and the rate was significantly high at 8.2 per cent just before the onset of the pandemic in 2020.
At the meeting, the inflation rate for the next fiscal year was projected at 5.5 per cent. However, the inflation jumped to a 12-month high in October as elevated levels of commodity costs in the international market translated to higher consumer prices in Bangladesh.
As a result, the Consumer Price Index rose 11 basis points to 5.7 per cent from September's 5.59 per cent, and was up for the third consecutive month, according to the Bangladesh Bureau of Statistics.
Kamal also discussed the size and allocation of budgetary allocations in different ministries and agencies for the next fiscal year, the source said.