Govt may not remove interest rate caps
Hints finance minister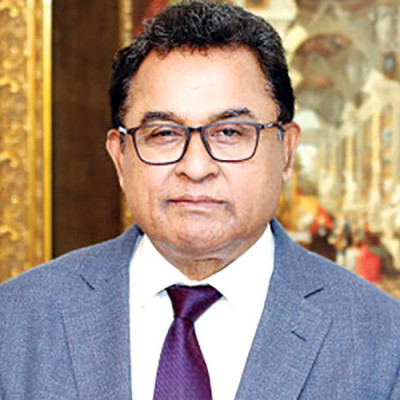 Finance Minister AHM Mustafa Kamal yesterday indicated that the government would be unwilling to remove the interest rate cap on loans and deposits, which is expected to be a condition tagged by the International Monetary Fund with its support package.
"The IMF, the World Bank can say what they want but I think they will be in agreement with me and praise us -- this was our best decision," he told media after a meeting of the cabinet committee on purchase.
Earlier in 2020, the Bangladesh Bank capped the interest rate on loans at 9 percent and on deposits at 6 percent, rendering the market mechanism for money supply ineffective.
"Because of the interest rate cap, the economy is in a good state. If the cap was not there, the interest rate for loans would have been 20-22 percent then and all the industries and businesses -- be it small, medium or large -- would have disappeared during the pandemic and there would have been rampant unemployment then."
Furthermore, the banking sector, particularly the private banks, has stabilised now for the interest rate cap.
"The private sector banks, which were in the red before, are now in the green. Everything is fine," Kamal added.
However, the IMF staff mission, which recently wrapped up its nine-day tour of Bangladesh, called for withdrawing the interest rate ceilings, which would help control inflation and also ease the pressure on foreign exchange reserves.
This is tipped to be one of the conditions for the financial assistance that Bangladesh has sought as a balance of payment and budget support as well as to mitigate the effects of climate change on Bangladesh.
Kamal said the request for opening talks for the loan comes as a precautionary move and not as a bailout to stave off an economic collapse.
Recently, Sri Lanka, which has become the first country to default on its foreign repayments in 23 years, and Pakistan, whose public finances and foreign reserves are in a parlous state, have turned to the Washington-based multilateral lender for help.
Bangladesh's formal request to the IMF for negotiations has led many to draw a parallel.
"If we were going bankrupt, why would IMF, WB, JICA want to give us money? People are lobbying us to take loans as Bangladesh is a good marketplace for them to lend to. They have full faith in us."
Kamal though acknowledged that reinforcements are needed to shore up its foreign currency reserves in the face of bulging import bills, elevated commodity prices in the world market and a probable global recession.
"We don't print dollars -- we have to earn it. And we do so through our migrant workers and exporters. We are indebted to them. They are keeping us going."
As of July 20, foreign currency reserves stood at $39.7 billion, according to data from the central bank. This is sufficient to cover about five months' import bill.
"We do need the loan. But we will shop around for the best terms and lowest interest rate -- we are not in a desperate position. We will see IMF's terms. If we get favourable terms, we will take it. We have not decided for certain."
When prodded on why the government made an about-face on its stance of not seeking the loan from IMF for now, he said: "The cost burden would have become higher if I announced it beforehand. This is a bargaining point. We don't want to exude desperation. What else could have been a better approach?"
Kamal also fired off a warning shot to those said to be exploiting the current strained stock of dollars.
"We will take action against them. The dollar market must be allowed to hit an equilibrium -- no one should create an artificial crisis. We have the mechanisms in place to find out who is engaging in foul play and we can stop them."
He also said mis-invoicing will be targeted.
"People are opening LCs [letters of credit] by showing higher dollar prices -- we will take action against them."