Govt goes all out to sign FTAs
Taking measures for post-LDC trade benefit, says official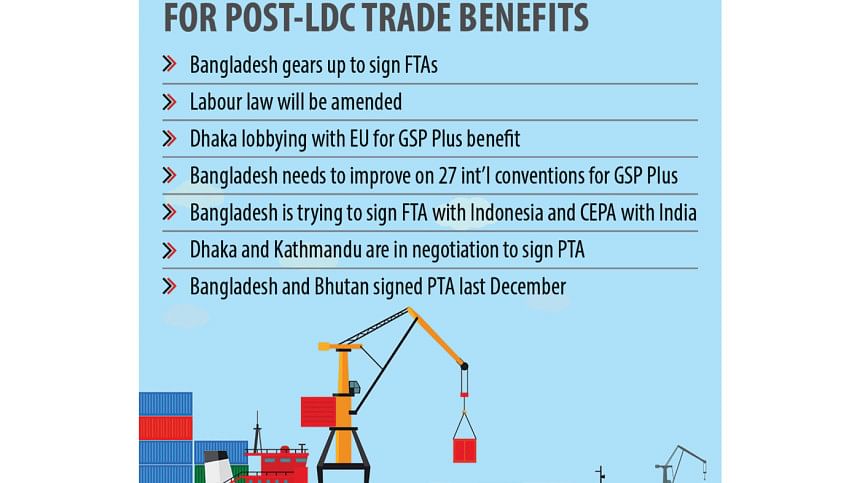 Bangladesh is gearing up to sign free trade agreements (FTAs) and amend labour laws to continue to avail duty benefits on merchandise export once it comes out of the least developed country (LDC) status, said Commerce Secretary Tapan Kanti Ghosh yesterday.
FTAs and preferential trade agreements (PTAs) with major trading partners are considered to be the major tool for future market access once the country graduates from a least developed to a developing nation in 2026.
Moreover, negotiations with the European Union (EU) are underway for becoming eligible for the Generalised System of Preferences (GSP) Plus after the expiry of the European GSP in 2029, said Ghosh.
He was talking to The Daily Star over the phone after a second meeting of the Sub-committee on Preferential Market Access and Trade Agreement at his Bangladesh Secretariat office.
However, to become eligible for the GSP Plus, Bangladesh needs to amend its existing labour law and those involving economic processing zones (EPZs).
This is to comply with 27 international conventions, including four core ones centring labour rights, good governance, protection of environment and human rights.
"We discussed the issue of labour law amendment at the meeting as the labour ministry is trying to do it in accordance with international standards for market access after the graduation," Ghosh said without elaborating further.
Availing the GSP Plus is important because the EU is the largest trade bloc for the country. Some 58 per cent of merchandise and 64 per cent of garment items in particular are destined for the EU from here every year.
If the country loses its competitiveness in exports to the EU, local industries and employment might fall into trouble as Bangladeshi goods would have to face a 12 per cent duty.
However, if Bangladesh can avail the GSP Plus, local exporters will continue to enjoy zero-duty benefit to the EU.
The commerce ministry has been lobbying with other LDCs through World Trade Organization (WTO) to avail the duty benefit for 12 more years as most economies have fallen victim to the pandemic's fallouts, Ghosh also said.
Ongoing negotiations for signing the FTAs and PTAs with different countries will go on while the country continues to enjoy current preferential trade benefits, he said.
For instance, Bangladesh has been negotiating with Nepal over the last couple of years to strike a PTA over some select goods of both countries, said the commerce secretary.
Despite the efforts over the years, Bangladesh has been able to sign only one PTA with Bhutan in December last year.
Experts and senior government officials said signing of the PTA with Bhutan was just a learning curve for Bangladesh as the bilateral trade was still below $60 million.
Both Bangladesh and India have been negotiating for signing a comprehensive economic partnership agreement (CEPA) for more bilateral trade, investment and employment.
However, both countries so far only conducted a few studies on the signing of a potential CEPA.
A CEPA is similar to an FTA, but comprehensive including investment and employment.
Signing of an FTA with Indonesia is also underway, said Ghosh.
This is important as it will pave the way for market access to nine other countries of the Association of Southeast Asian Nations.
"Our main target is to ensuring the market access of local goods through the FTA or PTA or CEPA, whatever we can do," Ghosh said.
However, several meetings would be held with stakeholders of different sectors and government offices before a final decision was taken over signing any FTA, PTA or CEPA, the secretary also said.
Experts opined for continuing to enjoy the current duty free benefits to different countries and regions as long as Bangladesh remained an LDC and signing bilateral agreements after their tenures ended.