Garment leaders demand fair prices from buyers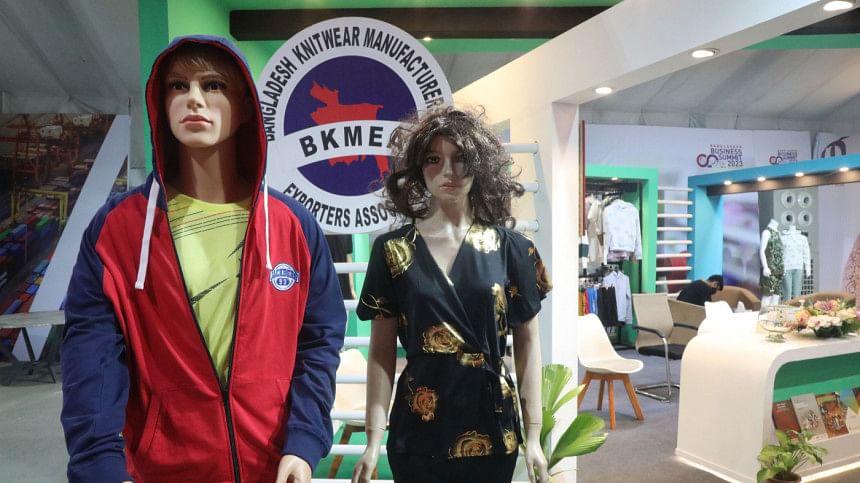 Business leaders in the apparel and textile sectors yesterday demanded fair and ethical prices for their products sourced by international buyers and brands as Bangladesh has improved a lot in terms of quality, product diversity and compliance compared to competing countries.
They made this demand at a discussion, styled "Towards a $100 Billion Apparel and Textile Sector: Leveraging Sustainability, Competitiveness and Investment Opportunities", at the Bangladesh Business Summit 2023.
The ongoing three-day event is being held by the Federation of Bangladesh Chambers of Commerce and Industry (FBCCI) in partnership with the government at the Bangabandhu International Conference Centre in Agargaon, Dhaka.
They alleged that international buyers and brands consistently pay lower than the global average to garment suppliers in Bangladesh.
"Buyers hardly talk about the topic of fair product prices," said Mohammad Hatem, executive president of the Bangladesh Knitwear Manufacturers and Exporters Association.
Sustainability and ensuring continuous improvement of the garment industry in Bangladesh requires a concerted effort from all stakeholders, including buyers, suppliers and the government.
By addressing its challenges, the industry can become more competitive, profitable and sustainable.
And considering the growing awareness of climate change and workers' rights regarding the garment industry, Bangladesh is the safest apparel sourcing country globally, Hatem said.
Faruque Hassan, president of the Bangladesh Garment Manufacturers and Exporters Association, said the garment sector intends to be a pioneer in environmentally friendly manufacturing and is gearing up for the next growth phase.
He went on to say that Bangladesh has the potential to produce $1.2 billion worth of recycled textile and garment items as the country has a big production base of cotton fibre-made clothing items.
"Climate change, inflation and global political instability have brought about many challenges that manufacturers have to face through proper planning," Hassan said.
Apparel exporters plan on reducing greenhouse gas emissions and energy consumption by 30 per cent each by 2030 while at least 20 per cent of the energy used will come from renewable sources, he added.
Textile and Jute Minister Golam Dastagir Gazi said the demand for yarn and fabric is continuously growing due to buoyancies in Bangladesh's garment exports.
"Our textile sector has achieved international standards in regards to working environment, fire safety, building safety and others. But due to the Covid-19 pandemic, like many countries we are now facing some challenging tasks ahead," he added.