Foreign funds in stocks flying off amid forex worries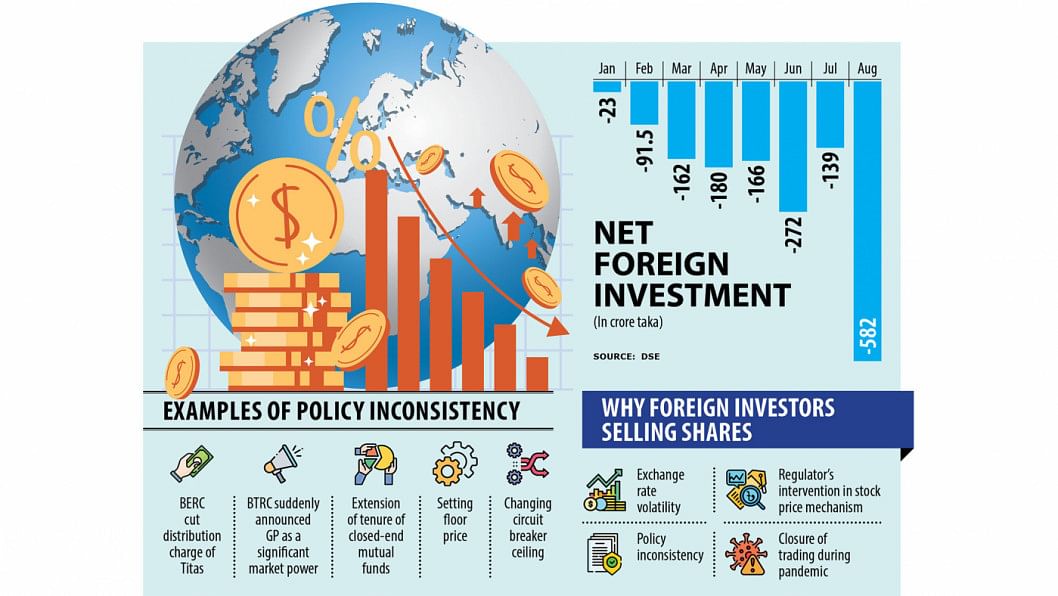 Foreign investors in Bangladesh's stock market are selling shares en masse as the local currency's depreciation against the US dollar coupled with various policy changes over the past few years has lowered their confidence in securing adequate returns. 
Sell-offs by foreign investors reached a one-and-a-half year high in August after the Bangladesh Securities and Exchange Commission (BSEC) set a floor price on July 28 to end the freefall of major market indices amid global economic tension.
Foreign investors bought shares worth Tk 86 crore in August while their sales amounted to Tk 668 crore, according to data from Dhaka Stock Exchange (DSE).
As such, net foreign investment stood at Tk 582 crore in the negative that month.
The last time sell-offs by foreign investors had reached such a level was back in February 2021, when it totalled Tk 734 crore.
The DSE has not officially disclosed such data since 2019 due to a verbal order from the BSEC but The Daily Star was able to collect this information independently from a confidential source.
Following the massive sell-off last month, companies with good performance records, where most foreign investors park their funds, saw massive erosions in their share value.
"When apprehensions over the local currency's depreciation rise, foreign investors sell shares…their profits could get eaten away by the devaluation," explained Shah Md Ahsan Habib, a professor of the Bangladesh Institute of Bank Management.
"So, foreign investors started offloading their shares when the exchange rate was at Tk 82 to Tk 85 per US dollar amidst fears that the taka will fall further," he added.
Habib went on to say that ensuring the exchange rate was market-driven and introducing more stocks with good performance records would help attract foreign investors.
Mohammed Rahmat Pasha, managing director of UCB Capital, said foreign investors want a clear picture of where the currency was going.
If the value goes up by 10 per cent, they can make a profit of that same percentage by simply encashing their shares, he said.
"So, they are selling shares and waiting until it (the exchange rate) becomes stable," he told The Daily Star.
In addition, foreign investors are taking a wait-and-see approach amidst concerns about the country's macroeconomic situation, he said.
"Hopefully though, they will invest again next year," Pasha added.
Responding to a query, he said foreign investors do not like the idea of floor prices, particularly for blue-chip stocks, as it makes their risk management difficult.
Foreign investors bought shares worth Tk 57 crore while selling shares worth around Tk 197 crore in July, when net foreign investment was around Tk 139 crore in the negative, shows the DSE data.
A top official of another brokerage house that deals with foreign trade echoed Pasha, saying that foreign investors do not want to take risks amid foreign exchange instability because it poses the risk of erosion of their funds even if the value of the shares rise.
For instance, if foreign investors had made a profit of Tk 80 on their shares in 2019, they would have got $1. Now, investors will have to make profit of Tk 95 to earn the same dollar as the local currency has depreciated.
This trend involving the sale of shares by foreign investors is not new though, according to a merchant banker preferring anonymity.
This washing of hands of local stocks after sudden policy changes that affect investments took place several times over the past few years, he said.
Even roadshows abroad organised by the BSEC were ineffective in boosting the confidence of foreign investors in the last two years, he said.
More importantly, the activation of the floor price along with depreciation of the local currency prompted them to sell off shares, the merchant banker added.
Meanwhile, the telecom regulator's move to declare Grameenphone as a Significant Market Power (SMP) operator in February 2019 played a big role in dampening the confidence of foreign investors, who own around 40 per cent of the company's shares offloaded in the capital market.
Bangladesh Telecommunication Regulatory Commission (BTRC) had declared Grameenphone, the largest listed company in Bangladesh, an SMP operator in a bid to enhance market competition.
To this effect, the telecom regulator has already taken some decisions that will squeeze the business of the country's leading mobile network provider.
Following the BTRC's decision, foreign investment in domestic stocks started declining since March.
Brokers say foreign investors not only sold their stakes in Grameenphone but also other companies as they lacked confidence in the market.
This was not the first time that the regulators' sudden moves against listed companies have hurt stocks.
In 2015, Bangladesh Energy Regulatory Commission cut the distribution charge for the Titas Gas Transmission and Distribution Company. As a result, the utility company lost more than Tk 3,000 crore in market value over a five-month period.
Besides, the market's closure for around two months and imposition of floor prices at the beginning of the coronavirus pandemic spooked foreign investors and they subsequently began to embark on massive sell-offs.
Trading was closed from March 25 to May 31 last year after the government enforced a countrywide lockdown to curb the spread of Covid-19.
On March 19, 2020, the regulator imposed the floor price to protect stocks from freefalls, much to the dismay of investors overseas.