Flower growers eye higher sales ahead of festivals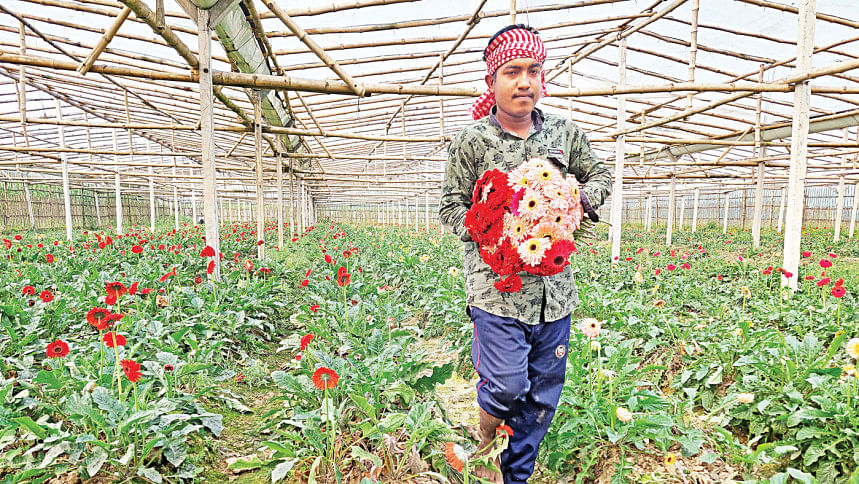 Flower growers look to turn around from the pandemic-induced losses by making higher sales as demand is rising ahead of Valentine's Day, Pahela Falgun, the first day of the spring season, and International Mother Language Day.
For example, farmers in Jhenaidah say they will sell flowers worth Tk 3.5 crore this month.
Some 199 hectares of land have been brought under cultivation in four upazilas of the district this year, up from 170 hectares a year ago, according to the Department of Agricultural Extension (DAE).
Various types of flowers such as tuberose, gerbera, chrysanthemum, marigold and rose are being cultivated in Jhenaidah, the second-largest flower producing region in Bangladesh after Gadkhali in Jashore.
SM Tipu Sultan, vice-president of the Dhaka Flower Cultivation Cooperatives Association, says growers suffered huge losses as demand plummeted in the last two seasons due to the coronavirus pandemic.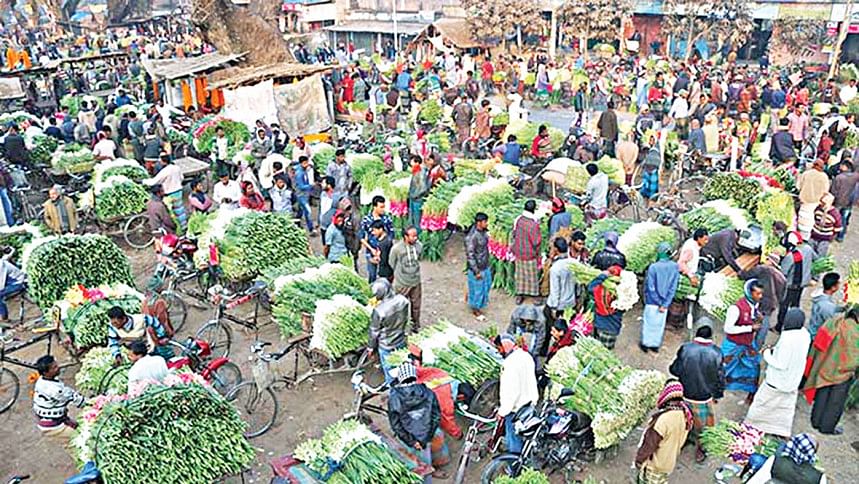 But farmers are optimistic about registering higher sales this month on the back of Valentine's Day and Pahela Falgun, both to be celebrated tomorrow, and International Mother Language Day, to be observed on February 21.
"Flower growers will get good profit as the weather is favourable and the market is open," said Asgar Ali, deputy director of the DAE in Jhenaidah.
Around Tk 3.5 crore worth of flowers will be sold in the district in February, said Ali and Sultan.
Sultan has been cultivating flowers for five years. This year, he has grown flowers such as tuberose, gerbera, chrysanthemum and marigold on nine bighas of land.
A few days back, farmers sold each piece of rose at Tk 10 to Tk 15 but at present, they are getting Tk 20 to Tk 25. As the festivals get closer, the price will go up to Tk 30 to Tk 35.
Each tuberose stick is being sold at Tk 10, gerbera at Tk 15-20 and chrysanthemum at Tk 10.
Sultan expects that he will sell flowers worth Tk 10 lakh this month.
Nur Mohammad, who hails from Noakhali but lives at Trilochonpur village under Kaliganj upazila, has cultivated flowers on 20 bighas of land, of which roses are being grown on 10 bighas.
"The demand for rose has increased to a great extent," he said. He expects to earn Tk 20 lakh ahead of the festivals.
Similarly, Belal Hossain, who also hails from Noakhali but has settled in Jhenaidah in order to cultivate flowers, has cultivated flowers on 15 bighas of land, of which he has grown roses on six bighas.
Flower trader Hafizur Rahman says farmers will get better prices this year than the previous year as the pandemic situation has improved.
"The higher sales will allow farmers to recoup the losses incurred in the last two years."
In Gadkhali, the price of all kinds of flowers has gone up ahead of Pahela Falgun and Valentine's Day, and farmers hope to sell flowers worth Tk 25 crore in the run-up to these festivals.
Anwar Hossain, a grower, says each piece of rose is being sold at Tk 15 to Tk 20, way higher than the Tk 1 to Tk 3 it was priced at a month ago.
Gerberas are being sold at Tk 8 to Tk 12 apiece while marigolds are fetching Tk 500 to Tk 600 per 1,000 pieces, up from Tk 200 to Tk 300 previously.  
In Faridpur, Liakot Hossain, a farmer, says he lost a lot due to Covid-19 in the last two years. He plans to make a comeback ahead of the festivals.
With the help of one of his elder brothers, Hossain started cultivating gerbera by spending Tk 21 lakh. He has planted 7,000 seedlings.
The 31-year-old planted 7,000 saplings of rose of a Chinese variety on 30 decimals of land spending Tk 15 last year. Now, he can harvest 4,000-5,000 roses a week.
He sells a piece of rose at Tk 10 to Tk 20 and a gerbera at Tk 10-15.
During a visit, it was found that the farmer is plucking gerbera. His field also contains thousands of chrysanthemum and other flowers.
Hossain expects to sell flowers worth Tk 5 lakh from February 10 to February 20.
"I hope I can stand on my own feet again," he said.