Electrical, electronic goods export surges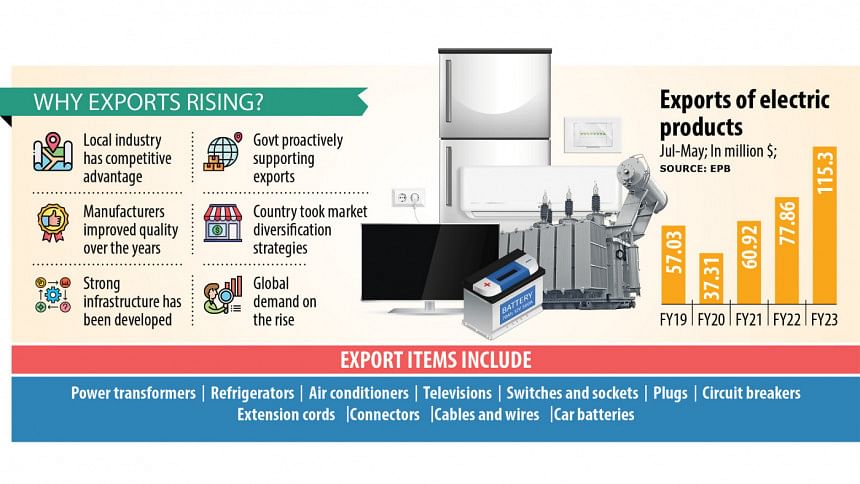 The shipment of electrical and electronics goods from Bangladesh displayed an impressive growth of 48 per cent in July-May of the outgoing financial year on the back of improving product quality and government support, official figures showed.
According to the Export Promotion Bureau, Bangladesh earned $115.30 million by selling electrical and electronics items in the overseas markets in the first 11 months of 2022-23, which was $77.86 million during the identical period a year earlier.
This means the segment has surpassed the $105 million export target set for the entire FY23, which ends on June 30, as well as the actual receipts of $100.10 million recorded in the previous financial year. 
The stellar performance comes at a time when Bangladesh's overall export earnings have slowed owing to the global slowdown and higher inflation. The shipment grew 7.11 per cent year-on-year in July-May.
Bangladesh exports electronic home appliances such as refrigerators, air-conditioners and televisions as well as electrical goods like power transformers, fans, cables, switches, sockets, circuit breakers and batteries.
"The rising export of electrical and electronics products gives a signal that Bangladesh is advancing in technologies," said Rabiul Alam, chief executive officer of Energypac Engineering Ltd.
Energypac Engineering exports a number of electrical products to more than 20 countries, including India, Nepal and Malaysia.
According to Alam, the export of electrical products such as transformers is growing significantly thanks to higher quality and competitive prices.
Energypac Engineering is already exporting transformers to Adani Electricity Mumbai.
Alam said Energypac has obtained certification from Italy about the quality of its transformers. "This has opened up the opportunities to tap export potentials in Europe and other countries."
Didarul Alam Khan, chief marketing officer at Walton Hi-Tech Industries PLC, said the company is producing electrical products of international standards.
"Bangladesh is now capable of producing quality consumer electronics goods at competitive prices because the country has skilled workers."
Walton is exporting consumer electronic goods, including refrigerators, air conditioners and televisions, to more than 40 countries, and is working to expand its footprint in Europe and America.
Munawar Misbah Moin, managing director of Rahimafrooz Renewable Energy Ltd, said the shipment of battery has increased as the sector has recovered from the impacts of Covid-19.
Bangladesh mainly exports batteries to East Asian, African and South Asian countries.
Moin said his company can supply eco-friendly and quality batteries at competitive prices. "So, the demand for our batteries is rising."
Rahimafrooz's batteries are used in cars, so the orders for the products have gone up following the massive improvement in the pandemic scenario.
The government's 15 per cent cash incentive for the battery sector is helping local manufacturers explore business opportunities in the global markets.
The battery segment is not without setbacks.
For example, manufacturers are unable to ensure a timely supply of products as they can't open letters of credit on time due to a lack of US dollars to import raw materials needed to make batteries.