Depositors withdraw Tk 11,426cr from Islamic banks in 3 months
BB data shows as loan scams hurt confidence level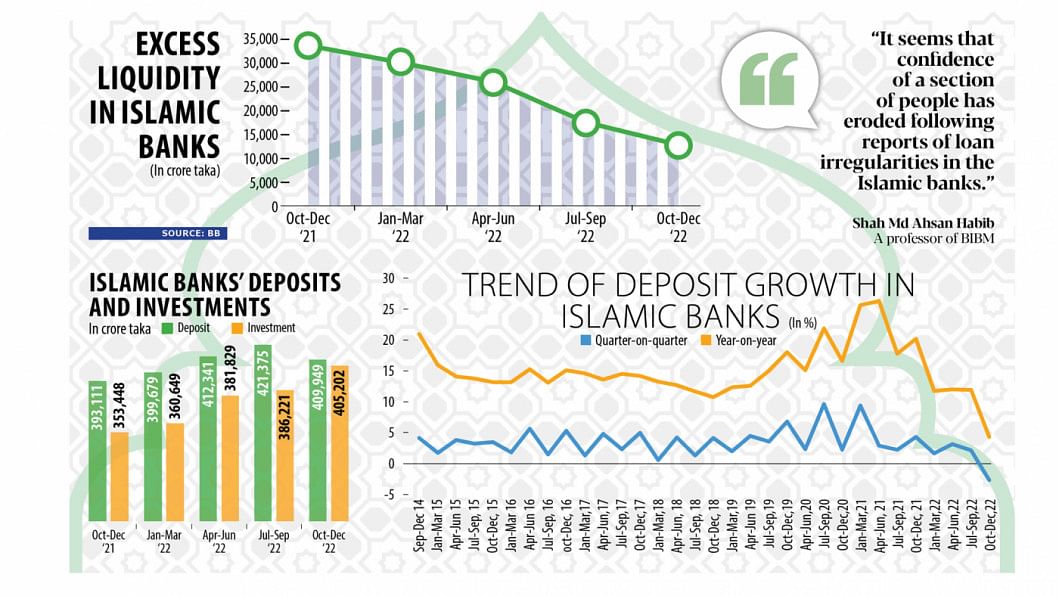 Deposit flow to Islamic banks in Bangladesh registered a fall in the fourth quarter of 2022, the first such decline in eight years, in a sign of erosion of confidence among savers owing to loan irregularities.
Data released yesterday by the Bangladesh Bank showed that total deposits in Islamic banks declined to Tk 409,949 crore at the end of December 2022, down 2.71 per cent from Tk 421,375 crore in September.
This means Islamic banks lost Tk 11,426 crore in deposits in the three months, according to the October-December quarterly report on Islamic banking of the central bank.
Full-fledged Islamic banks, now numbered 10, were the biggest sufferers as they lost Tk 11,842 crore in the fourth quarter from the third quarter. They collectively held deposits of Tk 379,951 crore in December, down 3 per cent from Tk 391,792 crore in September.
Conventional banks with Islamic banking windows recorded a marginal decline in savings in the fourth quarter, while banks with Islamic banking windows registered a 2.94 per cent increase in the flow of savings.
Islamic banks, however, recorded a 4.28 per cent year-on-year deposit growth in the fourth quarter. Yet, the growth was the lowest since 2014, the year when the central bank started to release the quarterly report on Islamic banking.
The data came at a time when a number of Islamic banks, including Islami Bank Bangladesh Ltd (IBBL), the largest private bank in terms of deposits and investments, suffer from liquidity dearth resulting from withdrawals by many depositors after reports on alleged loan scams surfaced.
The liquidity crunch prompted the central bank in December to pump funds at 8.75 per cent into a number of Islamic banks, including IBBL, to enable them to meet emergency financing needs and comply with regulatory requirements.
As of December 29, IBBL took Tk 8,000 crore under BB's special arrangement. Four other Shariah-based banks -- First Security Islami Bank, Social Islami Bank Ltd, Union Bank and Global Islami Bank -- took Tk 6,790 crore.
Analysts say the fall in deposits at the Islamic banks is an indication of the drop of customers' confidence owing to the allegation of loan scams, particularly at IBBL.
The central bank is investigating allegations of gross irregularities at IBBL over the disbursement of loans amounting to Tk 7,246 crore among nine companies last year.
"It is expected. Customers have withdrawn deposits mainly as a precautionary move," said Ahsan H Mansur, executive director of the Policy Research Institute of Bangladesh.
"The confidence crisis is still there."
With the fall in deposits, the overall market share of Islamic banks dropped to 25.81 per cent in the deposit segment in December, down from 28.43 per cent three months ago.
As such, the overall availability of excess liquidity at the Shariah-based banks reduced to Tk 12,871 crore at the end of 2022, from Tk 17,525 crore at the end of the third quarter, a decrease of Tk 4,654 crore.
Shah Md Ahsan Habib, a professor at the Bangladesh Institute of Bank Management, said Shariah-based banks had enjoyed an edge over conventional banks for years in terms of deposit collection. So, a number of banks have opened Islamic banking branches and windows to attract deposits.
Data on deposits showed that Islamic banks have been displaced by conventional banks, he said.
"It seems that the confidence of a section of people has eroded following reports on loan irregularities."
In a report on Wednesday, global ratings agency Moody's Investors Service said Islamic banks in Bangladesh are more vulnerable to the tightening of liquidity than conventional banks because they have smaller liquidity buffers.
One reason that Islamic banks have weaker liquidity cushions is that the central bank has more relaxed liquidity requirements for them to support the growth of the sector.
Another reason is that Islamic banks are prohibited from holding conventional interest-bearing government bonds, and there is a limited amount of liquid shariah-compliant instruments.
"The profitability of Islamic banks is already weaker than that of conventional banks because they are more reliant on term deposits, which results in narrower spreads between financing yields and deposit costs than the system-wide level," said the agency.
Monzur Hossain, research director of the Bangladesh Institute of Development Studies, thinks the recent media reports related to irregularities might have prompted the deposit withdrawal.
"Once the deposit figures of all types of banks become available, it will be clear whether the decline is a general trend or Islamic bank-specific," he said.
A spike in imports, declines in remittance inflows and high inflation have drained liquidity out of the Bangladeshi banking system, said Moody's report.
Despite the decline in deposits, investments by Islamic banks grew 4.9 per cent to Tk 405,202 crore at the end of December from Tk 386,221 crore in September. The growth stood at 14.6 per cent from the Tk 353,448 crore witnessed at the end of December 2021, according to BB data.
Mansur, a former official of the International Monetary Fund, said governance has to be ensured and irregularities that have taken place have to be addressed to regain the confidence of depositors.
"Islamic banks have to do the repair to regain the trust of people," said Prof Habib.