First Commodities Exchange: CSE in talks for smart warehousing, quality control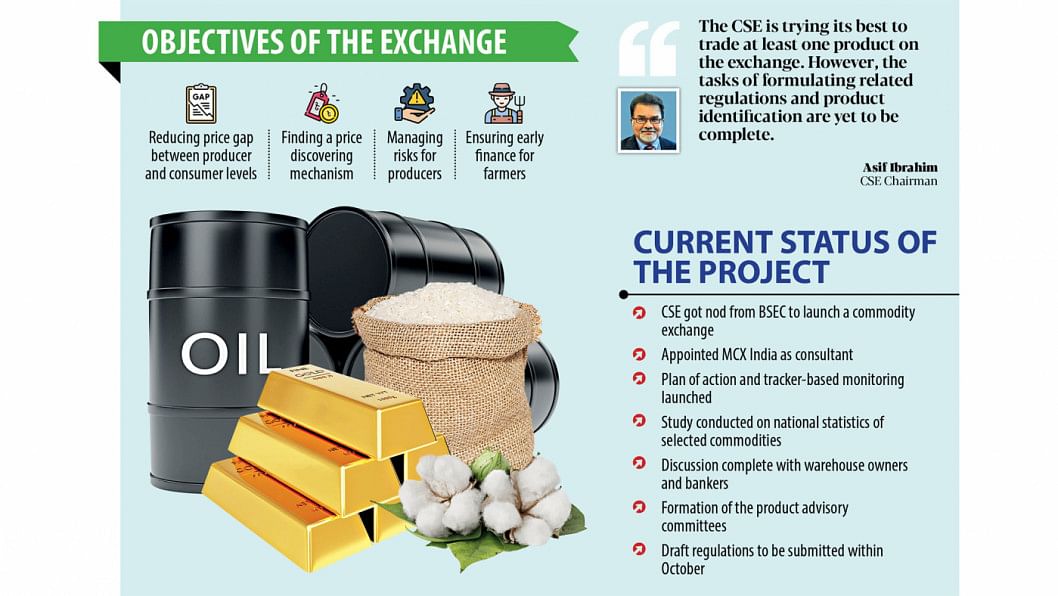 Chittagong Stock Exchange (CSE) is in discussions with SGS Group and Nippon Express Bangladesh to build a technological ecosystem for smart warehousing facilities and intelligent quality control systems for the country's first commodities exchange, or futures market. 
The CSE is planning to launch the commodities exchange this year aiming to reduce the price difference of commodities between what consumers pay and what producers get.
The SGS is a Swiss inspection, verification, testing and certification service provider operating across a wide variety of industry sectors and active in nearly every country.
Nippon Express Bangladesh is a joint venture between Japan-based global logistics company Nippon Express and Golden Harvest. It has warehouse facilities in Dhaka, Gazipur and Tongi and transportation offices in Dhaka, Chattogram, Benapole and Ishwardi.
A CSE commodity team had three in-person meetings with the SGS and Nippon officials at the CSE office and the two companies can be significant stakeholders in building the technological ecosystem, read a CSE progress report.
"The conversations are at an initial stage," said CSE Chairman Asif Ibrahim.
The CSE is trying its best to trade at least one product on the exchange. However, the tasks of formulating related regulations and product identification are yet to be complete, he added.
In order to launch the market, the port city bourse signed a memorandum of understanding last April appointing the Multi Commodity Exchange of India (MCX) as a consultant.
A five-year consolidated business plan and a contract specification process have been drafted while product and price advisory committees have been preliminarily formed, all of which would be finalised through interactions following a visit by an MCX delegation.
A four-member MCX delegation is scheduled to come on a visit to meet most of the key stakeholders like the regulator, brokers and physical market participants.
This is very much essential for the regulation, contract specification and product and price advisory committee (PAC) formation parts, said the report.
Awareness and education programmes with physical market stakeholders, including associations concerned, have also been planned so that the MCX can avail relevant inputs from stakeholders during the interactions in order to finalise contract specifications.
A draft regulation will be submitted to the Bangladesh Securities and Exchange Commission (BSEC) by October.
However, in-house clearing and settlement and tailored record management systems are yet to be developed due to operational delays of Central Counterparty Bangladesh, which needs massive resource mobilisation, said the report.
"Nevertheless, we are strictly following the timeline and we are in line with the planned deadline of the scope of works and optimistic about finishing the project within the expected timeframe," it said.
A Joint Steering Committee has held a few virtual sessions with core market intermediaries, like CSE Trading Right Entitlement Certificate (TREC) holders, including individual knowledge sharing sessions with each CSE department.
A commodities exchange is a legal entity that determines and enforces rules and procedures for trading standardised commodity contracts and related investment products.
Traders rarely deliver any physical commodities through a commodities exchange.
Instead, they trade futures contracts, where the parties agree to buy or sell a specific amount of the commodity at an agreed-upon price, regardless of what it currently trades at in the market at predetermined expiration date.
According to experts, a commodity exchange allows farmers to lock in prices using forward contracting. This also reduces the risk of a drastic price drop.
An exchange helps increase the liquidity for farmers since it assists them to access funds without any interest. As a result, they do not need to borrow at higher interest rates from sources such as banks or usurers.