Crops damaged by sudden surge of river water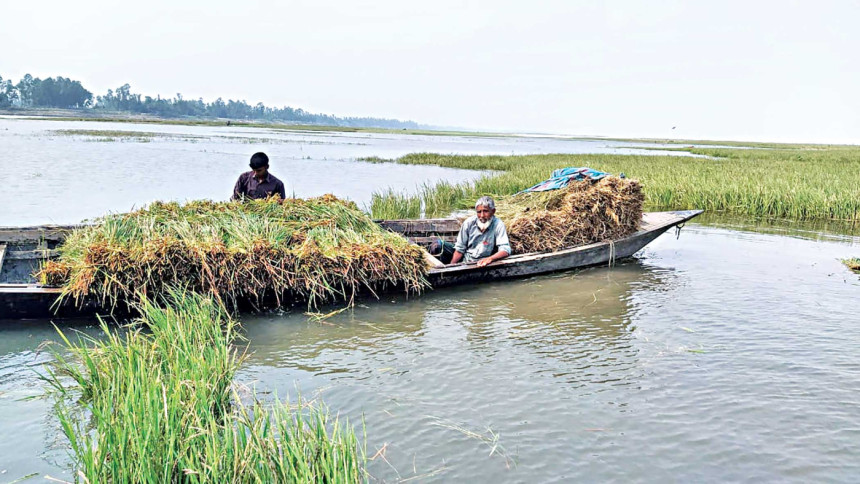 Boro rice fields in low lying areas of numerous districts in the country's northwest have been damaged by a sudden rush of water in the region, raising worries of losses due to reduced yields.
The char areas of Sirajganj, Bogura, Gaibandha, Lalmonirhat, and parts of Nilphamari and Kurigram have all been inundated for the last couple of days as various rivers that flow from India, including Jamuna and Teesta, have flooded their banks.
The untimely surge of water dashed the hopes of thousands of farmers in the northwest at a time when producers in the haor regions of Sylhet and Mymensingh are also suffering from huge crop losses due to flash floods.
The overflowing waters submerged boro rice crops on more than 7,000 hectares of land in the haor region that comprises Sylhet, Netrokona and Kishoreganj, which contributed 16 per cent of the total boro rice produced in fiscal 2020-21 with 1.98 core tonnes.
Farmers in the haor region said most of their boro paddy will be damaged by the ongoing flood.
During the current season, farmers planted the dry season rice crop on 49.09 lakh hectares of land, up nearly 3 per cent from 47.86 lakh hectares in the previous season, according to data from the Department of Agricultural Extension (DAE) and Bangladesh Bureau of Statistics (BBS).
The DAE aims to ensure production of 2.09 crore tonnes of boro rice this harvesting season.
The northwest region makes 33 per cent of the country's boro output.
Farmers here cultivate boro paddy, onion and garlic in different low laying areas, including chars and dry riverbeds, during the dry season.
They harvest the crop before the middle of the Bangla month of Baishakh, or early May.
Shamim Ashraf, deputy director of the DAE in Lalmonirhat, said crops including boro paddy have been inundated due to the untimely swelling of river Teesta.
He could not specify how much land was submerged and instead said work is underway to assess the affected farmers' situation and crop damage.
Bimal Chandra Roy, a farmer of Teesta shoal in Lalmonirhat, said he hoped to harvest paddy in the middle of the month of Baishakh.
"But now we are worried about to make ends meet while also repaying the loans taken from non-government organisations," said Majir Uddin, a farmer of Char Bogurapara in Teesta shoal.
Crops on char land were submerged by water for nearly a week and although the water has receded, the damage has already been done, he added.
According to agricultural officials, the Teesta flows for 115 kilometres through various upazilas of Lalmonirhat, Kurigram, Nilphamari, Rangpur and Gaibandha.
During the dry season, over 50,000 char farmers cultivate various crops on 75,000 to 80,000 hectares of land on the Teesta bed.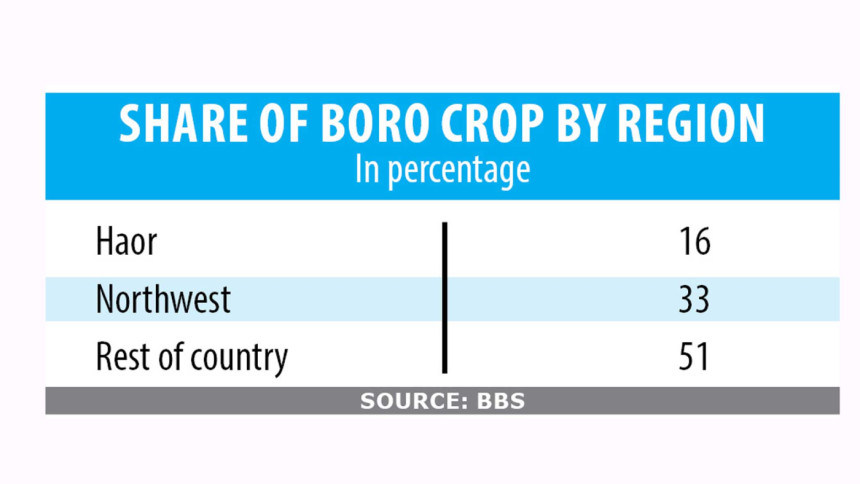 In three upazilas of Sirajganj, farms on several hundreds of hectares of cropland in shoal areas have been inundated for the last few days due to the onrush water from upstream. To save their crops, many growers in the district have started harvesting half-ripened paddy.
Nasima Khatun of Chowhali upazila in Sirajganj said her family could manage to harvest one bigha of half-ripen paddy.
According to the Water Development Board of Bogura, the onrush of water from upstream in Jamuna River increased by around 1.5 meters, which caused the submerging of cropland.
Abu Sayed, a farmer in Gaibandha's Saghata upazila, said his seven bighas of onions and four bighas of boro paddy have all been ruined.
"I could not harvest anything," he said citing a loss of Tk 85,000.
"We never see such a sharp rise in water in Jamuna during this time, so we are a bit surprised," he added.