Cattle farming a new hope for haor people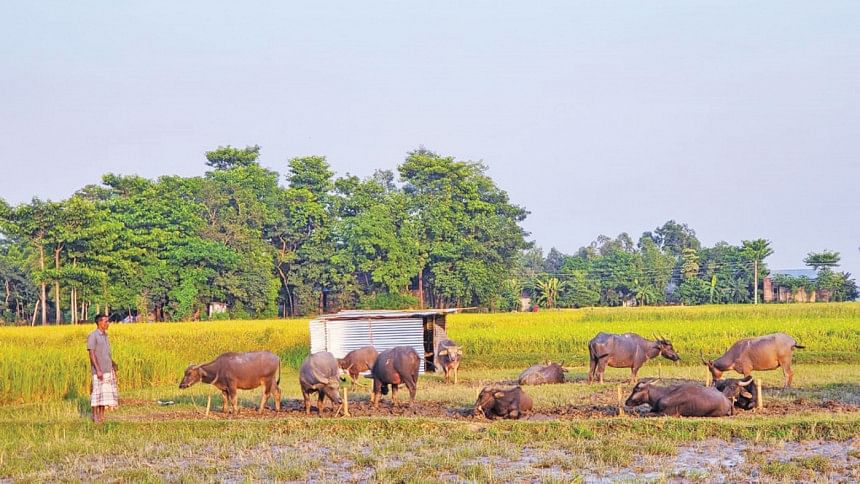 A number of seasonal cattle farms have sprung up at villages found in Sylhet's haor areas thanks to the availability of naturally-grown grass in the region, providing a much-needed alternative to paddy cultivation.
"Since the land in haor areas is only suitable for growing paddy, I had previously relied on boro farming," said Masum Mia, a seasonal cattle trader based at the Kazirbazar cattle market in Sylhet.
"But every time April rolled around, I would spend sleepless nights wondering if the rain would spoil my crops," he told The Daily Star.
Although the domestic demand for small-and-medium sized cattle is high, farmers have been unable to institutionalise this initiative due the lack of easy access to financing.
Mia turned to cattle farming following successive disasters in 2016 and 2017, when all his crops were washed away by floods.
"Now, the risk is relatively low and I benefit as a result. This job gives me new hopes," he said, adding that the demand for cattle is particularly high in the lead up to Eid-ul-Azha.
Other than cows and goats, buffaloes are also in high demand in local markets, especially in the Bangla months of Baishakh and Jaishtha, when wholesalers from all over the country visit Sylhet's haor areas to purchase cattle.
During a recent visit to the Kawadighi, Kanikiari, Subidpur, and Kubjar haor areas in Sylhet's Moulvibazar district, this correspondent found that a considerable number of farmers have turned to cattle rearing on their own initiative.
According to local sources, the haor farmers buy cattle in the December-January period and raise them organically by allowing them to graze freely till about June each year. Many farmers said they could not increase the number of cattle at their farms due to a shortage of capital.
Ananda Das, a retired government official residing in the Bhuksimoil area of Moulvibazar's Kulaura upazila, said the livelihoods of people living in haor areas was once dependent on just paddy crops.
And due to heavy rains almost every year, the farmers often had to count losses.
To make up for these losses, many marginal and small farmers and sharecroppers have set up seasonal cattle farms.
But thanks to their capital crisis, the number of cattle being reared has not increased.
"They could have become self-sufficient by now by raising more cows and buffaloes if they had got easy bank loans," he added.
Solman Mia, a resident of Kadipur area in Hakaluki Haor of Moulvibazar district, said cattle farms are dependent on the natural grass at haors that makes the cost of raising cattle in these areas comparatively less.
"More profits are being made in less time at lower costs. As a result, many people in the region are becoming interested in seasonal cattle farming," he added.
Shamsul Haque, a resident of Kawadeghi Haor, said he takes loans from affluent personalities under special arrangements due to the lack of access to finance.
"In that case, 50 per cent of the profit has to be paid. For example, if I took a loan of Tk 1 lakh last year to buy a cow that I will sell for Tk 1.5 lakh the following Eid, then I will have to pay a total of Tk 1.25 lakh to the person owed," he said.
"I got only Tk 25,000 as a salary for raising the cows. But there are risks. Creditors don't want to pay everyone. Those who pay more profit are paid. And if I got this loan from the bank, I would have to pay a total of Tk 1.10 lakh," Haque added.
Khairul Islam, another resident of Kawadeghi Haor, said he had gone to Sonali, Krishi and Janata bank branches in Rajnagar upazila for a small loan.
"But the officials concerned of Janata Bank did not pay attention to us. Sonali Bank could not provide the loan either  while Krishi Bank welcomed the initiative but only assured cooperation," he added.
Islam went on to say that amid the ongoing coronavirus pandemic, farmers have also been deprived access to the government's stimulus funds.
Many people, including Shamsul Mia and Helal Mia of Rajnagar upazila, said seasonal farms have become a good business in the area over several years.
In this case, this business would have become more popular if it had received financial benefits from the government or banks.
Abdul Hannan, general secretary of Bangladesh Krishak Samity of Kulaura upazila unit under Hakaluki Haor, told this correspondent that local marginal farmers can no longer rely on paddy cultivation due to various difficulties in the last few years.
"So, they do cattle farming as well despite not getting any government benefits," he added.
Chameli Rani Dev, manager of the Janata Bank branch in Rajnagar, said loans were being disbursed as per the rules and that only those without collateral face issues.
Dr Md Abdus Samad, the district livestock officer in Moulvibazar, said he would send a letter to the Prime Minister's Office to cooperate with small farmers.
He assured providing cooperation to the farmers with treatment and advice.
Dr Md Rustam Ali, director (additional duty) of the Department of Livestock Services in Sylhet,  said the livestock department in Sylhet was operating with only 37 per cent of its full manpower.
"This is why those who are interested in farming have to come to the office to discuss their problems. Then at least some of the problems can be solved," he said.
On the other hand, a project called "Integrated Livestock Development Project" has been taken up for haor famers.
"If it starts, some problems will be solved," he added.
Dilip Kumar Adhikary, additional director of the Department of Agricultural Extension in Sylhet, told this correspondent that cattle farming has given new hopes to save paddy farmers in haors areas from different disasters and natural calamities.