Cattle farmers in north grapple with high feed prices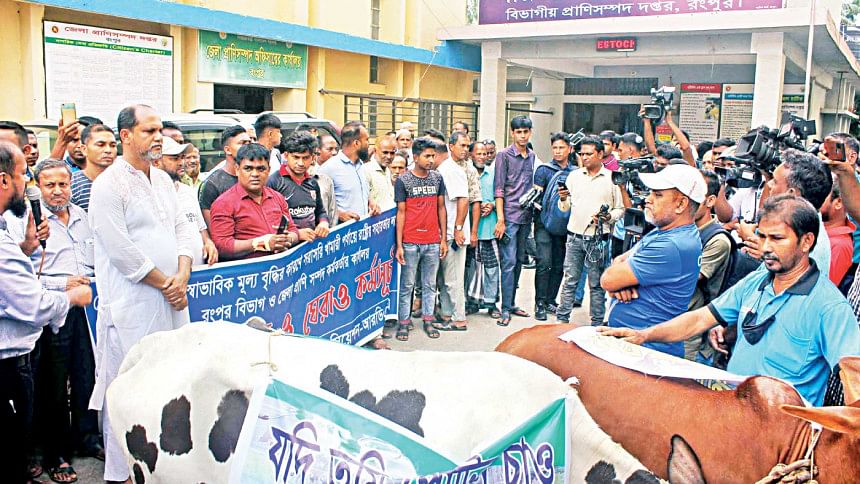 Farmers and entrepreneurs who rear cattle for meat and milk in the country's northern districts are currently suffering from an abnormal hike in feed prices.
As a result, many of them are being forced to sell a lot of their cattle before the upcoming Eid-ul-Azha, which is typically the peak sales season, in order to minimise losses. Around 500 people from different cattle and dairy farms in Rangpur besieged the local livestock office on Wednesday in protest of high feed prices.
They also demanded Prime Minister Sheikh Hasina's intervention to help save their businesses considering the situation. The protest was organised by the Rangpur Dairy Farmers Association.
Some of the farmers are fighting to keep their businesses afloat without selling cattle in anticipation of better prices ahead of Eid-ul-Adha. However, there are fears that many farmers may abandon the industry altogether if the situation continues.
Farmers say the prices of main cattle feeds such as wheat bran, rice bran, Khail (oil cake), maize, Indian pea and molasses have increased two to three-fold in the past few years.
According to the district livestock officer, there are 24,000 small, medium and large cattle farms in Bogura. Meanwhile, there are more than 2 lakh cattle farmers across eight districts of Rangpur, 12,000 in Sirajganj and 30,000 in Pabna.
Saiful Islam, a small entrepreneur of Parvhabanipur village under Bogura's Sherpur upazila, said he is running out of funds to buy cattle feed as prices are soaring daily. 
The price of maize was Tk 17-18 per kilogramme (kg) last year while wheat bran cost Tk 28-30 per kg, Khail Tk 32 per kg and Indian pea Tk 34-36 per kg.
Now, maize costs Tk 33-34 per kg, wheat bran Tk 60 per kg, Indian pea Tk 55-60 per kg and Khail Tk 50 per kg.
"As such, it is almost impossible to run a cattle farm as even milk prices did not increase the way fodders did," he added.
Md Aliozzoha Zinnu, a cattle farmer of Satbeki village under Bogura's Sonatala upazila, said even salt prices have doubled in the last three or four months.
Feed traders claim the rising costs are a result of the Russia-Ukraine war, which has put a stop to maize and wheat exports from the two major producing nations.
"But why are traders increasing the price of salt as well?" Zinnu asked.
In Rangpur, coarse wheat husks are being sold at Tk 55-60 per kg while thin husks are priced at Tk 52-55 per kg, up from Tk 31-32 per kg and Tk 32-33 per kg respectively.
Similarly, 50-kg sacks of soybean now cost Tk 3,150 to Tk 3,200 instead of the Tk 1,600 to Tk 1,650 previously.
Farmers say that if the situation continues, the number of cattle farms in the country would fall drastically and ultimately have an adverse effect on consumers. Latifur Rahman, president of the Rangpur Dairy Farmers Association, said he had 50 milking cows at his farm but their numbers were halved in the last three months as he had to sell them in order to cut production costs.
SK Nasim Ali, president of the Dinajpur Dairy Farmers Association, said if such a situation continues for long time, then many small-scale farmers would leave the business and unemployment would rise as a result.
Regarding the possibility of raising milk and meat prices in order to offset their current losses, Ali said increasing prices in no solution as the affordability of the targeted consumers should be considered.
In Pabna, each bag Mashkalai Indian pea is selling for between Tk 1,800 to Tk 1,850 while it was Tk 1,400 to Tk 1,450 a month ago.
Md Uzzal Hossain, a dairy feed trader of Baghabari in Sirajganj's Shahzadpur upazila, said dairy feed producers have increased prices in the last few weeks citing a supply crisis.
"We are buying dairy feed from flour factories, dal processing factories and more but they are calming the price of wheat and others have increased in international markets and poor domestic supply is worsening the situation," Hossain said.
While speaking with The Daily Star, Md Habibur Rahman, the owner of a dal manufacturing company in Pabna, said the price of all kinds of dal (Indian pea) has already increased by 30-40 per cent in the last few months as the international market for food grains has gone out of control amid the Russia-Ukraine war.
"As feed prices are soaring, a few unruly traders are trying to manipulate the market to make excessive profits," said Gourango Kumar, the district livestock officer of Sirajganj.
"But our vigilance teams are working to find them," he added.
Asked about the price hike, Md Saiful Islam, the district livestock officer in Bogura, said they have already informed the government of the situation in a divisional meeting.
"We also held discussions with the deputy commissioner to bring the situation under control," he added.
Contacted, Md Ziaul Haque, the deputy commissioner of Bogura, said they are constantly monitoring market prices by conducting mobile court drives in order to decrease fodder prices.
Waliur Rahman Akand, director of the livestock department in Rangpur, said they have instructed local cattle farmers to feed their animals natural fodder in a bid to cut feeding costs.