Businesses bashed by New Market brawl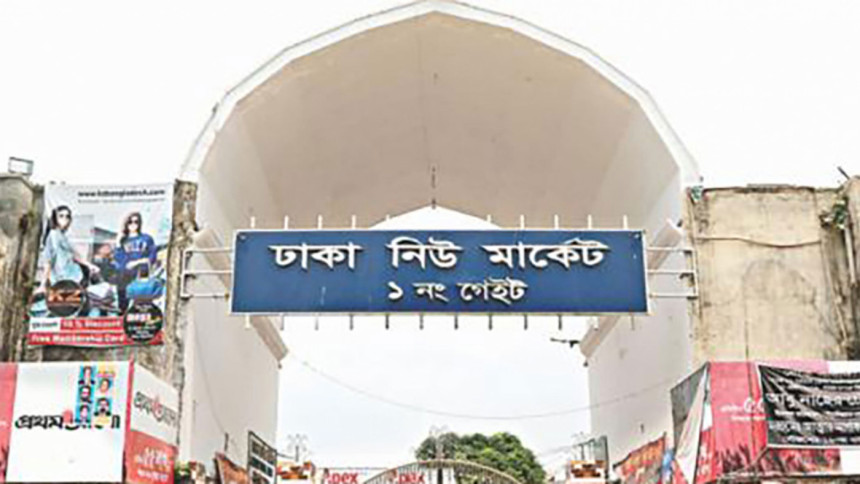 Businesses based in Dhaka's New Market area had to close down for most of yesterday due to a clash between students and traders, leaving them to face huge losses just one-and-a-half weeks ahead of Eid-ul-Fitr, the biggest sales season in Bangladesh.
Traders say that the skirmish has already cost them more than Tk 50 crore in sales loss and it may have further implications as potential buyers may avoid the commercial shopping hub in fear of another clash.
The area is home to over a dozen sprawling shopping malls that house thousands of shops, making it the top shopping destination for most people in the capital.
Md Asaduzzaman Sumon, proprietor of Akhi Fashion Garden, said in the last few days, he could sell products worth Tk 100,000 to Tk 150,000 each day centring on Eid.
"But the shop was closed all day today (Tuesday) so the sooner the situation gets under control, the better for me," he said.
This situation is particularly unwelcome among traders right now considering that there was no business during the last two Eid seasons due to the coronavirus pandemic.
"Now, not having the shop open for a single day means a big loss for us," Sumon added.
Md Jobayer Hossain, managing director of cosmetics shop Lakme, alleged that law enforcement agencies could have solved the problem in a short time if they wanted.
"During this season, we count every day as it is very important for us. I have sold over Tk 50,000 worth of products daily since the beginning of Ramadan," he said.
"It is a huge loss for us even if the situation gets normal now as a lot of damage has already been done," Hossain added.
Fazle Rabbi, a resident of Mirpur, said he planned to visit New Market on Tuesday for shopping but ultimately returned to home after seeing the shops were closed.
"I just bought some clothes, shoes and perfumes from different malls in Mirpur," he added.
Helal Uddin, president of the Bangladesh Dokan Malik Samiti, said it is unfortunate that the clash occurred during this peak sales season.
"The New Market area houses around 15-16 big malls where 150,000 businessmen are involved. The total sales loss would be over Tk 70 crore," Uddin added.
He went on to say that law enforcement agencies had assured that they would be able to open the market from yesterday evening as the clash would have been dealt with by then.
According to Dewan Aminul Islam Shahin, president of the Dhaka New Market Business Association, there are over 10,000 shops in the area.
He urged everyone to behave rationally as such clashes benefit no one.