Beza, China chamber sign MoU to brand Bangladesh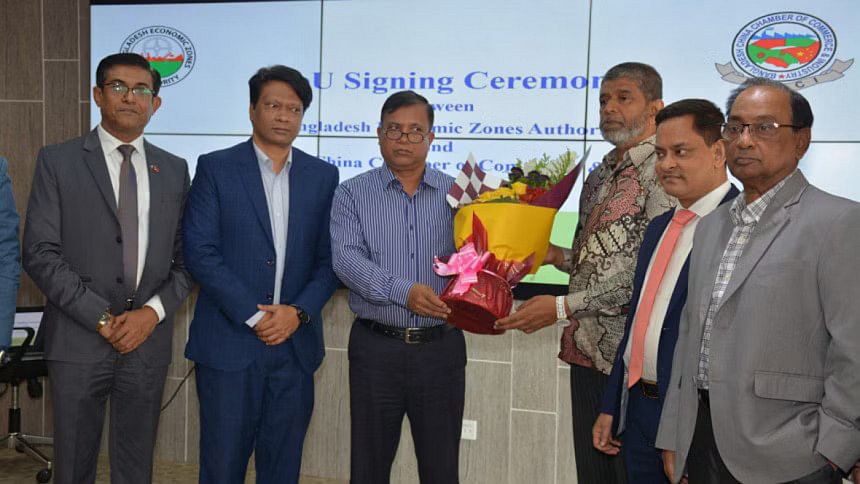 Bangladesh Economic Zones Authority (Beza) and the Bangladesh China Chamber of Commerce and Industry (BCCCI) signed a memorandum of understanding (MoU) yesterday over promoting and branding Bangladesh globally and attracting foreign investment at economic zones. 
Md Moniruzzaman, general manager (investment development) of Beza, and Al-Mamun Mridha, secretary general of the BCCCI, signed the deal at the Beza office in Dhaka.
Under the MoU, the BCCCI will provide necessary assistance to Beza in policy formulation, organising policy dialogues for development of bilateral trade and attracting potential Chinese investors.
Shah Md Sultan Uddin Iqbal, senior vice-president of the BCCCI, said Bangladesh has been able to create an investment-friendly environment through economic zones and has become a role model for development in the world.
Iqbal mentioned that China was already investing significant amounts of money in economic zones and would do so in ones dedicated for the country on a government-to-government (G2G) basis.
He hoped that the signing of MoU would further expand the scope of Chinese investment in Bangladesh.
Since its establishment in 2003, the BCCCI has been working towards the development of business relations between the two countries and there are about 450 Chinese investors in the organisation, said the BCCCI vice-president.
Congratulating the BCCCI on signing the MoU, Beza Executive Chairman Shaikh Yusuf Harun said Beza was providing land at competitive rates for planned industrialisation as well as creating an investment-friendly environment to open up new opportunities for investors.
Haroon said by attracting domestic and foreign investment, Beza was working hard to maintain the goods supply system, meet domestic demand and maintain exports.
He said Beza was developing economic zones on a G2G basis by protecting national interest.
The Beza executive chairman also mentioned that Chinese investors were investing a significant amount of money in all the economic zones under the Beza where land allocation was ongoing.
He also urged Chinese investors to invest in the tourism parks set up by Beza.
Haroon said Beza was coordinating with various government institutions to protect the interests of all investors, including the Chinese.