Banks meet 99.6pc as firms shy from stock market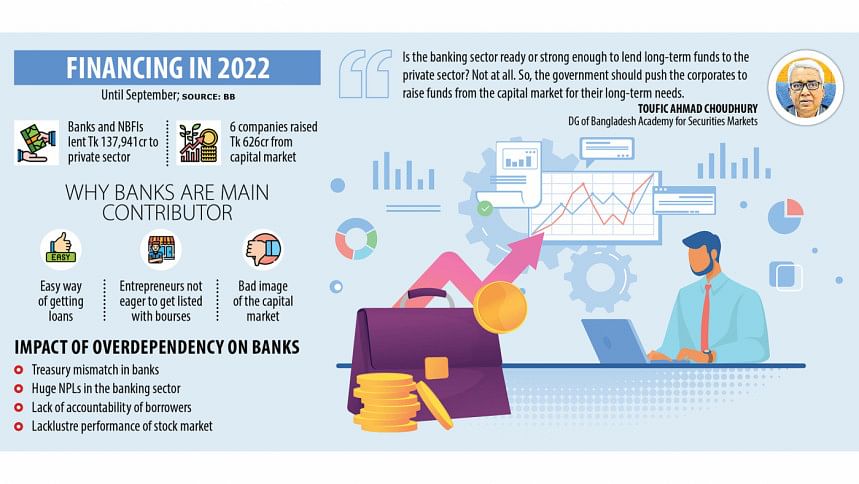 Though Bangladesh has made stellar progress in many economic indicators in the past one decade, entrepreneurs, industrialists and the entire business sector still rely on the banking sector for financing. 
Banks also make long-term loans on short-term deposits, creating a mismatch in their treasury management and sending non-performing loans higher.
But the burden of bad assets has turned many banks weak and pushed up the cost of funds for borrowers.
At the end of September, the outstanding private sector credit stood at Tk 13.79 lakh crore in contrast to around Tk 12.10 lakh crore in the same month in 2021, data from the Bangladesh Bank showed.
Banks and non-bank financial institutions contributed more than Tk 1.68 lakh crore to businesses to meet their financing demands during the period, which is 99.63 per cent of the private sector financing. 
But during the same period, only six companies raised a combined Tk 626 crore from the stock market, which is considered the cheapest source of capital, according to the Dhaka Stock Exchange.
"But many entrepreneurs avoid listing on the stock market since they do not want to share ownership and come under accountability," said AB Mirza Azizul Islam, a former finance adviser to the caretaker government.
According to Islam, many influential people think that banks' funds can be defaulted easily. "This culture has to be eliminated."
In another unpromising move, the central bank has given many benefits to defaulters.
If such benefits keep pouring in, it will only encourage people to go to banks instead of the stock market, added Islam, also a former chairman of the Bangladesh Securities and Exchange Commission.
As Bangladesh aspires to become a developed nation, it needs to take up large projects, but these projects can't be financed by the banking sector alone, said Toufic Ahmad Choudhury, director general of the Bangladesh Academy for Securities Markets.
Between 2016 and 2040, Bangladesh will need $608 billion in investment to realise its dream of becoming a developed nation, according to a report of the Global Infrastructure Hub.
"Is the banking sector ready or strong enough to lend the long-term funds? Not at all. So, the government should push the corporates to raise funds from the capital market," said Choudhury.
When a company goes public, it has to be accountable and come under regular monitoring.
If a listed company becomes non-performing, its stock falls. Entrepreneurs also become aware of its performance and banks know about the health of the businesses.
"This natural linkage in the financial system is absent here," said Choudhury.
Another reason for the absence of a diversified source of financing in Bangladesh is conglomerates can secure bank loans easily. Large businesses even borrow from several lenders when they venture out to implement large projects. Thus, they can avoid listing on the stock market, but this is not possible in many countries.
Banks can also come to the security market to meet their funding requirement. But they don't do so. Rather, they are reliant mostly on people's deposits.
"This creates pressure on banks' treasury management," said Choudhury also a former director-general of the Bangladesh Institute of Bank Management.
Meeting long-term financing needs with the short-term deposit has driven up the NPL, he said.
Defaulted loans in the banking sector hit an all-time high of Tk 125,257 crore in June, up 26.3 per cent from a year ago.
Mobilising funds from banks and financial institutions is easy compared to the stock market, said Anis A Khan, a former chairman of the Association of Bankers, Bangladesh.
"While banks can lend within a short time, an entrepreneur sometimes needs to wait more than a year to raise funds from the stock market."
"The depth of the stock market is not up to the mark, so some entrepreneurs prefer banks."
A listed company is obliged to maintain governance and compliance and make disclosures, which is not preferred by many business people, according to Khan.
For instance, if a company fails to declare any dividend for a year, it is downgraded to the "Z" category from the "A" category. But entrepreneurs can stop making instalments thanks to their relationships with banks.
According to Khan, bonds can be a good solution for long-term financing.
Ershad Hossain, chief executive officer of City Bank Capital, one of the leading merchant banks in Bangladesh, says long-term financing demand should be met with long-term funds such as insurance funds, bonds and the stock market.
But corporate bond in Bangladesh is less than 1 per cent of the country's gross domestic product, whereas it is 60 per cent in China and 16 per cent in India.
Life insurance funds can be another source of financing, but reform is needed in this area, Hossain said.
"Mutual funds could be a useful tool to pool long-term savings of people and the stock market should be an investment place for general savers."
In Bangladesh, banks are also key players in the secondary market of the stock exchanges.
Hossain said: "But if banks are key players in the stock market, they actually become the major financier in a different way only."
He suggested corporates issue asset-backed securities in the stock market. "This will allow them to avoid the banking system."
Mirza Azizul Islam urged the government to try to bring more corporates to the market in a bid to increase the contribution of the capital market to the economy and reduce the private sector's reliance on the banking sector.