Bangladesh slips in digital readiness indicator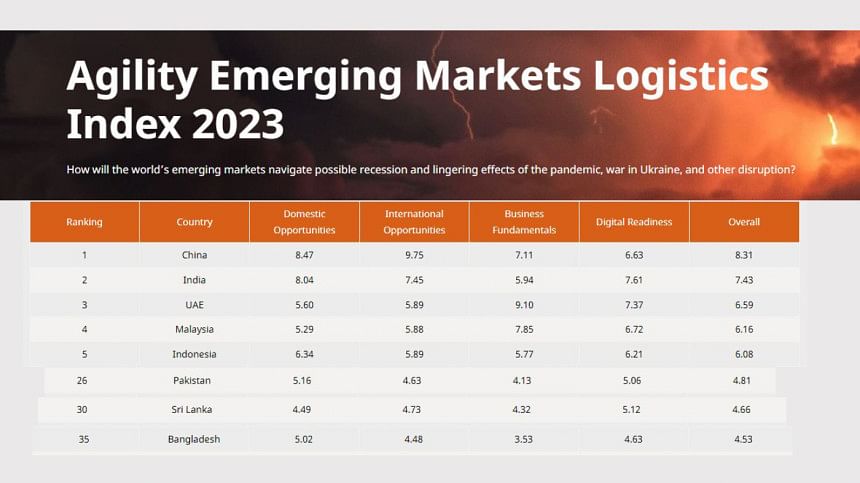 The country ranked 35th out of 50 countries in the digital readiness indicator, scoring 4.63 out of 10, according to the 14th edition of the index unveiled by Agility, a Kuwait-based global logistics company, on Tuesday.
Bangladesh's overall position, however, improved four notches to 35th among the 50 most promising emerging logistics markets in the world. The overall score rose to 4.53 in 2022 from 4.38 a year ago.
The country lagged behind South Asian neighbours India, Pakistan and Sri Lanka, however.
M Masrur Reaz, founder and chairman of the Policy Exchange Bangladesh, a think-tank, says what usually happens in such a global index is that any country can move up without making any improvement if others slip.
"I think there was no improvement in the overall logistics sector in the last one year in Bangladesh."
The Index examines four key areas for logistics market development: domestic logistics opportunities, international logistics opportunities, business fundamentals, and digital readiness.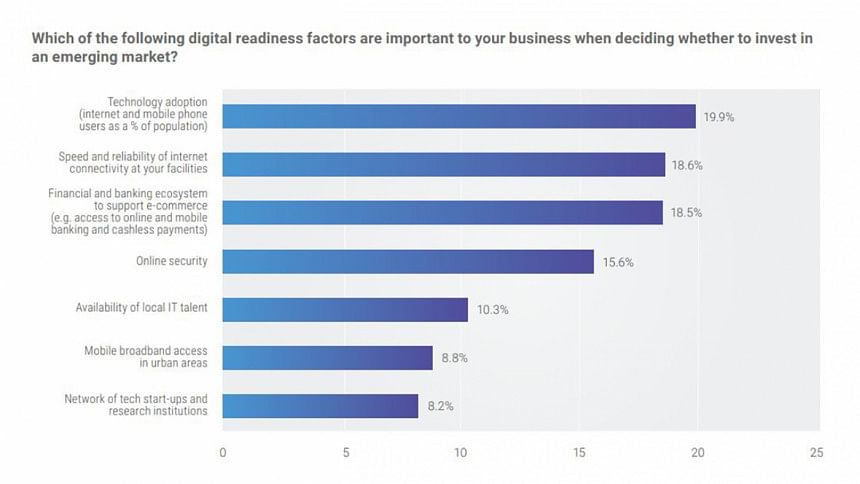 In terms of domestic logistics opportunities, Bangladesh ranked 17th, up four notches, while in international logistics opportunities, it stood at 33rd, moving up eight places. The country's position was unchanged at 44th in the business fundamentals indicator.
The digital readiness indicator measures the potential and progress of an emerging market in becoming a digitally-led, skills-rich, innovation-oriented and sustainable economy in the future.
Although Bangladesh made progress in two indicators, it slipped in the digital readiness segment although the government plans to transform the country into a "Smart Bangladesh" by 2041.
"Digitalisation has not yet happened in Bangladesh's logistics sector, especially in trade facilitation or port-led logistics system," said Reaz, a former economist of the International Finance Corporation.
He admitted that there has been advancement in Digital Bangladesh in other areas.
The National Board of Revenue plans to launch a national single window but it is not operational yet and its implementation is very slow, he said.
On top of that, Bangladesh does not have any system of transport or freight forward link with ports, which is called "Port Community System" globally, Reaz pointed out.
"Besides, the way a company, importer or exporter interacts with a transport company, and a transport company interacts with its ecosystem is almost entirely manual. So, regulatory facilitation or market linkage has not been digitalised in the logistics sector."
Agility introduced the digital readiness indicator in 2022 to assess how equipped a country is to face the challenges of a digital yet more sustainable future.
India, which was second-placed in the overall ranking, secured the first position in terms of digital readiness. Sri Lanka and Pakistan were placed 23rd and 26th, respectively, in the indicator and ranked 30th and 26th in the overall list. 
China topped the overall list. The UAE, Malaysia and Indonesia came third, fourth and fifth, respectively.