Bangladesh self-reliant in RMG accessories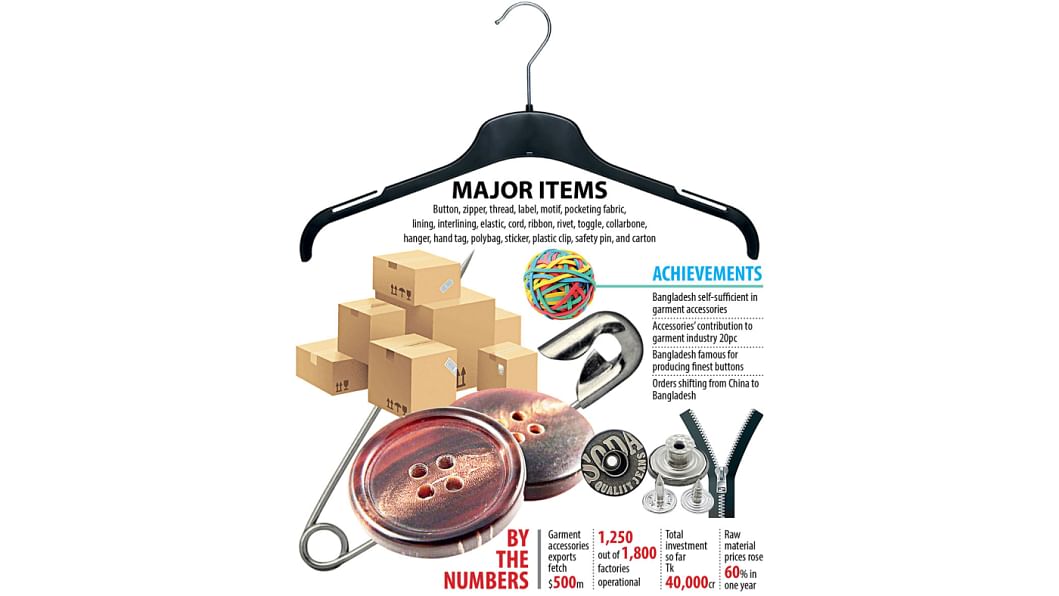 In the 1980s, local garment manufacturers used to export garment items in old and used cartons as there was no factory in Bangladesh at that time capable of producing the accessory.
The used cartons had to be imported and they were made reusable by cutting them manually in order to make them fit to carry export-oriented items.
Under such circumstances, there was uncertainty whether the shipment of finished goods could be made on time even after the products were ready.
Even 15 years ago, local manufacturers had to buy button, a vital accessory for the apparel industry, mainly from China and Hong Kong to produce final goods for their international clients.
Many of the garment manufacturers also failed to send the goods to the retailers and brands in Europe and the US maintaining the lead time because of the delay in carrying out the task amid the shortage of buttons and other accessories.
In the event of a missed deadline, they were compelled to offer big discounts or even faced cancellation of orders.
Not anymore.
The situation started improving after 1990 when local accessories makers started setting up factories to produce accessories. Entrepreneurs pumped in Tk 40,000 crore in the last 15 years, building a garment accessories and packaging industry that serves the country's gigantic apparel industry, making Bangladesh the second-largest garment exporter in the world.
Their efforts also helped create jobs for the locals and save billions of dollars in foreign currencies.
Lead time has improved a lot as garment exporters can procure accessories and cartons directly from local markets, cutting the waiting time that would have otherwise needed in case of imports.
"We are supplying items not only to the garment industry but also to the pharmaceuticals, home textile and leather sectors," said Al Shahriar Ahmed, a director of the Bangladesh Garments Accessories & Packaging Manufacturers & Exporters Association.
"The sector is working as a backward linkage industry and is growing in keeping with the growth of the garment industry."
"Today, we can supply nearly 90 per cent of locally made buttons to the industry although the production process is a bit complex," said Abdul Kader Khan, managing director of Khan Accessories & Packaging Company Ltd, a Tongi-based accessories company.
Local garment exporters need to import the remaining 10 per cent buttons, which are of special kinds, as per the requirement of buyers, he said.
Currently, the domestic market size of buttons is $160 million, which was almost nil 30 years ago, industry people say. Not only button, Bangladesh is also self-reliant in many other garment and packaging accessories.
For instance, more than 30 vital accessories such as poly bags, hangers, zippers, buttons, cartons and packaging materials are needed to make a complete and exportable garment item. The sub-sector is capable of supplying almost all of the 30 items except some specialised components.
Manufacturers are also exporting accessories to other garment producing countries such as Pakistan, Vietnam, and Cambodia although the volume is low. Industry people put the figure of the direct export of accessories at nearly $500 million. 
Montrims Ltd, a local garment accessories maker and a concern of Mondol Group, is one of the exporters.
"I export a few specialised garment accessories," said Momin Mondol, managing director of Montrims Ltd. He even shipped accessories to European countries as per buyers' requirement.
The company exports accessories worth $60 million a year.  
According to the entrepreneur, Bangladesh is a matured country in many of the garment accessories items as the industry has made an impressive stride in the last two decades.
Dekko Legacy Group is a major button producer. The total export of the group is $300 million, of which 15 per cent is accessories, mainly labels, buttons, hand tags, price tags, and printed labels.
"We are self-sufficient in accessories. We have a lot of prospects in this sector," said Shahadat Hossain Kiron, chairman of the group.
The garment accessories business has big potential in the country as China is no longer interested in this low-cost business, said Khan of Khan Accessories.
"So, a lot of work orders are shifting to Bangladesh from China."