Bangladesh is a key market for PepsiCo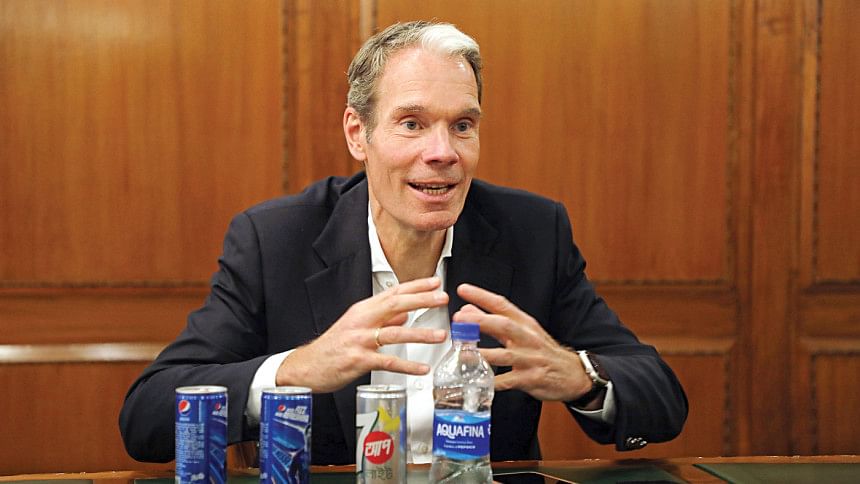 AT A GLANCE
Bangladesh is a strategic market for PepsiCo
Transcom is a trusted partner with PepsiCo for over 20 years
Transcom is one of the best partnerships globally
PepsiCo will continue to invest together with its partner in Bangladesh
Pep+ is the strategic end-to-end transformation initiative with sustainability
PepsiCo is extremely proud of the footprint that it has in Bangladesh
PepsiCo is also scaling up snacks business locally, in partnership with Transcom
PepsiCo is going to produce Lay's potato chips locally in Bangladesh
Eugene Willemsen, Chief Executive Officer of PepsiCo for Africa, Middle East and South Asia, was in Dhaka last week on an official visit. During his stay, he talked to The Daily Star's Senior Reporter Refayet Ullah Mirdha.
DS: How important is the Bangladesh market for you? And where does it lie in the global scheme of things?
Willemsen: Bangladesh is one of our key markets because it's a market that has tremendous potential given the large population and economic development that the country has witnessed, especially in the last decade. The country has seen phenomenal economic growth and development.
It's also a market where we're keen to further scale up our business in partnership with Transcom. We signed the first agreement with Latifur Rahman, founder chairman and CEO of Transcom Group, back in March 2000. So, we're now partners for more than 22 years. We see the partnership with Transcom as one of our best partnerships globally. And we're very keen to build on this great foundation and scale up our business together with the Transcom family.
It's also a market where we're keen to further scale up our business in partnership with Transcom. We signed the first agreement with Latifur Rahman, founder chairman and CEO of Transcom Group, back in March 2000. So, we're now partners for more than 22 years.
DS: PepsiCo has been operating here for a long time. As we move forward, what kind of investment are you looking at in Bangladesh?
Willemsen: I cannot give you specific numbers. But what I can tell you is that when I look at the Bangladesh market and given some of the discussions that we've had over the last day and a half, it's very clear that this market has tremendous potential. And as such, we will continue to invest together with our partner in developing our business in Bangladesh, whether that be in capacity and agricultural capabilities that we need specifically for our food business. And we're looking and exploring ways of how we can collectively build a bigger business within beverages and foods in Bangladesh.
DS: We know that Pep+ (PepsiCo Positive) is your sustainability platform. What is PepsiCo doing in this regard?
Willemsen: Pep+ is our strategic end-to-end transformation initiative with sustainability at the centre to create growth and value by operating within planetary boundaries and inspiring positive change for the planet and people. We believe that sustainability needs to be fully embedded in the overall business strategy and our plans and hence, we launched Pep+ about a year ago. Pep+ consists of three different pillars: positive agriculture, positive value chain and positive choices.
PepsiCo is one of the largest food and beverage companies and has a significant agricultural footprint. We work globally with more than 100,000 farmers. As part of our positive agricultural pillar, we want to convert the land that we're using to grow our crops to regenerative agricultural practices, and uplift 250,000 people within our agricultural value chain and improve livelihoods. So that's a massive commitment, which we're planning to deliver globally.
The second pillar is the positive value chain, which consists of a few specific objectives. One is to become net zero by 2040, not just within our own four walls, but across the entire ecosystem within which we operate. This also aims at the inclusion of our suppliers or farmers, as well as other partners that operate within our value chain.
We're also planning to become net water positive by 2030. This means we're going to reduce water usage to the maximum extent possible within our operations and become a net water-positive company.
We want to significantly reduce the amount of virgin plastic that we're using. We want to reduce that by 50 per cent, on a per serving basis by 2030. This means that we need to look at all the possible ways to reduce the usage of single-use packaging, set up collection mechanisms for recycling, and include recycled material in our packaging, in order to ensure that we get to a full circular value chain for packaging.
The third and last pillar is positive choices. And that's all about evolving our portfolio to ensure that we continue to provide a broad set of choices for consumers with reduced or no sugar and reduced sodium and saturated fat.
In Bangladesh specifically, our endeavour is always to support the communities at large. To support communities impacted during the coronavirus pandemic, we provided 1.4 million meals to underprivileged communities through our partnership with Brac, the leading NGO in Bangladesh.
PepsiCo Foundation, along with Brac, also disseminated preventative information on Covid-19 to communities. PepsiCo has worked with Brac to provide clean water access to underserved communities in Bangladesh under the "Safe Water for All" project. As part of the initiative, local water entrepreneurs created water treatment plants providing communities with access to safe drinking water at an affordable price in the disaster-prone areas of Cox's Bazar.
DS: You have many food and beverage brands in Bangladesh. What has been the response of consumers and what is your consumer connect strategy?
Willemsen: We are extremely proud of the footprint that we have in Bangladesh. We're the leading beverage company in Bangladesh. And we take tremendous pride in that.
We're keen to build out that business, leveraging the brand portfolio that we have thanks to 7-Up, Pepsi, and Aquafina. On the snacks side, we have Kurkure, Lay's and Quaker Oats.
Consumers rate our brands very highly and while we take pride it, there comes a tremendous responsibility to ensure that we continue to deliver high-quality products and respond to consumer needs and evolving needs.
We're also going to scale up our snacks business locally, in partnership with Transcom. We're going to produce Lay's potato chips in Bangladesh in line with the government's strategy of "Made in Bangladesh".
We're going to be working with local farmers for potato farming needed to produce Lay's potato chips. To start with, we're going to have over 2,000 farmers as part of the fold. Most of these are small-scale farmers and it's phenomenal to hear them talk about the impact that the partnership with PepsiCo has on their yields, their incomes and the growing techniques that they can deploy in their fields.
DS: The partnership with Transcom has been for more than 20 years. How is the association evolving?
Willemsen: The partnership that we have with Transcom, we value it as one of our best partnerships globally. We've built a great business together. At the same time, we also believe that now after 20 years, we only are at the beginning because I think there's so much more potential for us to create and scale up the business together in Bangladesh.
We really value the ethics of the company and the investments that the company is doing in scaling capabilities, both in terms of human capital and digital evolution. In addition, the strong focus that the company has on sustainability whether that be in reducing the number of resources that we use, or water or energy, or whether that be the impact that we have in the communities where we operate, we both have synergies on that front.
DS: We've seen a lot of brands change their portfolio to address the shifting consumer needs. What kind of diversification is PepsiCo in Bangladesh planning in this area?
Willemsen: In Bangladesh, we are uniquely positioned with a portfolio of brands that are both loved and trusted by consumers. The portfolio caters to varied choices. Products like Pepsi, 7UP and Kurkure are for celebratory and fun moments and products like 7up Lite and Diet Pepsi with no sugar give more positive choices to consumers.
We are also keen to build Quaker Oats into a much bigger brand over the next couple of years in Bangladesh. All this has been done to serve the consumer better and rapidly adapt to their changing requirements.
DS: Finally, what is your take on Bangladesh's economy?
Willemsen: This is my first visit to Bangladesh. So, there's a lot for me to learn, obviously about the country and about the history and people of Bangladesh. I do believe that this country has tremendous potential to grow.
Bangladesh has been growing well for the past 10 years. Consistently, GDP has been growing around 7 per cent. It has a young and eager population that is looking forward to contributing to the success of the country and there is immense potential.
Hence, we are committed to continuing to invest not only in the business but also in the success of Bangladesh in terms of economic investment, skills transfer and training.