Bangabazar missing typical rush ahead of Eid
Traders at the Bangabazar Shopping Complex, one of the largest clothing retail and wholesale hubs in Bangladesh, are typically busy buying and selling products ahead of Eid-ul-Azha each year.
However, the situation is different this time around as there is a lack of customers amid ongoing inflationary pressure in the country.
This comes as a double blow for traders, who had hoped to use the festival sales to spur their recovery from a devastating fire that ripped through the shopping complex in April.
As a result, traders are struggling to cover family expenses with many claiming that they are having to sell products at cost price due to the lack of demand.
"Today (Saturday), no customer came to the shop for two hours after opening at 9:00am," said Masud Rana, the owner of Nur Fashion at Bangabazar.
"Normally, we would be busy serving customers during this time," he added while expressing concern over the decline in sales following the fire incident.
Rana also said his average daily sales ahead of Eid have decreased to about Tk 10,000 from Tk 1 lakh.
So, considering that he would previously sell about Tk 10 lakh worth of clothing a week before the religious festival, Rana hopes to make just Tk 1 lakh this year.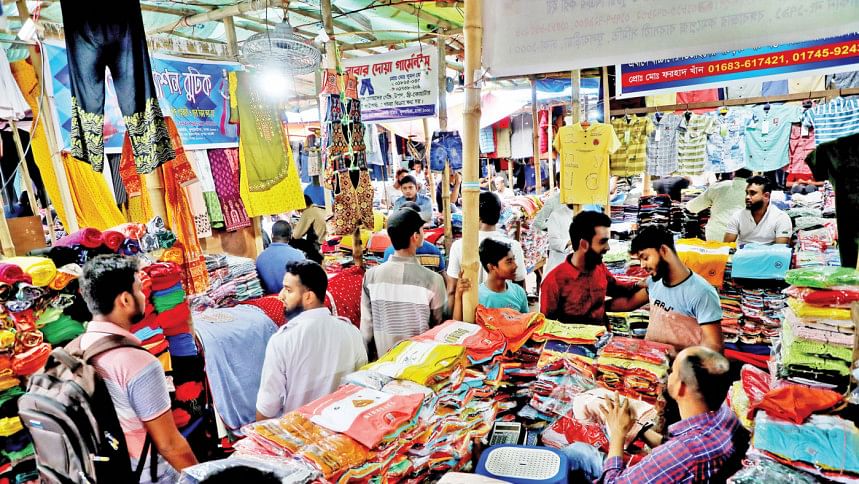 Besides, the fire incident had destroyed clothing worth Tk 30 lakh at his shop, adding to the challenges he currently faces.
Traders say the high inflation has increased commodity prices, putting pressure on most consumers who are having to focus on meeting essential expenses.
On April 4, a massive fire tore through Bangabazar, resulting in the destruction of around 3,000 shops, causing significant economic losses for several thousand traders of primarily clothing items.
Omar Faruq, a worker at a shop called Rafi Garments, highlighted that many customers have shifted to other markets following the fire.
"So, I am worried about whether I will even receive a salary this month," he said, reflecting the uncertainty faced by many employees in the market.
Harun Ar Rashid, a manager of ADS Punjabi Shop, shared their recent sales experience.
The store sold just two items worth Tk 1,500 collectively within the first two hours of opening.
"During the Eid-ul-Azha season, we usually sell clothes worth up to Tk 80,000 every day. But now, we are only making Tk 5,000 in daily sales," he said.
This is particularly concerning for Rashid as he purchased Tk 3 lakh worth of clothes for the Eid market this year despite the fact that his small shop even lacks the space to display all the items at once.
Rashid also said that people are not coming to the market ever since the fire incident as they may be unaware that their activities have resumed.
Besides, the economic downturn is forcing customers to buy fewer clothes, he added.
Inflation in Bangladesh surged to a decade-high of 9.94 per cent in May, according to the Bangladesh Bureau of Statistics.
The previous high in recent times was recorded in August last year, when the Consumer Price Index soared to 9.52 per cent.
According to the Dhaka South City Corporation's probe committee, the fire damaged 3,845 shops at Bangabazar and its adjacent markets with total losses estimated at Tk 303 crore.
Around 4,000 owners and 15,000 shop workers, who were affected by the devastating fire, are still awaiting financial compensation.
Md Helal Uddin, president of the Bangladesh Dokan Malik Samity, said if the money deposited in the relief fund so far is paid to affected businessmen, then they would receive Tk 12,000 to Tk 14,000 each.
"But this amount is not sufficient for them," he added.
Uddin also said that while support from Gulshan Club and the Dhaka Chamber of Commerce and Industry would help traders, they have yet to receive financial assistance.
And if Sheikh Fazle Noor Taposh, mayor of Dhaka South City Corporation, initiates a discussion with Prime Minister Sheikh Hasina and contributes additional funds, the businessmen would benefit to some extent, he added.