Addressing global supply chain bottlenecks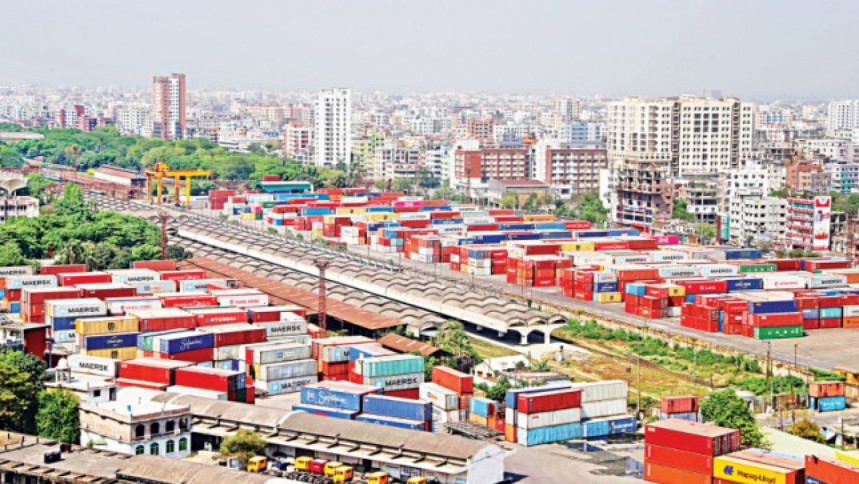 Unusual disruptions in global supply chains are becoming a nightmare not only for businesses but for the global economy as well. It has reached such a dire state that even the US president had to make resilient supply chains a top priority of his administration.
On October 31 this year, President Biden held a summit with the European Union and 14 like-minded countries to discuss how to foster greater cooperation on supply chain disruptions and outline a course of actions to strengthen and diversify the entire supply chain ecosystem.
The world has been witnessing huge container shortages, abnormally longer lead-time, port congestion, inadequate ship spaces, shortages of trucks and railway wagons, and scarcity of warehouse spaces since the third quarter of 2020. To add to the sufferings, freight costs have skyrocketed.
Recent energy crisis, in case of oil, natural gas and coal, has made the situation worse. All these challenges eventually boil down to massive interruptions in productions causing orders backlogs and delays in delivery, and finally consumers end up with paying exorbitant prices. 
It all started in 2018 when the US came up with a list of Chinese goods that would be subject to an additional 25 per cent tariff. China hit back with reciprocal tariffs on a list of American goods of equal value.
To avoid the additional import duty, importers of both the countries rushed to stock inventories ahead of the implementation of tariffs. Eventually the trade between these two countries unexpectedly went up putting stress on global logistics. Thereafter, the outbreak of Covid-19 aggravated the situation.
To curb the infection, most of the countries had to impose lockdowns. As a result, economic activities came to a halt. Port operations and transportations were immensely impacted because of the restrictions and shortages of adequate workforce. This situation continued till the first half of 2020.
Thus, the whole transport sector went into a chaotic situation as thousands of containers were stuck in some locations, ships were unable to sail on time, and vessel turnaround time increased abnormally.
Since the beginning of the second half of 2020, economic activities around the world slowly started to resume. Demand for most of the goods showed upward trends. Logistics backlogs, including transportations and port operations, could not keep pace with the demands. Experts opined that this logistics challenges would continue till the end of 2022.
Bangladeshi businesses, being very much part of the global supply chains, are facing huge challenges. The freight rate for a 40-foot container to European base ports from Chattogram has reached $15,000 level, which was hovering around $1,500-$2,000 one year back.
Freight costs to the US major ports also increased five-fold compared to that of last year. In case of imports, the rate has doubled in recent times. To add to the miseries, transit time to and from all major ports went up significantly.
Severe congestions in some of the key ports for us like Singapore and Colombo are causing substantial delays in cargo movement. Nowadays, an import consignment has to wait a minimum of 28 days in Singapore to get a feeder vessel connection to Chattogram. For exports, the waiting time is 8-10 days. Similar delays happen in Colombo as well.
This delay in shipping hampers production process. Sometimes factories are unable to continue their operations because raw materials are not arriving on time. Companies are more often than not unable to ship their goods timely. As a result, their warehouses are getting choked that hinder their subsequent productions because they don't have the space to store their produces.
Due to the exorbitant freight costs and delay in getting raw materials and other intermediate goods, the cost of production is getting higher. Logistics challenges are also responsible for the backlogs causing cancelling the orders at times.
In the backdrop of such unprecedented logistics challenges, what measures should our businesses take? First and foremost, it all starts with demand planning. The more realistic the demand plan is, the more it is likely that the supply planner would be able to plan better that would ensure smooth production and delivery of finished goods.
A robust sales and operations planning should be put in place that would make sure methodical tracking and monitoring of all aspects of inventory of raw materials and finished goods, packing materials, goods in transits etc. Supply planners must take the longer lead time into cognizance. In order to avoid any hiccups in production, they must order early and build an inventory of all necessary items.
Suppliers all across the worlds are facing challenges to keep their commitments. Therefore, we must not put all our eggs into one basket, meaning we must develop alternative suppliers wherever possible so that during crisis if one supplier fails to deliver, we have a backup plan in place.
More inventory means stress on working capital. Here comes the measures of ensuring smooth financing. Businesses must make arrangements with their banks or other sources to ensure financing at an affordable cost.
The other critical aspect is to ensure smooth transportation of goods. Long-term agreement with the shipping lines or airlines would help in this regard. The prices of the finished goods need to be carefully reviewed and adjusted to absorb the additional costs.
Businesses alone can't tackle such challenges. Like the US administration, our government should come forward and sit with all the key stakeholders to chart a course of actions. Some of the key areas where government's interventions are required include: ensuring smooth operations of all the major ports, bringing in efficiencies in customs clearances, adjusting import duties and taxes for the raw materials or other goods that are treated as essentials, and continuing with the stimulus package like low-cost financing to the businesses.
For the sake of the economy of Bangladesh, this unprecedented crisis must be dealt with the utmost priority. The government's support along with the vigilance from the businesses is critically important to face the ongoing challenges. 
The author is chairman and managing director of BASF Bangladesh Ltd. Views expressed here are personal.