3-day US trade show begins tomorrow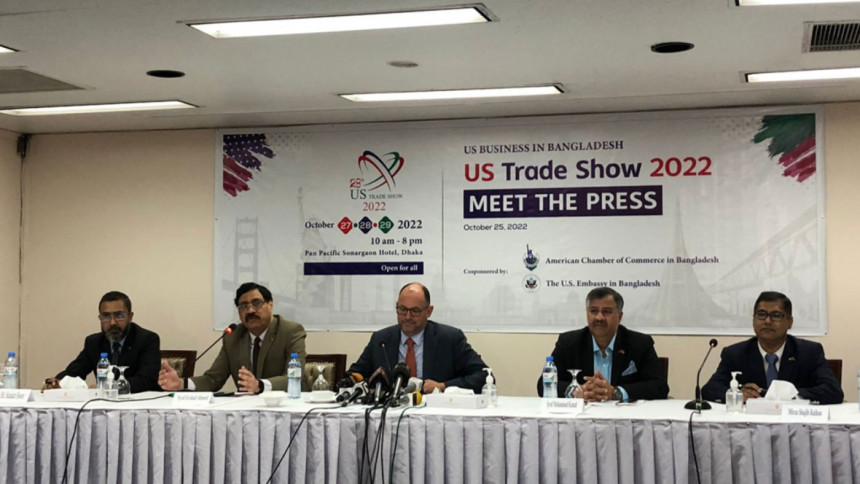 A three-day trade show will begin in the capital from tomorrow to showcase American products and services in Bangladesh and give a boost to bilateral trade. 
The 28th edition of the show jointly organised by the American Chamber of Commerce in Bangladesh (AmCham) and the US embassy in Dhaka will be held at Pan Pacific Sonargaon Dhaka.
The show is open from 10:00am to 8:00pm and entry free has been fixed at Tk 30 per person. Students in uniform or with identity cards will be allowed free entry.
The show will exhibit more than 100 US products, represented by 44 exhibitors from home and abroad, Syed Ershad Ahmed, president of the chamber, said at a media briefing yesterday when US Ambassador to Bangladesh Peter D Haas was present.
Ahmed said this year's trade show was of particular significance because it was the first US trade show in Dhaka being held in person since the pandemic emerged.
The participating companies represent sectors including energy, banking, financial services and food and beverage.
At the briefing, the US ambassador said this trade show would be an opportunity to showcase high-quality products provided by the US companies in Bangladesh. It will help build up a good relationship between Bangladesh and the US, he said.
The US is ranked as the top export destination for Bangladeshi products, and two-way trade between the US and Bangladesh totalled $10.64 billion in 2021, which is remarkable as 30 years back bilateral trade was very poor, he said.
During the trade show, the US embassy will host five informational seminars on logistics of regional connectivity, education, business visa, private sector growth and impacts of cross border business.