2022: Soaring prices gave consumers a hard time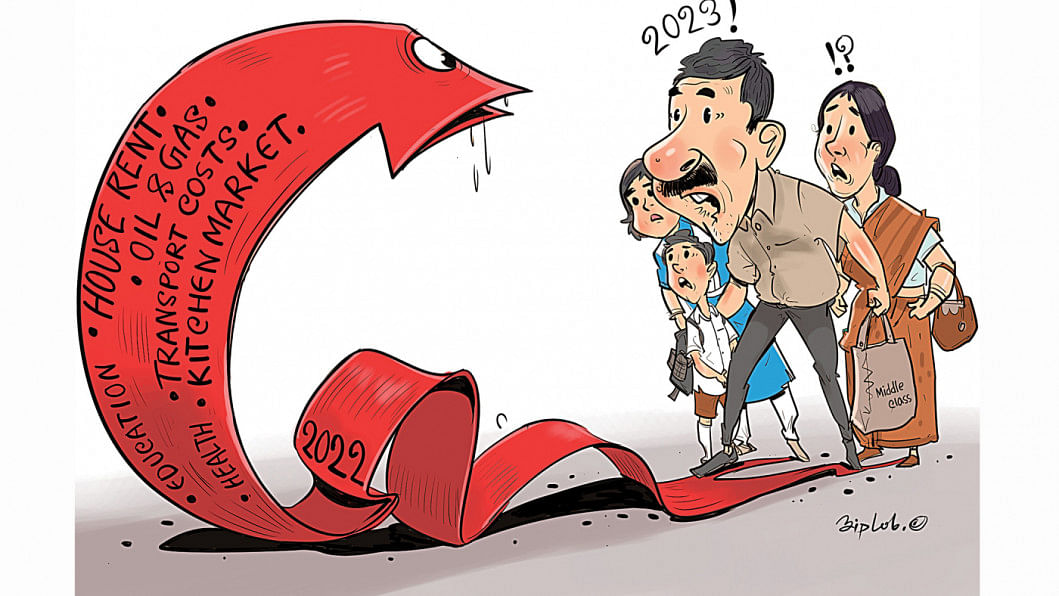 In January, Monirul Islam did not have to think twice about the bill while eating out in the morning or ordering beef or chicken items for lunch.  
But the private sector employee has been forced to tighten his belts since his salary has not increased whereas the cost-of-living rocketed for the hike in the prices for everything he uses or consumes.
In order to deal with higher inflation, Monirul started by cutting the food and clothing budget. But it was not enough since inflation showed no sign of cooling down.
In the middle of 2022, the 39-year-old encashed his deposit pension scheme, way before it matured, in order to pay for the medical expenses of his son and set aside some money for his wife, who was expecting.
In January, Monirul had calculated how much it would cost him if he sends his five-year-old son to school next year. But the budget has to be doubled owing to the rise in the prices of educational accessories.
"Throughout the year, I have cut costs one after another," he said.
Monirul represents millions of people who are currently going through the same difficulty for the rising cost-of-living and stagnant incomes.
Inflation in Bangladesh has nearly doubled since January, owing to higher import costs, fuel prices and transport fares, mostly driven by the impacts of the dragging Covid-19, supply disruptions and the Russia-Ukraine war, hurting the pockets of the lower, lower-middle and middle-income groups and the fixed income people.
Inflation stood at 5.86 per cent in the first month of the year before surging to a 10-year-high of 9.52 in August. It slightly fell to 8.91 per cent in November.
According to the Trading Corporation of Bangladesh, the price of rice has gone up by 7.14 per cent, loose flour by 66.67 per cent, soybean oil by 23 per cent, lentils by 25 per cent, powdered milk by 30-42 per cent, sugar by 45.16 per cent, salt by 23.8 per cent, and eggs by 7.35 per cent in the last one year.
As gas and crude oil prices rose in the global markets for the war-induced supply disruptions, Bangladesh was forced to hike the price of fuels twice since November 2021 in order to lessen fiscal pressures. As a result, the transport fare has increased by 30 to 40 per cent.
The prices of fish, meat and vegetables fluctuate in the kitchen market. However, the price of chicken has been high throughout 2022. Besides, soap, toothpaste, cosmetics, tissues and other essential products have become costlier. In fact, it would be hard to find a product whose price has not gone up.
In a relief, many landlords did not increase their house rent in 2021 owing to the dragging impacts of Covid-19. But, many of them have raised the rent recently, compounding pressure on the tenants.
Akram Hossain, who came to the kitchen market in the New Market area last week, said his four-member family was always selective about fish. But it has had to rely on low-priced fish in the last four months just to save money for a rainy day.
"I haven't bought beef even once in the last month."
Hossain, who runs of a shop selling utensils, also cut the number of social events he would attend.
"I have received invitations from relatives for five programmes in the last three months. But I went to only one event."
As the cost-of-living crisis persists, more and more people are standing in queues to buy rice and flour sold at subsidised prices under the open market sales initiative of the Directorate General of Food. But such a crowd was not seen before Covid-19 and even in 2020 and 2021, highlighting the financial struggle households are going through.
Mosharraf Hossain was one of them. He was standing in line in the capital's Panthapath on Tuesday since his salary is not enough to afford the family expenses. He comes there twice a week.
"I have been buying subsidised rice and flour from the truck regularly for the last three months," said Mosharraf.
Chandan Dev, a resident of Rahman Nagar in Chattogram's Sholshahar, has not been able to save any money in the last 11 months due to the spike in the cost-of-living.
Even the representative of a pharmaceutical company had to borrow from his colleagues during the four out of the 11 months to meet family expenses.
Dev has a 15-month-old daughter and he is worried about her future as he can't set aside any funds for her currently.
He also had thought of renting a large flat in January this year when the girl was growing up. Now he has dropped the plan.
"I can no longer fulfil many wishes of my wife and mother. As the days pass, I am becoming frustrated," Dev said.
The squeezing budget has forced Nazir Hossain to work in a factory till 2pm and then begin selling tea from 3pm to 10pm in the city's Farmgate area.
In the last two months, his employer has provided him with a salary of Tk 8,000, down from Tk 10,000 previously.
At the beginning of the year, selling tea would fetch him Tk 400-500 a day.
"Now it is very difficult to sell tea worth Tk 300. Sometimes I can't sell tea worth even Tk 200," Nazir said.
His daughter wants to visit their village home during the third-grader's ongoing winter vacation.
"She also wanted a new dress. But I couldn't afford that. It is very painful for me," said the vendor.
Khondaker Golam Moazzem, research director of the Centre for Policy Dialogue, said the price of essential products was higher in 2022 than normal times.
"Although the government has taken some initiatives to help the poor and low-income groups by supplying them with subsidised food, they have not yielded much relief."
Ghulam Rahman, president of the Consumers Association of Bangladesh, said: "This year, consumers have gone through a lot of crises. 2022 was a very tough year for them."