Junk shares reign over Dhaka bourse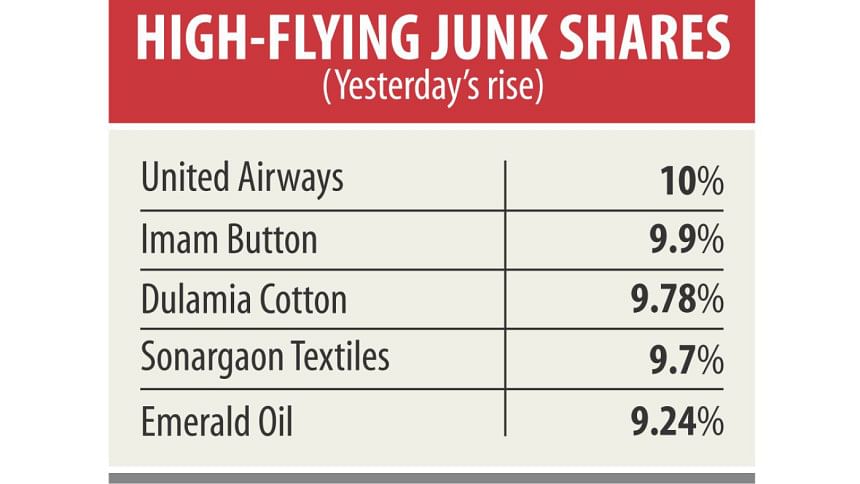 In a curious development, five junk stocks were among the top ten gainers of the premier bourse yesterday.
"This is a very bad sign for the capital market," said Monzur Morshed Khan, managing director of Trust Bank Investment, a merchant bank.
United Airways, listed as a junk share on the Dhaka Stock Exchange at present, topped the gainers' chart yesterday, after its share price soared 10 percent.
The other four junk shares are: Imam Button Industries (9.9 percent), Dulamia Cotton (9.78 percent), Sonargaon Textiles (9.70 percent) and Emerald Oil (9.24 percent).
"Gamblers are playing with these shares, so their share prices are soaring. Well-performing stocks' prices are not rising. In fact, they are declining."
The government is trying to keep the market vibrant and accountable, but the gamblers are making trouble, he said, while urging the Bangladesh Securities and Exchange Commission to take measures against such mischief-makers.
Stocks of the DSE gained yesterday amid improved participation of investors.
DSEX, the benchmark index of the premier bourse, rose 8.69 points, or 0.16 percent, to finish the day at 5,334.18.
Turnover, another important indicator of the market, also increased 9.86 percent to Tk 863.53 crore, with 17.12 crore shares and mutual fund units changing hands on the DSE.
Of the traded issues, 137 advanced and 169 declined, with 35 securities closing unchanged on the premier bourse.
KDS Accessories dominated the turnover chart with its transaction of 31.14 lakh shares worth Tk 32.39 crore, followed by Aman Feed, Bashundhara Paper Mills, BBS Cables and Peninsula Chittagong.
Among the major sectors engineering gained 1.09 percent, followed by textile (1.02 percent), pharma-ceuticals (0.81 percent), telecom (0.79 percent) and food and allied (0.45 percent).
Conversely, bank and mutual funds declined 0.66 percent and 0.63 percent respectively.
United Airways was the day's best performer, followed by KDS Accessories, ACI Formulations, Bengal Windsor Thermoplastics and Imam Button.
Bangladesh Industrial Finance Company was the biggest loser, shedding 10 percent, followed by Global Insurance, Sonar Bangla Insurance, SK Trims and Dacca Dyeing.
Chittagong stocks marginally rose yesterday with the bourse's benchmark index, CSCX, increasing 2.95 points, or 0.10 percent, to finish the day at 9,908.29.
Losers beat gainers as 113 advanced and 122 declined, while 18 finished unchanged on the Chittagong Stock Exchange.
The port city bourse traded 2.85 crore shares and mutual fund units worth Tk 60.46 crore.