More credit at hand to buy digital devices
BB aims at accelerating digital transformation, narrowing gap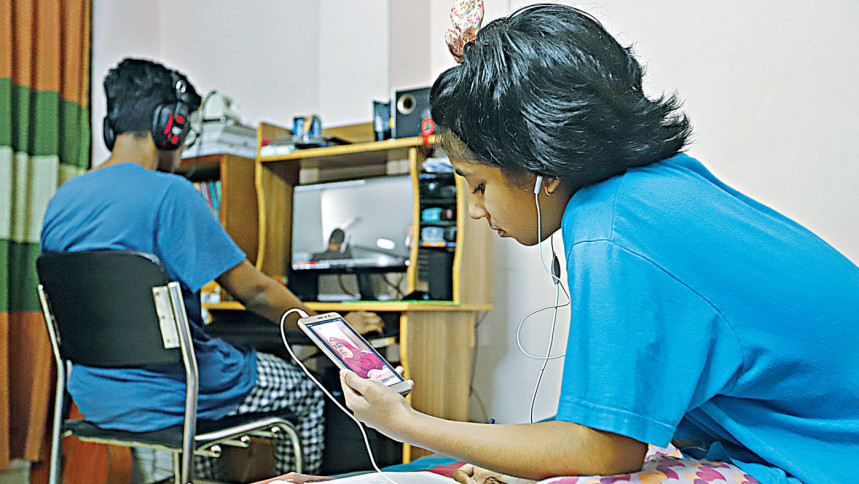 The Bangladesh Bank yesterday eased rules to make more credit available for consumers to buy digital devices with a view to accelerating digitalisation and narrowing the digital divide.
Consumers will be able to receive a maximum of 70 per cent of loans against their purchased products instead of the previous 30 per cent, according to a central bank notice.
Industry people welcomed the move, saying the initiative would give a huge boost to the use of digital devices.
Under the consumer financing policy of the Bangladesh Bank, clients enjoy a credit margin ratio of 70:30, meaning they have to contribute 70 per cent from their pockets to buy digital devices such as computers, laptops, smartphones, and tablets, while the rest can be financed by banks. 
Now, consumers will get 70 per cent of the product price as loans.
In Bangladesh, financing to the ICT industry has been encouraged to build skilled human resources as the government presses ahead to implement its Digital Bangladesh Vision.
The use of digital devices has widened in the recent period as almost all educational institutions now run academic activities online because of the coronavirus pandemic. But the price of computers and IT accessories has shot up by 20 per cent in the last 15 months as demand rose.
This prompted the BB to ease the credit rules as the digital divide has widened in the country.
Syed Mahbubur Rahman, managing director of Mutual Trust Bank, said a consumer could avail a maximum of Tk 20 lakh from a single bank under the consumer financing policy.
Besides, there is no need to put up any collateral in order to manage the loans. "This will help consumers take loans to purchase digital devices easily," Rahman said.
But, such loans are normally given out based on the bank-customer relationship, he said.
Syed Almas Kabir, president of the Bangladesh Association of Software and Information Services, said the central bank move would encourage people to embrace digital devices more than in the past.
"Digital device is no longer considered a luxurious item as the products have become a part of parcel of peoples' life during the pandemic."
Local entrepreneurs will feel comfort in setting up new industrial plants to manufacture digital devices thanks to the central bank initiative.
Shahid-ul-Munir, president of the Bangladesh Computer Samity, said that the move would provide smooth access to finance to consumers.
"They will be keener to buy a computer or laptop," he said.
The annual sale of laptops and desktops now stands at around 8 lakh units, according to industry people.
Liakat Ali, deputy managing director of Walton Digi-Tech Industries, which makes computers, laptops, smartphones, and tablets, said the BB initiative would help the sector flourish.
According to local manufacturers, the annual demand for mobile phones stands at 3.20 crore. Of the volume, smartphones account for only 28 per cent, or 90 lakh. The annual market size of the smartphone stands at Tk 7,000 crore.
"The central bank move will encourage local manufacturers as locally made smartphones meet more than 80 per cent of the total requirement," said Mohammad Mesbah Uddin, chief marketing officer of Fair Electronics, Samsung's local assembly partner.
According to the Bangladesh Telecommunication Regulatory Commission, among the handset users in the fiscal year of 2019-20, around 77 per cent used 2G phones (feature phone), 5 per cent 3G phones and 18 per cent 4G phones.
In October last year, the central bank relaxed the provisioning requirement on consumer financing.
Banks and non-bank financial institutions are allowed to keep 2 per cent provisioning against consumer loans instead of 5 per cent previously.
The outstanding amount of consumer financing stood at about Tk 57,000 crore as of October 2020.