3-day long Int'l travel and tourism expo to begin on Dec 1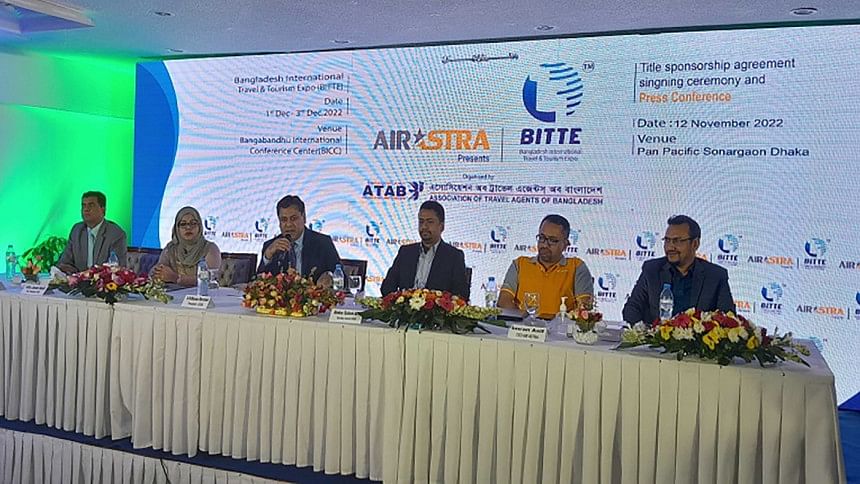 A three-day long Bangladesh International Travel and Tourism Expo (BITTE) will start on December 1 to boost the country's tourism industry and showcase Bangladesh to global tourists.
The expo organiser--Association of Travel Agents of Bangladesh (ATAB) confirmed the development at a press conference in this regard at a hotel in the capital today (November 12, 2022)
While speaking at the press conference, ATAB President SM Manzur Mursed Mahbub said the three-day Bangladesh International Travel and Tourism Expo (BITTE) will begin on the model of developed countries.
"The role of this sector in the implementation of Sustainable Development Goals, bringing investment in the tourism sector, enriching the relationship between travel agencies, tour operators, providing support in conducting business activities, and various assistance to tourists, among other issues, will be discussed in the expo," said the ATAB boss.
ATAB president also said Bangladesh can be a hub for tourism.
"We have to do our best to exploit those opportunities," he added.
General Manager, public relations of US-Bangla Airlines Kamrul Islam said this event will be a big milestone for the tourism sector.
The country's new private airline Air Astra will be the title sponsor of this year's expo.
Chief Executive Officer of the airlines, Imran Asif said that Air Astra will try to ensure maximum service to serve tourism and passengers.
Representatives from 15 foreign countries will participate in the event. Representatives of different airlines and ambassadors will also participate in the event.