30 top taxpaying firms honoured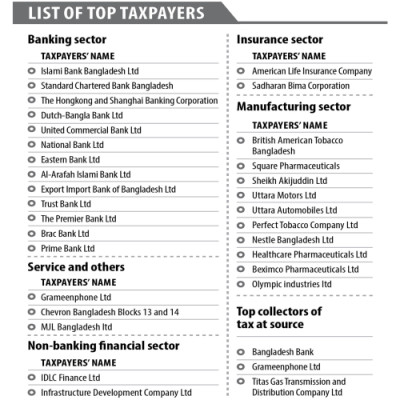 Thirty banks and financial institutions of the country were honoured by Large Taxpayers Unit (LTU) of the National Board of Revenue (NBR) yesterday for being last fiscal year's top taxpayers.
Their tax payment led to the attainment of the LTU's collection target of Tk 24,000 crore for the fiscal year.
"The more investment you make and the more taxes you pay, the more beautiful environment the government will create for businesses," NBR Chairman Abu Hena Md Rahmatul Munim told the programme at a hotel in Dhaka.
"The more transparency there is in managing the businesses, the easier it is for us to provide services. Then we can create a more tax-friendly environment for business," he said.
"I hope that in the future, with your cooperation, revenue collection will be faster," he added.
"Bangladesh's economy is moving forward. That's why we need a strong revenue base. And the financial sector needs further improvement in governance," said Bangladesh Bank Governor Fazle Kabir as chief guest.
"It is possible to increase the contribution of the financial sector through improvements in good governance. It's very important," he said.
LTU Commissioner Iqbal Hossain, Islami Bank Managing Director and CEO Monirul Maula and Grameenphone CEO Yasir Ajman also spoke on the occasion.