Leather sector gets wider benefits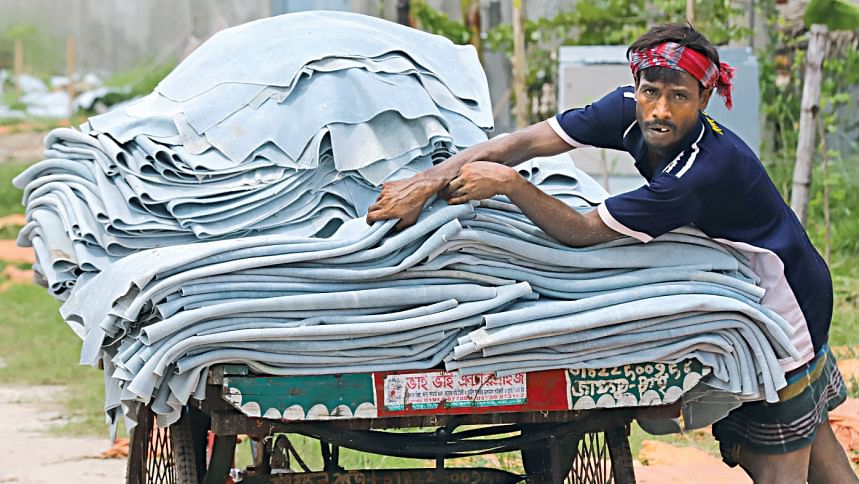 Export-oriented leather, footwear and tannery operators can now import the raw materials required by multiple production units based on a single bonded warehouse licence, according to a recent notification from the National Board of Revenue (NBR).
This development comes following repeated appeals from leather entrepreneurs to the NBR, citing that the extension of such benefits would reduce the time it takes to get another bonded warehouse licence for new export-oriented units of the same company or group.
Garment and knitwear, dying and printing, towel and linen, and home textile makers already had the privilege to use a single bonded warehouse licence to import raw materials for multiple units.
And now, leading leather goods exporters will enjoy the same benefit.
"This will be helpful for our product development," said Md Safiul Islam, president of the Leathergoods and Footwear Manufacturer & Exporter's Association of Bangladesh.
"This is a business and export friendly decision by the NBR," he added.
Export proceeds rose to $456 million in the July-November period of the current fiscal year, up 27 per cent year-on-year from $358 million, according to data from the Export Promotion Bureau.
Bangladesh fetched a total of $941 million in export earnings from the leather industry in fiscal 2020-21 with footwear and other products accounting for a bulk of this amount.
Md Shakawat Ullah, general secretary of the Bangladesh Tanners Association, said there are about 37 tanners at present who import chemicals and other raw materials used to process animal hides under the bonded warehouse benefit.
"But firms with more than one unit face difficulty to import the necessary amount of chemicals as they were only allowed to import the quantity required by one factory," he said.
Now though, the new measure will enable them to import the required amount of chemicals for production.
Tanners process between 27 lakh to 30 lakh square feet of skins and hides each year, Ullah added.