PPP authority, 15 financial institutions team up to finance PPP projects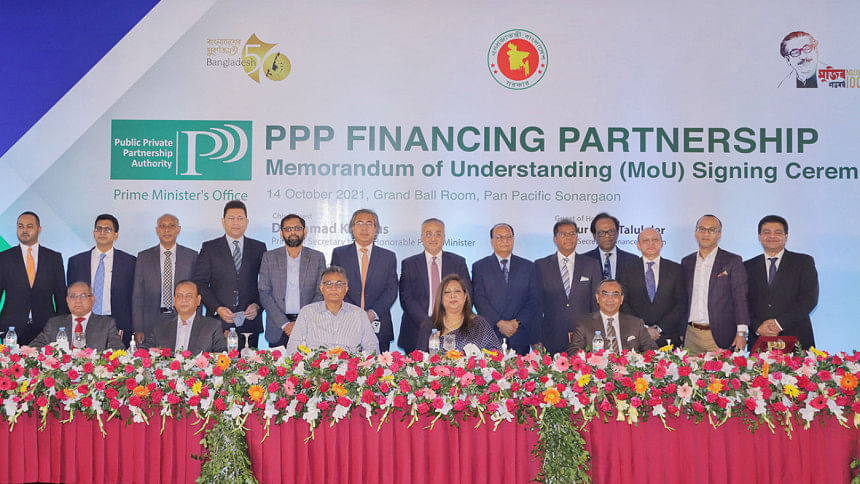 The Public Private Partnership Authority today signed a Memorandum of Understanding (MoU) with 15 interested banks and non-banking financial institutions to facilitate financing at public-private partnership projects.
The MoU will be effective for the next five years from the signing date.
Following the deal, the partners will be able to finance the PPP projects and contribute to the development of the much-needed infrastructure of the nation.
A Non-Disclosure Agreement (NDA) is also signed to complement the MoU.
Ahmad Kaikaus, principal secretary to the prime minister, graced the occasion as the chief guest while Sheikh Mohammad Salim Ullah, secretary of Financial Institutions Division, was present as special guest.
In 2016, the PPP authority signed an MoU with 14 banking and non-banking financial institutions.
This MoU signing event took place as at the end of the previous MoU's tenure new banks have shown interest to be PPP partner, said a press release.
Addressing the deal signing ceremony, Ahmad Kaikaus said, "To ensure quick and easy access to project information for lenders and to facilitate financial closure for selected PPP projects this MoU shall play a pivotal role. As domestic financial institutions need to be made more aware in PPP projects, the signing of this MoU will be a milestone event in this regard."