Now e-commerce falls prey to soaring inflation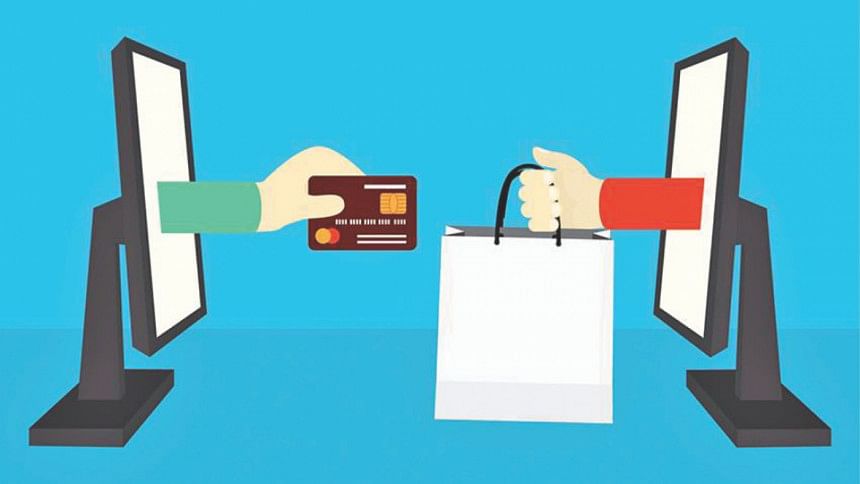 Bangladesh's e-commerce platforms have been witnessing a drop in sales in recent months due to high inflation and rising delivery costs. 
Industry people said the sales growth was 30 per cent to 40 per cent on an average in the last five years but the sales figure remained constant so far this year.
The appetite for purchases through online platforms using cards declined in July this year from that a month ago as consumer tightened their belts facing multipronged crises.
In July, customers spent Tk 992.1 crore on products and services, over 1 per cent less than June's Tk 1003.2 crore, according to the latest data of Bangladesh Bank.
On a year-on-year basis, there was a growth of 33 per cent in July 2021, when e-commerce transactions by cards amounted to Tk 741.7 crore.
However, e-commerce transactions dropped 42 per cent from Tk 1,277 crore in June 2021, which was the lowest since the pandemic hit the country in March 2021.
Since then, people have become cautious in placing orders following a series of scams centring e-commerce companies which have since come to light.
"In the last six month, sales of e-commerce have dropped significantly," said AKM Fahim Mashroor, chief executive officer of AjkerDeal.
"A significant amount of revenue of the e-commerce platforms comes from the sales of tech gadgets including mobile phones, laptops etc. Due to the soaring price of the dollar, the price of such products increased by 30 per cent. So, customer sentiment dropped for those items," he added.
According to him, sales of f-commerce platforms also dropped due to the rising price of the dollar.
"Most of the f-commerce companies boost their posts by paying Facebook. Since the payment has to be made through dollars, the entrepreneurs are spending less in marketing and subsequently their sales have fallen,' he added.
With the option of boosting sales by paying Facebook, which automates the paid user's ads to show products that are tailored to each person's interests, many youths, especially women entrepreneurs, sold a huge amount of goods or services using the world's largest social media platform during the pandemic.
Another reason for the falling e-commerce sales is that courier and logistics services have increased their rates recently, he said.
Online purchases become costlier as courier companies in the country have collectively raised their fares in response to the recent increase in fuel prices.
The country's top courier and logistics service providers already raised their charges by around 20 per cent in the face of an increase in transport costs since August when the government revised up the prices of diesel and kerosene by 42.5 per cent while the cost of petrol and octane rose 51.1 per cent and 51.7 per cent respectively.
As the increase in charge will be levied on end consumers, an item that previously cost about Tk 500, including the delivery fee, will now be priced at about Tk 600, according to industry people.
Morin Talukder, co-Founder and CEO at Pickaboo.com, said sale of luxury items dropped significantly in the last three month due to inflation that made customers more cautious on spending.
Industry people said Bangladesh Bank's data on e-commerce transaction by cards based on payments includes those for hotel stays and airline ticket purchases. So, actual e-commerce transactions are far less, they said.
Usually, e-commerce and Facebook-based traders in Bangladesh see monthly transactions of Tk 500 crore to Tk 550 crore, according to the industry insiders.
Daraz witnessed growth during July, August and September this year, according to its director for growth marketing, Mashrur Mim.