Complaints against Facebook shops on the rise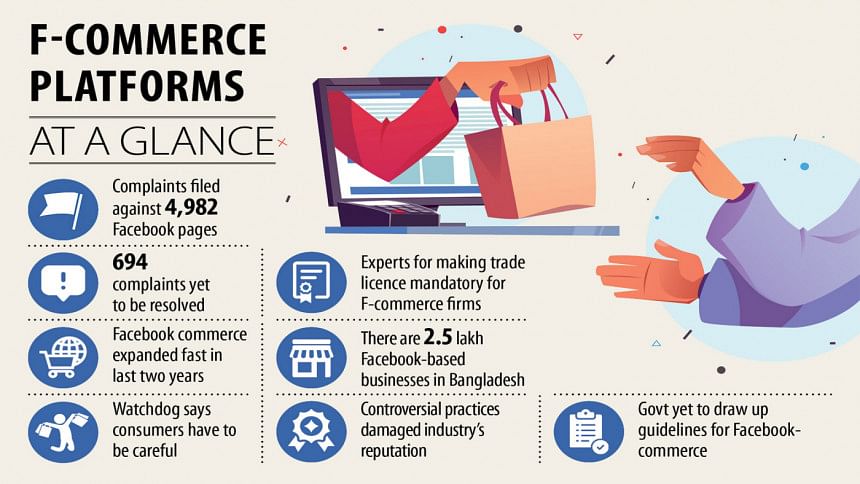 Hossain Ahmed, a resident of Rajarbagh in Dhaka, ordered a couple of gowns worth Tk 3,340 on a Facebook-based online shop for his wife on October 13.
When he ordered the products, Eva Fashion Shop informed him that the gowns would be delivered to his doorstep through a courier service provider by October 14.
The products were delivered on October 16 but Ahmed was surprised when he opened the packet as he found two low-quality saris instead of a pair of gowns.
He reported the matter to the seller, who informed him that his products were mistakenly sent to Khagrachhari, so he had to pay another Tk 500 to get the products back.
On October 20, Ahmed, a sales and marketing executive of an ice-cream producer, went to Razzak Plaza in the New Market area of Savar to talk to the owners of the online shop face to face to settle the issue.
But when he reached the location given on the company's Facebook page, he found no shop there by that name.
When he called the seller's mobile phone number and said there was no such shop in Razzak Plaza, someone threatened to kill him, alleged Ahmed while speaking to The Daily Star.
He left the area quickly to avoid any trouble. "I didn't get the delivery of my products," he said.
When this correspondent called the number available on the company's Facebook page a number of times, it was found switched off. Shuily Sana, a resident of Shibbari Mor in Khulna, recently ordered a three-piece priced Tk 1,350 on a Facebook page named Trisha Fashion House, paying Tk 150 in advance.
A few days after the promised date, she received the parcel. When she opened the packet, she found a piece of fabric in place of the salwar kameez.
She tried to contact the seller by calling the phone number provided on its Facebook page but her efforts went in vain.
According to the cash memo provided by the seller, a relative of Sana went to Muktabangla Market in Mirpur-1 in Dhaka, but he did not find any shop named Trisha Fashion House.
This correspondent also called the number on the seller's Facebook page but could not reach anybody.
Like Ahmed and Sana, many customers are said to have gone through a similar experience in Bangladesh.
Complaints have been filed against 4,982 Facebook pages with the Directorate of National Consumer Rights Protection (DNCRP) from July 2017 to August 2021. A total of 694 complaints are yet to be settled.
According to the e-Commerce Association of Bangladesh (e-Cab), there are 2.5 lakh Facebook-based sites, also known as F-commerce, in Bangladesh.
In the last two years, e-commerce through Facebook-based business has expanded in Bangladesh like in other countries as the Covid-19 pandemic and lockdowns turbocharged digital shopping.
But the industry's reputation is in question because of controversial business practices, which include unprecedented discounts, delays in deliveries and shipment of wrong products, by a few platforms.
"First of all, consumers have to be aware of the current scenario," said Bablu Kumar Saha, director general of the DNCRP.
Shaheen Ahmed, owner of Anjans, a fashion house, advises shoppers to purchase products from Facebook-based shops on a cash-on-delivery basis.
"This will allow customers to save them from any hassles."
Government agencies should make it mandatory for Facebook-based businesses to obtain a licence before running an online store.
"When someone does not have a trade licence or is not registered, there is no benefit in filing a complaint against them," said Ahmed, also president of the Fashion Entrepreneurs Association of Bangladesh.
The government has formulated a policy for the e-commerce sector but it is yet to draw up any guidelines to regulate Facebook-based commerce.
"We're working on the issue," said Hafizur Rahman, director-general of the WTO cell and former head of the Digital Commerce Cell of the commerce ministry.
The government should formulate a guideline about F-commerce, said Ghulam Rahman, president of the Consumers Association of Bangladesh.