Islamic banks' loan surges 9 times their deposits in a year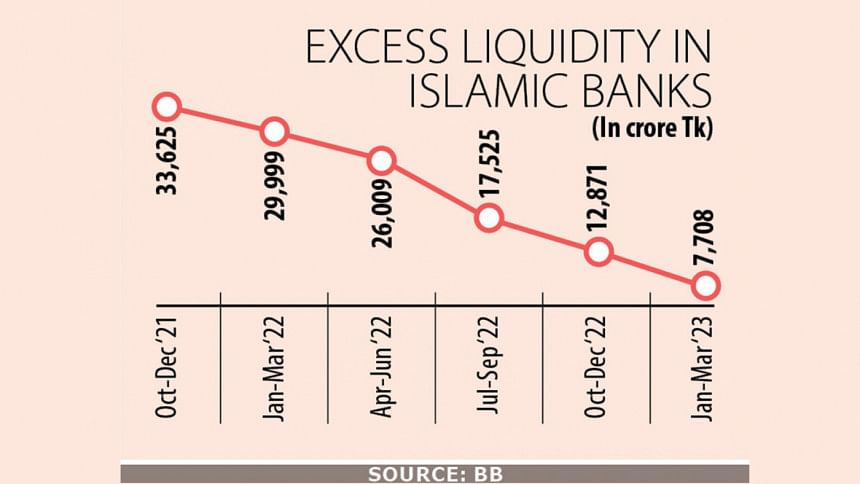 Investments made by full-fledged Islamic banks in Bangladesh surged nearly nine times their deposits in a span of a year, raising questions as private sector credit growth has slowed in the entire banking sector, official figures showed.  
The banks registered an increase in investments, or loans, by Tk 46,011 crore in January-March of 2023 compared to the identical quarter of 2022. Deposits rose by Tk 5,169 crore during the same period, data from the Bangladesh Bank showed.
On top of that, the full-fledged Islamic banks, now numbered 10, were the biggest sufferers of fund withdrawals after the banking sector was hit with fresh loan irregularities: they lost deposits amounting to Tk 427 crore in the first quarter of this year in comparison to the last quarter of 2022.
They collectively held deposits to the tune of Tk 379,524 crore in March, down 0.11 per cent from Tk 379,951 crore in December. It was up 1.38 per cent from March last year, however.
Investments at the banks stood at Tk 412,397 crore as of March, an increase of 1.18 per cent from three months ago and 13.44 per cent a year earlier.
"The abnormal investment growth against a feeble deposit growth is a matter of concern," said Ahsan H Mansur, executive director of the Policy Research Institute of Bangladesh.
"The indicators highlight the weak financial health of the banks. The central bank should investigate why the banks have given out an excessive volume of loans. The asset quality of the banks should also be verified."
Some Shariah-based banks have also faced a wide range of scams in recent times, denting the confidence of depositors.
Under such a situation, some banks, including Islami Bank Bangladesh Ltd (IBBL), the largest private bank in terms of deposits and investments, suffered from liquidity dearth resulting from fund withdrawals.
The liquidity crunch prompted the central bank in December to pump funds into a number of Islamic banks, including IBBL, to enable them to meet emergency financing needs and comply with regulatory requirements.
Zahid Hussain, a former lead economist of the World Bank's Dhaka office, says that the economy has been sluggish in recent periods owing to the uncertainty at home and abroad. Still, Islamic banks have posted remarkable investment growth.
"The economy is facing an energy crisis, which hurt the production of industries. But the banks have disbursed a large amount of funds. This is interesting."
Private sector credit growth in Bangladesh dropped to a 14-month low of 11.23 per cent in April owing to weak credit demand amid the current business slowdown. 
Fahmida Khatun, executive director of the Centre for Policy Dialogue, says that the large volume of investments at a time of crisis is not an indication of prudential banking.
The Shariah-compliant banks, which have recently faced loan irregularities, were considered well-reputed lenders, but their image has been tarnished, she said.
"Some Islamic banks even failed to ensure the required cash reserve ratio."
The overall availability of excess liquidity at the Shariah-based banks and the Islamic banking windows of traditional lenders slipped to Tk 7,708 crore in March this year, from Tk 12,871 crore in December. Their collective surplus liquidity stood at Tk 29,999 crore in March last year.
Both Hossain and Fahmida also urged the central bank to look into higher lending by the banks.