High interest hurts farmers
Private banks disburse majority of farm loans thru' microfinance institutions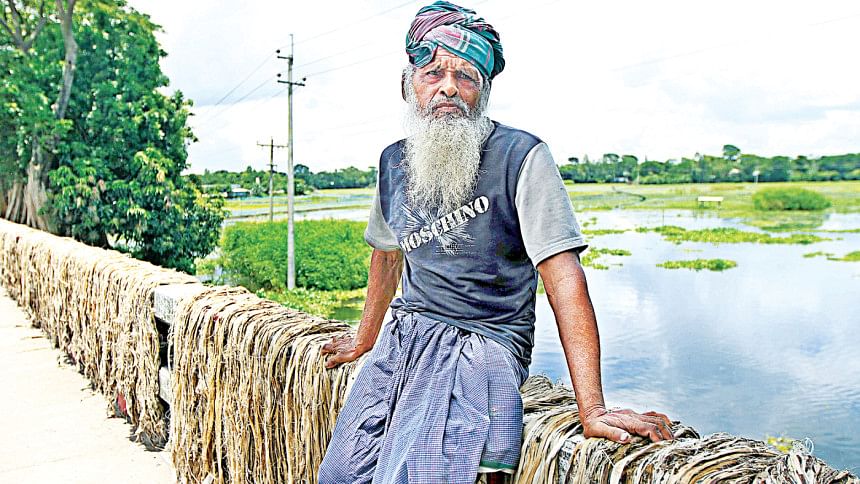 "I have repeatedly tried to avail loans from different banks. But after being denied, I was compelled to take the loan from a microcredit institution to run my farm."
While Bangladesh Bank set the interest rate of farm loans at eight percent, farmers are having to pay more than three times higher even in desperate times like the coronavirus pandemic.
Many farmers have paid no less than 25 percent as interest, thanks to a  weak policy of Bangladesh Bank and lax monitoring that allow private banks and microfinance institutions to exploit the farmers.
Lutfur Rahman, a farmer at Debidwar of Cumilla, recently took a Tk 1 lakh farm loan from a microfinance institution. The repayment tenure is one year and he has to repay Tk 1.40 lakh, which means the annual interest rate is a whopping 40 percent.
"I have repeatedly tried to avail loans from different banks. But after being denied, I was compelled to take the loan from a microcredit institution to run my farm," he  told The Daily Star recently.
Small farmers like Lutfur, who are keeping the agriculture sector going and feeding the nation, are bearing the brunt of this high interest rate when it has come down to one-digit figures for loans across the board, except for credit cards.
Experts question how farmers would survive after bearing such high interest and production costs when they don't even get a fair price for their produce. They said small and marginal farmers also face difficulties in getting loans directly from banks in the absence of collateral and influence.
Considering agriculture a priority sector, Bangladesh Bank usually sets the interest rate on farm loans one percent less than that of non-farm loans.
Accordingly, an interest rate of eight percent was fixed for farm loans, given the current interest rate ceiling of nine percent for any loans except for credit cards.
But the central bank has a provision that allows private banks to disburse 70 percent of their farm loans through other channels.
When private banks disburse loans for agricultural purposes through microfinance institutions instead of their own channels, the interest rate climbs to over 25 percent as these institutions charge their own rates when loaning the money to farmers.
In the 2019-20 fiscal year, 40 private banks disbursed Tk 11,654 crore as farm loans -- Tk 7,356 crore or 63 percent of which was channelled through microfinance institutions -- according to Bangladesh Bank data.
Farm loans disbursed in FY20 through both private and public banks amounts to Tk 22,750 crore. The figures from FY21 are still not available.   
State-run banks disburse the majority of farm loans through their own channel, but the reverse is true for private lenders, according to a central bank report.
Many of the private banks did not even follow the instruction of disbursing a minimum of 30 percent of farm loans through their own channels and the number of violators has been increasing over the past few years.
Some 28 private banks did not disburse the minimum farm loans through their own channels in FY20, the document shows. The number of such banks was 27 the year before that while it was 18 in FY17.
Farm loan disbursement through the private banks' own channels was 55 percent in FY17 and it fell to 37 percent in FY20, read the BB report.
Private banks turn to microfinance institutions for farm loan disbursement to lessen their supervisory- and recovery-related costs, a central bank official said, requesting not to be named.
He added that banks' dependency on other channels has been increasing due to lax monitoring. "This has had an adverse impact on the production costs of farmers."
The Daily Star talked to at least 10 farmers in different parts of the country about how they acquired farm loans from both banks and microfinance institutions. Nine of the 10 farmers said they shied away from banks after they faced hassles.
Milton Aziz, a farmer from Dhunat in Bogura, said he recently took a loan worth Tk 50,000 from a microfinance institution for livestock farming after his repeated attempts to get a bank loan failed.
"Banks seek collateral against their funds. But I do not have enough land to mortgage," he said.
The repayment tenure of Aziz's loan is nearly 11 months and he will have to repay Tk 81,000, including interest, in total.
Another farmer, Md Refayet Ullah, from Pirgachha of Rangpur, said he had to pay a hefty amount of commission to middlemen to sanction a loan from Bangladesh Krishi Bank.
"I have lost my interest in taking loans from banks after that," Refayet said, adding that it is easy, however, to manage loans from microfinance institutions.
"But they charge excessive interest, which is not viable for me given my production costs."
Ali Hossain Prodhania, just-retired managing director of Bangladesh Krishi Bank, said farmers were not required to mortgage land to avail farm loans up to Tk 3 lakh.
"But banks seek land documents from farmers to give out loans calculating the amount of farmland."
He, however, said the practice of middlemen controlling farm loan disbursement has almost stopped in recent years.
Experts said the whole system of how farm loans are disbursed is anything but farmer-friendly. They also said the interest rates charged by microfinance institutions is also illogical.
The authorities concerned should formulate a farmer-friendly loan system and take immediate measures to reduce microfinance institutions' interest rate, they said.
Syed Mahbubur Rahman, managing director of Mutual Trust Bank and the immediate-past chairman of the Association of Bankers, Bangladesh, said private banks had not strengthened their networks to be able to give out farm loans, especially in rural areas.
In some cases, banks show reluctance to disburse farm loans through their own network due to the low interest rate and opt for the channels of microfinance institutions to reduce their operational costs, as the majority of farm loans range from Tk 1 to 5 lakh, Mahbubur observed.
Despite repeated attempts, Ali Reza Iftekhar, current chairman of the Association of Bankers, Bangladesh, an organisation of the managing directors of the country's banks, could not be reached over phone.
Atiur Rahman, a former BB governor, said the central bank is not giving enough emphasis on farm loans disbursal by lenders like it did in the past.
"For instance, the central bank fixed a ratio of 1:1 in setting up branches between rural and urban areas," said Atiur, who took different measures to popularise farm loans during his governorship from 2009 to 2016.
"We even recognised the top performing lenders in the field of farm loan disbursement through their own channels. But such initiatives are missing now," he said, adding that BB should take proactive measures in the farmers' interest.
M Asaduzzaman, former research director of Bangladesh Institute of Development Studies, said interest rates should be equal across the board.
"How much will be left if a farmer pays 25 percent interest?" he questioned.
However, small microfinance institutions in particular are also beholden to banks, claimed the head of a national microfinance network of around 760 members.
Md Abdul Awal, executive director of the Credit Development Forum, said while the large microfinance institutions can usually manage farm loans from banks easily, small ones face various roadblocks to get the funds.
Awal alleged that some small microfinance institutions were even forced to pay out 12-13 percent interest instead of eight percent to banks in order to obtain the funds under BB's farm loan programme.
In other cases, small microfinance institutions have to keep a deposit of 20 percent of the disbursed funds at the same bank in the form of fixed deposit receipts (FDRs), which is termed "guarantee money", he also said.
These conditions compel many microfinance institutions to impose higher interest rates on the farm loans they then disburse, he added.
A central bank official, who works at the central bank's Agriculture Credit Department, said no bank was allowed to disburse farm loans to microfinance institutions at a rate higher than eight per cent.
"We have so far not received any allegation to this end," he said.
Md Serajul Islam, spokesperson and an executive director of Bangladesh Bank, acknowledged that the rate being charged by microfinance institutions was excessively high as clients of the banking sector are now allowed to take out any loan at a maximum of nine percent.
"The central bank will take measures to reduce the interest rate on farm loans given out by microfinance institutions," he said, adding that they will write a letter to the Microcredit Regulatory Authority (MRA) so that the farmers can get relief from the burden of high interest rates.
Md Fashiullah, executive vice-chairman of the MRA, said farmers took out agriculture loans from microfinance institutions paying a maximum of 24 percent interest.
The central bank document, however, said that microfinance institutions usually charge at least 25 percent interest on farm loans.
"If any microfinance institution imposes a higher interest rate on farm loans than the stipulated one, the MRA will take action against them," Fashiullah said.
He also admitted that the existing interest rate is high given the rate charged by banks.
"We have taken initiatives to reduce the rate and already arranged two meetings with the stakeholders including the central bank and different microfinance institutions," he said.