Credit card use hits record high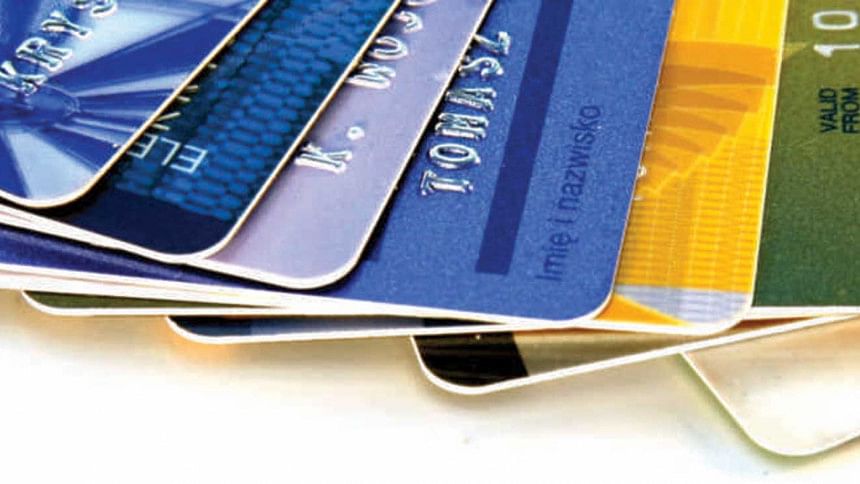 Spending through credit cards hit an all-time high in June thanks to the acceleration of digital payments on e-commerce platforms amid the ongoing coronavirus pandemic.
Customers also spent more online ahead of Eid this year.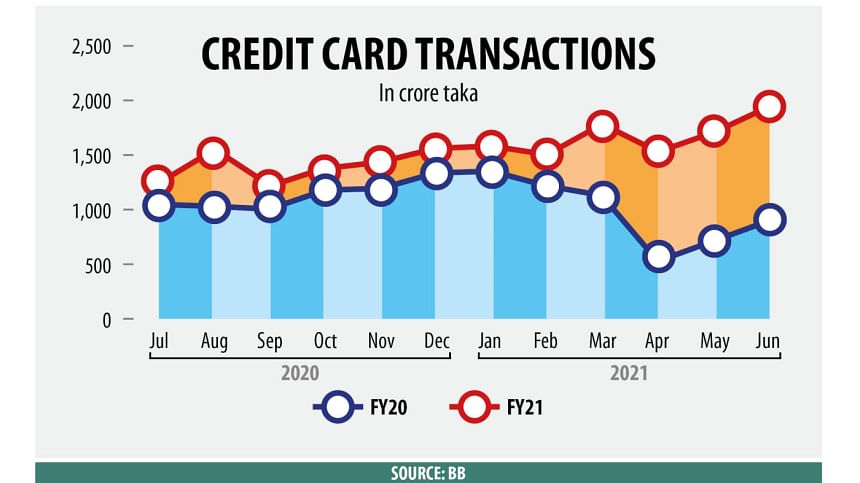 Credit card transactions collectively stood at Tk 1,934 crore in June, up 13.25 per cent from a month earlier and 115.46 per cent year-on-year, data from the central bank showed.
During the first three months after the Covid-19 outbreak in March 2020, credit card payments nosedived as spending on travel, tourism, and lifestyle products dropped.
A fair number of nations had either partially or fully halted international flights since February last year in order to stem the spread of the virus.
Flights across the globe collectively earned around $35 billion in the pre-pandemic era. But clients were unable to fly due to countrywide lockdowns after the Covid-19 crisis began, according to the International Air Transport Association.
The industry started to rebound in July last year as many returned to work and borders were reopened.
In the last fiscal year, credit card transactions totalled about Tk 18,450 crore, up 45.84 per cent, year-on-year.
"Credit card transactions accelerated in June this year due to advanced purchases for Eid-ul-Azha and increased payments on e-commerce platforms," said Syed Mohammad Kamal, country manager of MasterCard Bangladesh.
"May and June were both good months for credit cards as some segments such as restaurant, lifestyle, and electronics performed well," he added.
Debit and credit card transactions increased 76 per cent year-on-year to Tk 23,633 crore in June.
Transactions through debit cards stood at Tk 21,698 crore in June, up 73 per cent from a year ago and down 3 per cent from a month ago, according to data from the Bangladesh Bank.
Transactions through internet banking increased 40.84 per cent year-on-year to Tk 10,452 crore in the same month thanks to the prolonged pandemic, which made clients accustomed to banking through digital means to avoid branch visits.
In May, internet banking touched an all-time high of Tk 11,384 crore. In February 2020, internet banking transactions were only Tk 6,298 crore.
The number of debit cards stood at 2.34 crore, credit cards 17.73 lakh and prepaid cards 9.34 lakh as of June this year.
Prepaid card transactions stood at around Tk 192 crore in June, down from about Tk 211 crore a month earlier.
"Card spending has been increasing over the years, and the pandemic pushed it to a new level as people are now heavily reliant on digital purchases," said Md Ahsan uz Zaman, managing director and chief executive officer of Midland Bank.
"Digitalisation and an increased tendency to do online transactions rather than handle cash is pushing card transitions higher," he added.
According to Zaman, the Bangladesh Bank's move to place a cap on the interest rate on credit card loans has also contributed to the rise in card transactions.
In September last year, the central bank capped the interest rate on credit card loans at 20 per cent, which came as a relief for clients as they would get rid of the burden of higher interest.
Banks used to charge between 25 and 27 per cent interest on credit card loans, way higher than the 9 per cent interest rate ceiling applicable for all loan products in Bangladesh.
"However, credit card transactions are very low in Bangladesh compared to overall transactions," Zaman said.