Digital marketing seminar organized by NSU MBA Club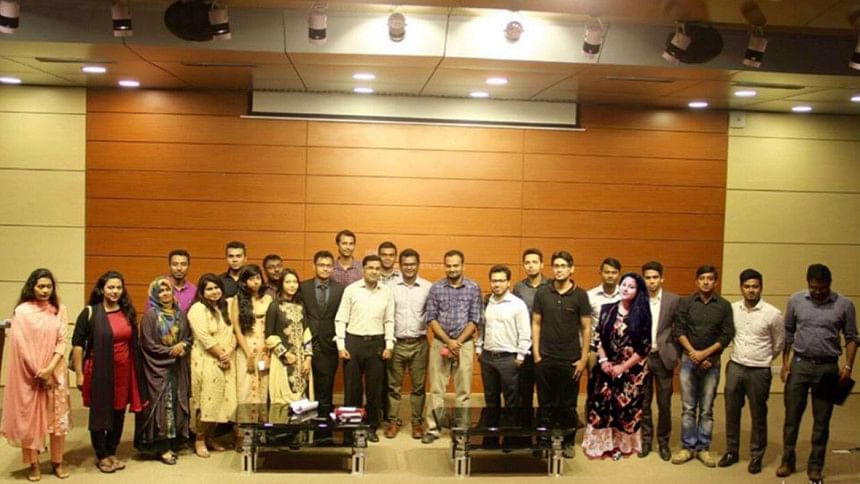 North South University MBA Club organised a seminar on "Digital Marketing" on October 19 at their campus premises. The speakers were Tajdin Hassan, Head of Marketing of The Daily Star and Ovick Alam, Co-founder, Webable.
The digital landscape is moving at a lightning fast pace and every sector has been affected by the advances in the digital arena, from retailers to brands and agencies.
The program began by welcoming the speakers with a speech by Mokhdum Morshed, Faculty Advisor of NSU MBA Club and Mahbubur Rahman, Dean, Business School of NSU.
Tajdin Hassan emphasized on web analysis, Facebook advertising, mobile marketing, social marketing, blog etc.
He talked about developing skill over grade (CGPA) and opined that skill is more important than grade and also showed how digital advertisement revenue is soaring up.
He ended his speech by talking about passion, hard working, and discipline- without which no one can conquer success.
Ovick Alam started his speech talking about "The SLASH GENERATION". He urged everyone to stop blaming their luck. Good job, a particular job or right job may be a bad job for you, he said.
The speakers ended with a question-answer session. Tajdin Hassan emphasized on subscribing blog for daily update and Ovick Alam said how skill and talent is required for marketing or Web design firm.
The seminar's aim was to create corporate relationship by arranging seminar on digital marketing corporate grooming networking workshop to improve managerial skill.