Danish retailers pay highest for apparel
Survey finds UK is the lowest payer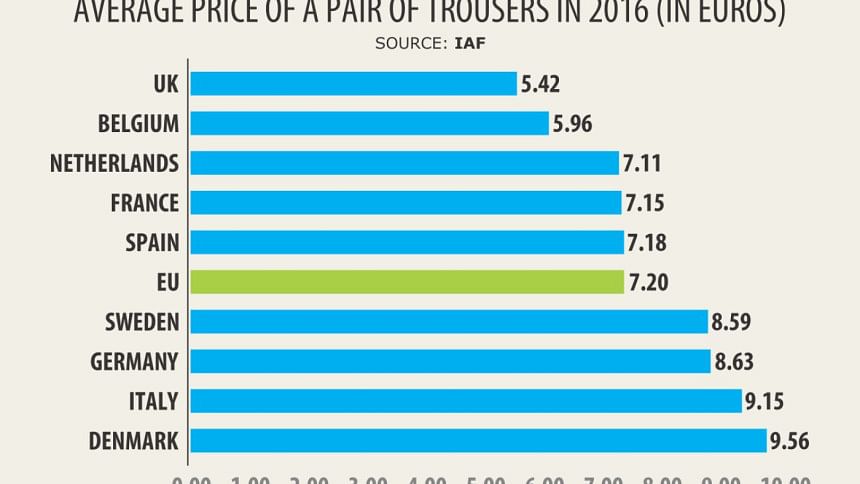 Danish retailers pay the highest among the 28 European nations when it comes to garment items and the British ones the lowest, according to a survey by the International Apparel Federation.
The retailers from Denmark pay on average 9.56 euros per unit, followed by Italy at 9.15 euros and Germany at 8.63 euros. The UK retailers pay the lowest of 5.42 euros.
The IAF, the global federation of the apparel industry with presence in more than 60 countries, conducted the survey based on the average price of a pair of trousers imported by the European retailers in 2016. The survey result was published last December.
In fiscal 2016-17, Bangladesh exported $17.75 billion worth of apparel products to the EU, which is 50.96 percent of the total receipts, according to data from the Export Promotion Bureau.
"I do not agree with the findings of the survey," said Mostafiz Uddin, managing director of Chittagong-based Denim Expert.
The UK is among the biggest apparel markets in the EU whereas Denmark's market size is not so large. "The British retailers place work orders in bulk while their Danish counterparts place in small quantities."
For instance, if the British retailers place work orders for 150,000 units of trousers, the Danish retailers will place work orders for 2,000 units.
"We are not getting the real picture from the survey."
When it comes to sourcing from Bangladesh, the brands give the suppliers only 30 percent of the retail price, according to Mostafiz. For example, if an European buyer purchases a garment item for Tk 6, he/she will sell it at Tk 20 or above in any European market.
Mostafiz said he sells denim trousers for $14 to $24 per unit. For value-added items, the price is $24. Of the total export from Bangladesh in a year, 40 percent garment items are high-value added items, according to industry insiders.
In an open market system the buyers will go to a country from which they can purchase at lower prices, said Siddiqur Rahman, president of the Bangladesh Garment Manufacturers and Exporters Association. "So, the European retailers are no different," he added.
The IAF survey also said various structural, economic, political, sociological, technological or regulatory factors have been impacting the European clothing market in 2017 and 2018.
The major ones are: economic and currency fluctuation, implementation of the EU-Vietnam free trade agreement, GSP plus for Sri Lanka, Brexit and the end of the Trans-Pacific Partnership Agreement.
The other factors are: possible introduction of the Border Adjustment Tax in the US, insecurity in some production areas, political tensions between the EU and Turkey, more stringent corporate social responsibility requirements, automation of production in Asia and revival of the Silk Road.