Credit growth buoyant in May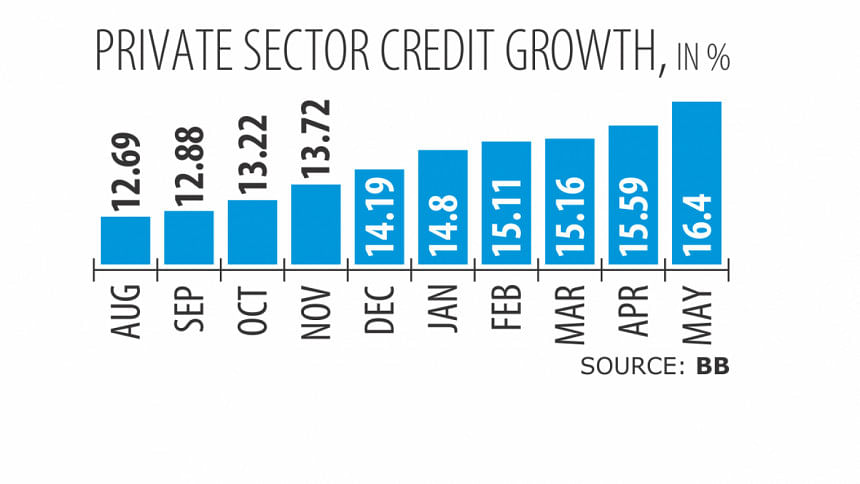 Private sector credit continues to post healthy growth rate, taking the advantage of the declining interest rates.
In May, private sector lending, which includes home, personal and business loans, increased 16.4 percent year-on-year, according to Bangladesh Bank data. It stood at 15.59 percent in April, 15.16 percent in March and 15.11 percent in February.
However, credit growth in the first 11 months of the fiscal year stood at 13.82 percent, lower by 1 percentage point than the monetary policy target of 14.8 percent.
Lenders attributed the recent growth in private investment to a turnaround in economic activities after a gap of three years.
More loans to the small and medium enterprises or SMEs, mega projects floated by the government and declining cost of funds are also pushing the credit growth up, they said.
A rise in imports ahead of the Eid-ul-Fitr also helped create the demand for money.
A decline in foreign currency loans, for which the cost has started to creep up, is also creating a demand for local loans.
"Import financing, particularly for capital machinery, has increased in recent times. The expansion of existing garment factories also fuelled the demand," said Shafiqul Alam, managing director of Jamuna Bank.
Alam said his bank's loans to the SME sectors rose to 15 percent of the total portfolio now from a very insignificant share a year ago.
Anis A Khan, managing director of Mutual Trust Bank, said more demand for loans for import of capital machinery is an encouraging factor for the economy.
Khan, also the chairman of the Association of Bankers Bangladesh, a forum of banks' managing directors, found that entrepreneurs are also taking loans for expanding their business, including garment factories.
"Import of essential commodities ahead of Ramadan also created fresh demand for loans."
Private sector credit growth has remained subdued for three years since January 2013, when it stood at 14.4 percent.
Volatile political situation and violent activities had forced the private sector to shelve their investment plans, which brought down the credit growth to as low as 8-9 percent.
High interest rates in the local market also compelled many entrepreneurs to take low-cost foreign currency loans, which brought down loan disbursement by local lenders, according to the bankers.
All these issues pushed the weighted average lending rate down to 10.64 percent in March compared to 11.93 percent a year earlier.
The deposit rate also saw a sharp fall as banks are still awash with excess liquidity. The interest rate on deposit came down to 5.77 percent in March from 7.06 percent a year earlier.  "We are seeing higher demand for loans from some sectors, such as transport, steel, garments and textiles and so on in recent months," said Ahmed Kamal Khan Chowdhury, managing director of Prime Bank.
Abdul Halim Chowdhury, managing director of Pubali Bank, the largest private bank in terms of branch network, said his bank is feeling the rising demand for loans in recent months. Pubali's loan-deposit ratio reached 78 in May from 74 percent the previous month, meaning that the bank can lend Tk 78 now out of every Tk 100 of deposit.
Chowdhury too said the imports of essential items ahead of Ramadan and new and costly machinery by the garment sector have boosted Pubali's credit growth.
"Rising economic activities in the northern part of the country is also creating new avenues for fresh loans," he said.
He also detected classified loans as a major risk for steady economic growth.