Citi's micro-entrepreneurship awards step into 11th year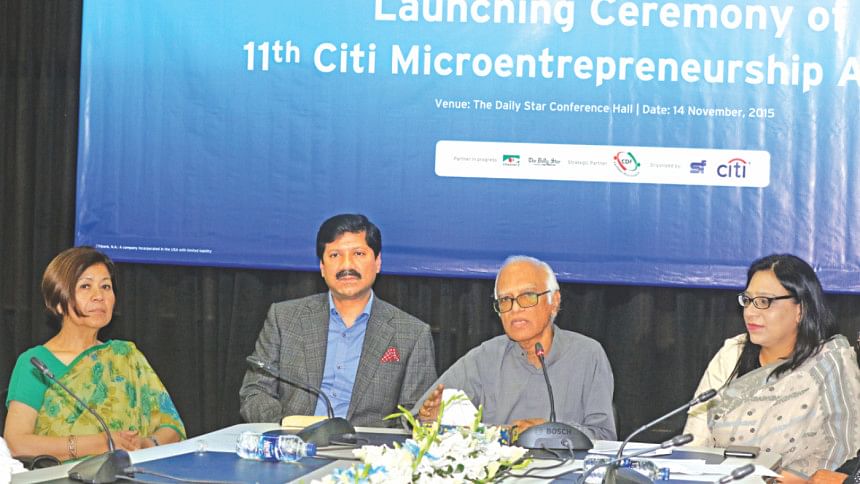 Citi Foundation, the philanthropic arm of Citigroup, yesterday launched Citi Micro-entrepreneurship Awards for 2015 to recognise leadership, entrepreneurial skills and best practices of micro-entrepreneurs in Bangladesh.
The awards initiated in 2005 will be given in five categories to promote micro-entrepreneurship, said Wahiduddin Mahmud, chairperson of the awards' advisory council, at a press briefing at The Daily Star Centre in Dhaka.
One of the key features for this year's awards is that the definition of micro-enterprises has been widened, he said. "There is a 'missing middle' between the micro-enterprises and small and medium enterprises."
Of the two crore active microcredit members across the country, around 8 percent or 16 lakh have become micro-enterprises that can receive up to Tk 5 lakh in loans from micro-finance institutions.
"But from this year, those who are receiving up to Tk 25 lakh credit from commercial banks and non-bank financial institutions will be recognised as micro-enterprises," said Mahmud, who is also a former adviser to caretaker government.
About 8-9 percent of the 16 lakh micro-enterprises are now receiving credit of up to Tk 25 lakh from banks and non-bank financial institutions, he said.
The award giving ceremony is expected to be held in May next year, and each winner will get prize money from Tk 1 lakh to Tk 4.50 lakh.
The best agricultural micro-entrepreneur will get Tk 3.5 lakh, the best woman micro-entrepreneur Tk 3.5 lakh, the best micro-entrepreneur Tk 4.5 lakh, the best microfinance institution Tk 3 lakh and the most innovative microfinance institution Tk 4 lakh. Also, the runners-up in agricultural micro-entrepreneur, women micro-entrepreneur and micro-entrepreneur of the year categories will receive Tk 1 lakh as prize money.
The Citi Micro Entrepreneurship Awards is being supported by Citi Foundation, and implemented by Citibank NA Bangladesh and SAJIDA Foundation as local partners, with Credit and Development Forum (CDF) being the strategic partner.
The Daily Star and Channel i have joined this programme as media partners, while Palli Karma-Sahayak Foundation, and Microcredit Regulatory Authority will provide technical support.
Rokia A Rahman, a former adviser to a caretaker government; Rashed Maqsood, Citi country officer for Bangladesh; Zahida Fizza Kabir, executive director of SAJIDA Foundation; and Abdul Awal, executive director of CDF, also attended the press briefing.