China sets new economic growth target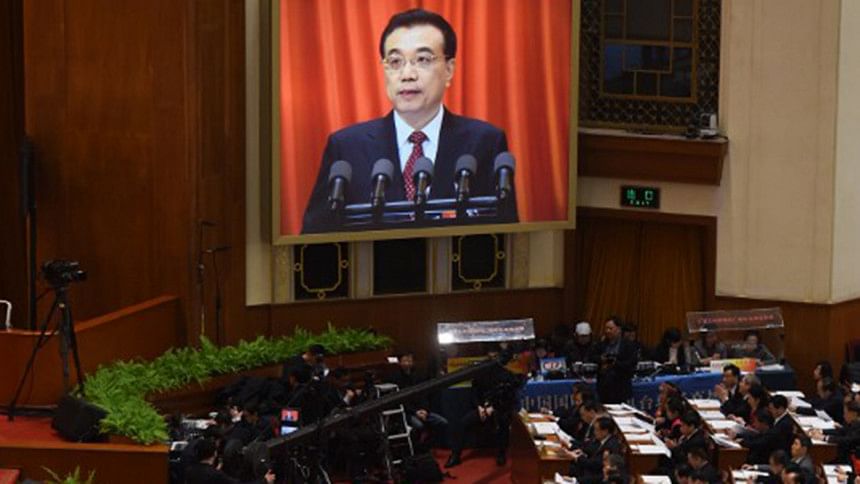 China's National People's Congress has set the country's growth target for 2016 in a range of 6.5 percent -7 percent.
Premier Li Keqiang made the announcement in his opening speech, warning of a "difficult battle" ahead, reports BBC.
The annual meeting in Beijing sets out to determine both the economic and political agenda for the country.
It comes at a time when China struggles with slowing economic growth and a shift away from overreliance on manufacturing and heavy industry.
The party congress is also expected to approve a new five-year plan, a legacy of the communist command economy.
Economic woes
"China will face more and tougher problems and challenges in its development this year, so we must be fully prepared to fight a difficult battle," Mr Li told delegates on Saturday.
Last year, China's goal was "about 7 percent". The economy actually grew by 6.9 percent - the lowest expansion in 25 years.
Mr Li also that China was targeting consumer inflation at "around 3 percent" and unemployment "within 4.5 percent".
Meanwhile, the country's defence spending will be raised by 7.6 percent, the state-run Xinhua news agency reports, citing a budget report.
China's congress is a highly choreographed, largely rubber stamp affair, but Premier Li's opening address can at least be gleaned for clues about the overall direction of policy, the BBC's John Sudworth in Beijing reports.
There was plenty of talk about "painful rebalancing", the need to reform inefficient state owned enterprises and to cut overcapacity - but for many, this speech will look a lot like business as usual: a commitment to growth at all costs, our correspondent adds.
The congress is made up of nearly 3,000 delegates elected by China's provinces, autonomous regions, municipalities and the armed forces. Delegates hold office for five years, and the full congress is convened for one session each year.
This sporadic and unwieldy nature means that real influence lies within a standing committee of about 150 members elected from congress delegates. It meets every couple of months.
In theory, the congress has the powers to change the constitution and make laws. But it is not seen as an independent body in the Western sense of a parliament.