China consortium gets $1.56b contract for Payra power plant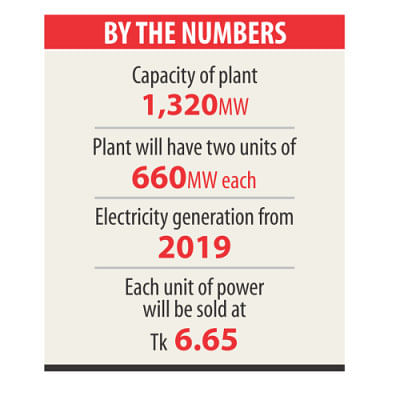 Bangladesh-China Power Company Ltd or BCPCL yesterday signed a $1.56 billion contract with a Chinese consortium for engineering, procurement and construction of a 1,320MW coal-fired power plant in Payra, Patuakhali.
BCPCL is a 50:50 partnership between North-West Power Generation Company of Bangladesh and China National Machinery Import and Export Corporation.
The EPC contractor, which won the contract as the lone bidder, is a consortium of First Northeast Electric Power Engineering Company (NEPC) of China and China National Energy Engineering and Construction Company Ltd (CECC).
The first unit of the power plant, which will have 660MW capacity, is expected to supply electricity by April 2019.
The second unit, which will have the same capacity, will start generation six months later, said AM Khurshedul Alam, managing director of BCPCL.
The contractor will arrange the $1.56 billion fund from the Chinese banking system as credit.
BCPCL is expecting to sell each unit of electricity from the plant at Tk 6.65 to state-run Bangladesh Power Development Board, officials said.
The company estimated the possible price of electricity considering the supply cost of coal up to the project site to be $100 per tonne. The coal will be sourced from Australia, Indonesia or China.
Speaking at the event, Wang Xusheng, president of CMC China, said this would not be the last Chinese investment in Bangladesh.
"We will explore more and more investment opportunities in other areas of the infrastructure sector as well," he added. 
Ma Mingqiang, Chinese ambassador in Dhaka, said more Chinese businesses would come to Bangladesh not just as contractors but as investors as well.
Nasrul Hamid, state minister for power, energy and mineral resources, said at least $40 billion of investment will be required in the power sector by 2030.  "We would offload shares of the successful power projects in the international financial market to raise funds," he said.
Finance Minister AMA Muhith said Bangladesh is a "very good" destination for investment.
Dipak Kumar Dhali, company secretary of BCPCL, Cai Ming, president of NEPC, and Chen Yuyu, president of CECC, signed the agreement at an event at the Radisson hotel in Dhaka.
Tawfiq-e-Elahi Chowdhury, the prime minister's energy adviser; Md Tajul Islam, chairman of the parliamentary standing committee on the energy ministry; Md Abul Kalam Azad, principal secretary to the Prime Minister's Office; Monowar Islam, power division secretary; and Nazimuddin Chowdhury, energy division secretary, were also present.