KSA agrees to setup Bangladeshi fertiliser plant in the Kingdom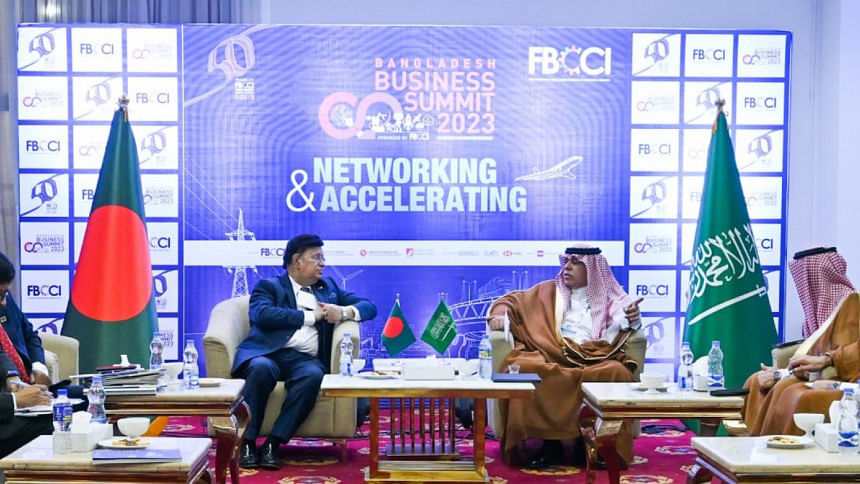 Saudi Arabia has agreed to Bangladesh's proposal of setting up a fertiliser factory under a joint initiative in the Kingdom, said Foreign Minister AK Abdul Momen after a meeting with Saudi Commerce Minister Dr Majid bin Abdullah Al-kassabi.
"We want to invest in a fertiliser factory [in Saudi Arabia]. The production cost will be low and we can benefit from that. They have agreed [to the proposal]," he told reporters after a bilateral meeting with the Saudi minister today.
Saudi Commerce Minister Al-kassabi is in Dhaka to attend the Bangladesh Business Summit inaugurated today at the Bangabandhu International Conference Center (BICC) in the city.
The development comes when Bangladesh is seeking ensured supplies of fertiliser, energy, and food commodities, taking lessons from the supply chain disruptions caused by the Russia-Ukraine war and previously the Covid-19 pandemic.
On February 15 last year, Bangladesh Chemical Industries Corporation and Hanwha Saudi Contracting Company signed a memorandum for a feasibility study on setting up a diammonium phosphate (DAP) fertiliser plant in Saudi Arabia.
This is the first Bangladeshi government initiative to set up an industrial plant on foreign soil.
The plant to be co-owned by the two countries will help meet fertiliser demand in Bangladesh, which needs 1.6 million tonnes of DAP a year.
Bangladesh is also in talks with Saudi Arabia on setting up a urea fertiliser factory as the kingdom has a huge supply of raw materials and funds to invest.
The issue was discussed when Prime Minister Sheikh Hasina's Private Industry and Investment Adviser Salman F Rahman held a meeting with Saudi Commerce Minister Dr Majid bin Abdullah Al-kassabi and Saudi Basic Industries Corporation CEO Yousef Abdullah Al-Benyan in early March this year.
Talking to journalists today, Momen said Bangladesh has now stability and is focusing on foreign investments and creating jobs for the people.
The government has created institutions like Bangladesh Investment Development Authority and Bangladesh Economic Zone Authority, he added.
"We are also asking the foreign investors to invest in Bangladesh. This is a 170 million people's market. The production cost is low here as we have an affordable, hardworking and skilled workforce."
Momen further said foreigners are also showing interest in Bangladesh.
During his visit to Bangladesh last month, South Korean Special Presidential Envoy for "Future Strategy" Jang Sung Min said they wanted to invest $100 billion in Bangladesh.
Some projects by Saudi authorities are already underway including one in Patenga, Chattogram as Bangladesh provided land to them.
"We wanted them to invest in a major project. We offered a special economic zone in Chattogram. They will start working soon," Momen said.
Saudi Arabia wants to invest in energy, ports and airports, he said.