Brand Forum recognises 73 commercial campaigns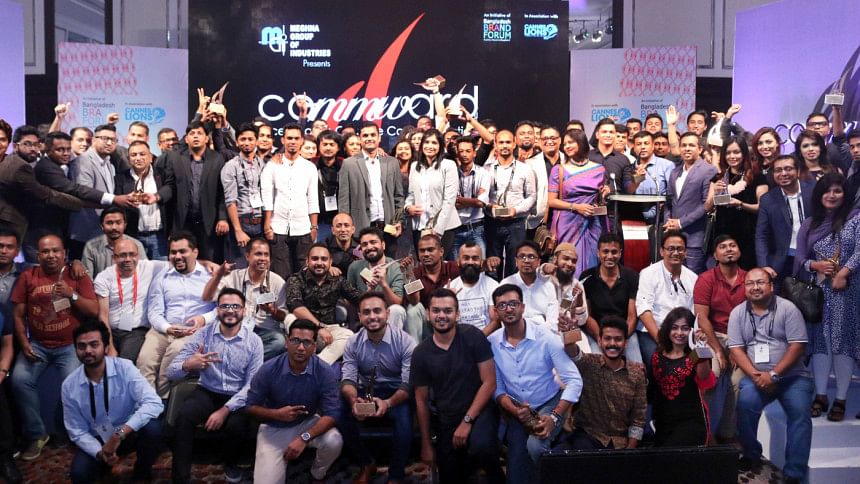 A total of 73 creative commercial campaigns won communication award COMMWARD this year in recognition of their creative communication methods in marketing and branding businesses.
Bangladesh Brand Forum (BBF) honoured the winners in 17 categories at the seventh edition of "COMMWARD: Excellence in Creative Communication" at hotel Le Méridien Dhaka on Saturday.
The awards were of three types -- Grand Prix, which is the highest accolade, and Gold and Silver. Of the campaigns, 17 won Grand Prix, 37 Gold and 19 Silver.
This year, 355 nominations were received from 43 agencies, production houses and creative departments of various organisations, said BBF in a statement yesterday.
A daylong jury session, comprising leading marketers and communication experts of the country, was held to evaluate and select the winners.
Before the gala award session, a daylong summit was also held at the same event where analysts said innovative ideas and technology can jointly give a new meaning to branding and marketing.
Local experts as well as international specialists attended the summit. They organised two workshops on the sidelines of the event.
Last year COMMWARD had 25 award categories. This time 11 categories were eliminated and three categories were added following discussions among industry experts.
The newly added categories are public relations, best use of idea and best campaign by a new agency -- something that gave new and emerging agencies the scope to showcase their potential.
Among the campaigns, "Grameenphone – Ekattorer Kotha" won three awards, the highest for a campaign.
The Grand Prix in the "best use of idea" category was presented to Grey Advertising Bangladesh Ltd.
The remaining two were Gold, one presented again to Grey in "RDC" category and another to Half Stop Down Ltd in "Direction for TVC Video" category. Grey won four Grand Prix, Bitopi Advertising Ltd three and Mediacom Ltd two.
Other agencies which won Grand Prix include MACOMM, Asiatic MCL/Asiatic 3Sixty, Red Rocket Ltd, Magnito Digital Ltd, Facecard, Asiatic Mindshare Ltd/Asiatic 3Sixty, Adcomm Ltd, Masthead PR and Mediacom Ltd.
The award ceremony was attended by around 500 professionals from the business organisations and marketing and creative agencies. COMMWARD is an initiative of Bangladesh Brand Forum which has been recognising advertising in business and marketing since 2009.
Organised in association with Cannes Lions and The Daily Star, this year's award was presented by Meghna Group of Industries, Marketers Society of Bangladesh, television channel GTV, IT firm aamra, Masthead PR, digital and social media marketing agency WebAble Digital, and photography agency Aatosh.
The event was also supported by Rangs Toshiba, Le Méridien Dhaka, Roaring Lions, MSB, Eithad Airways, Advanced Development Technologies, Ekattor TV, Radio Today, Fireflame Media and Torun.