Banks' profits rise on small loans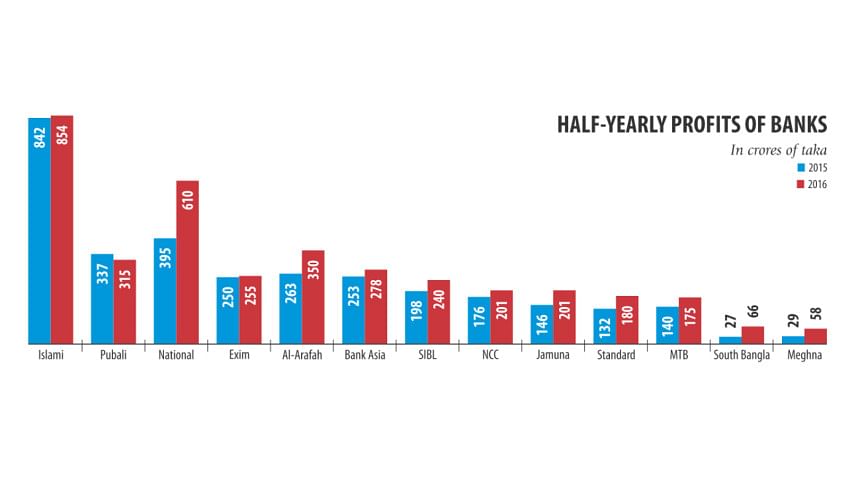 Most private banks saw their operating profits rise in the first six months of the year riding on returns from small and medium-sized loans as well as commercial imports. 
Bankers also gave credit to the relative political calm, which allowed businesses to borrow money from the banking system and invest.
Islami Bank Bangladesh, the largest private bank, made an operating profit of Tk 854 crore in the first half of 2016, in contrast to Tk 842 crore a year earlier, according to preliminary statistics from different banks.
National Bank clocked up Tk 610 crore in profits against Tk 395 crore in the January-June period of last year.
Lending to small- and medium-sized enterprises and housing went up compared to large loans, which increased the banking sector's profits, said Nurul Amin, managing director of Meghna Bank.
"Besides, in the absence of political unrest businesspeople are making new investments," he added.
In the last one year, private sector credit growth got a boost. At the end of May, private sector credit growth stood at 16.4 percent. It was 13.19 percent in June last year.
Private bankers said the central bank's monetary policy statement signalled the banks to increase their lending.
As a result, the private sector credit growth beat the target set by the Bangladesh Bank for the fiscal year one month ahead.
In January, the monetary statement set the private sector credit growth target at 14.8 percent. The BB announced policy rate cuts of 50 basis points as a push to the economy.
"This is an investment-stimulating monetary policy," the BB said. The cut in the policy rate helps the commercial banks get money at a cheaper rate in the event of a fund shortfall.
Meanwhile, imports grew 5.22 percent in the July-May period, but commercial imports went up by a staggering 14.98 percent, which was 8.70 percent in the same period last year.
Banks make a significant amount of profits from their lending to importers bringing in consumer goods.
But Amin said imports grew in terms of volume but not in value. It was low in value, thanks to low inflation.
"As a result, banks' profits from import financing have not gone down," he said.
SME loans went up by more than Tk 4,000 crore in the first quarter of 2016.
Banks lent Tk 32,518 crore to SMEs in the January-March period, according to central bank statistics. 
Bankers said the cut in lending rates could not hit their profits as the deposit rates also went down.