Banks' operating profits soar despite challenges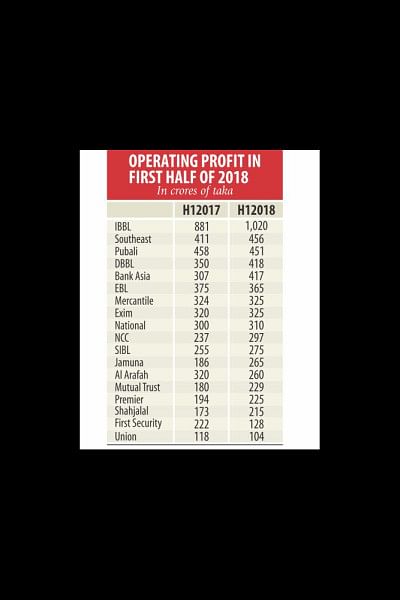 Most of the private banks registered higher operating profits in the first half of the year in spite of a number of challenges, including liquidity crisis and interest rate hike.
The figure, however, is provisional as the operating profit is a profit from business operations before deduction of provisioning against loans and corporate taxes.
The Daily Star obtained data of 18 banks' operating profits; 14 posted growth in operating profits ranging from 5 percent to 36 percent.
"This development is of great comfort to the banking sector," said a high official of the Bangladesh Bank.
The majority of the banks have widened their respective balance sheets, which reflected in the higher operating profit numbers, said Md Arfan Ali, managing director of Bank Asia, whose operating profit surged the most, 36 percent.
Private sector credit growth maintained a satisfactory trend in recent months, which allowed banks to log in a handsome amount of operating profit, he said.
Another reason for the rise in operating profits is the acceleration of implementation of mega infrastructural projects.
"The banks have enjoyed a hefty amount of charges and commissions against the guarantee they offered to contractors," said Ali.
He said the opening and settlement of letters of credit have registered huge growth in recent months.
"The leap in most banks' operating profits suggests the sector performed well in the first half of 2018," said M Kamal Hossain, managing director of Southeast Bank, which logged in 11 percent growth in profit.
But he fears the trend might not continue in the second half because of lower interest spread.
From July 1, banks have started to lower the interest rates to single digits on loans and deposits in line with the decision of the Bangladesh Association of Banks, a forum of bank directors.
Banks will have to bring down the interest rates for lending and deposit to 9 percent and 6 percent respectively, meaning that the interest spread will come down to 3 percent from the 5 percent limit set by the central bank.
"Non-performing loans are increasing, which will also have an adverse impact on the banks' operating profit," Hossain added. The rising operating profit is not the true picture of the banking sector, said Syed Mahbubur Rahman, managing director of Dhaka Bank.
The actual profit figures would change significantly after accounting for provisioning and tax, said Rahman, also the chairman of the Association of Bankers, Bangladesh.