Loan to women entrepreneurs made mandatory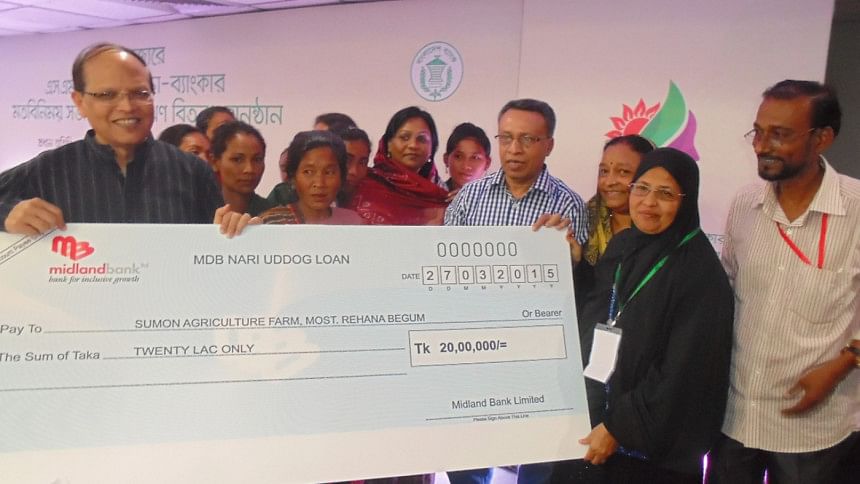 All commercial banks and non-banking financial institutions (NBFIs) will have to provide a minimum of Tk 50,000 as loan to at least a woman entrepreneur each year to expedite the ongoing financial inclusion programmes in Bangladesh.
"We'll able to create nearly 10,000 women entrepreneurs every year if the initiative continues," Bangladesh Bank Governor Dr Rahman said while announcing the unique scheme today afternoon.
He was addressing a view exchange meeting between bankers' and SME women entrepreneurs in Cox's Bazaar.
A total of 9228 branches of all banks and NBFIs will provide the loans to women entrepreneurs across the country.
The BB governor also asked the banks and NBFIs to expedite the implementation of ongoing financial inclusion programmes across the country through strengthening financing in SME entrepreneurs, particularly the women.
The central bank chief hoped that with the initiative, the small women entrepreneurs will turn into middle ones gradually.
He also said the BB has not only created separate units managed by women officials for women entrepreneurship development but also directed all the banks and NBFIs to have similar units.
As a result, thousands of women entrepreneurs are having access to finance in different clusters.
Besides, the central bank of Bangladesh has taken special policy measures and opened refinance windows to facilitate the development of women empowerment in various sectors.
Describing various initiatives, taken by the BB, in the last five years, the governor said: "We want women empowerment for achieving balanced and gender friendly economic growth in Bangladesh."
Dr Rahman also said, "Our women entrepreneurs have already earned fame that has also been lauded by a British Member of Parliament recently."
Rt Hon Caroline Spelman, the member of parliament (MP) for Meriden Constituency in the West Midlands, United Kingdom, mentioned the success of mobile banking for garment workers in Bangladesh during a debate on the eve of International Women's Day 2015 in the British Parliament on March 5.
"If we are able to sustain the progress of the women empowerment, then we will be recognised by the whole world," the BB governor noted.
Besides, Alliance for Financial Inclusion (AFI) has already awarded the BB for its policy contribution towards reaching out to mass peoples' doorstep with mobile financial services, the governor added.
Among others, Executive Directors of the central bank M Mahfuzur Rahman, Mizanur Rahman Jodder and Nirmal Chandra Bhakta also spoke on the occasion.
Nearly 1,000 women entrepreneurs, senior officials and executives of all commercial banks took part in the conference in the beach city of Bangladesh.