More troubles ahead for taka
StanChart says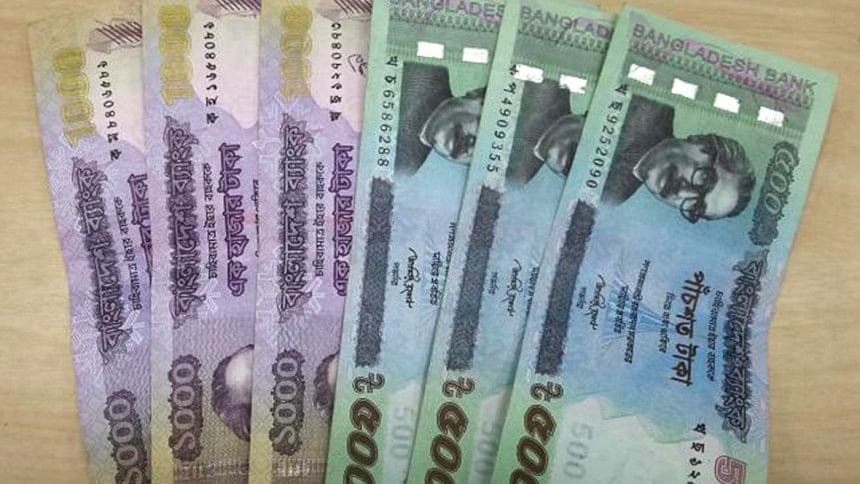 Bangladesh taka will come under pressure against the US dollar because of the widening deficit in the balance of payments, said Standard Chartered bank yesterday.
The country received $5.7 billion as medium and long-term foreign debt in fiscal 2017-18 against $3.2 billion a year earlier, said Saurav Anand, research analyst of Standard Chartered's South Asia macroeconomics department.
"This will put pressure on the exchange rate," he said at an event styled on 'Global research briefing: 2019 global outlook – fighting the current'.
The taka-dollar exchange rate was Tk 84.12 on Sunday, up from Tk 82.92 a year earlier, according to data from the Bangladesh Bank.
The country's external balance stood at $513 million in the negative in the first half of the fiscal year, which was $354 million in the negative of during the same period a year earlier, according to data from the central bank.
The import of capital goods would continue in the days ahead to fulfil the growing demand for infrastructural projects, said Divya Devesh, head of ASEAN and South-Asia FX research of global research team of StanChart.
"The higher import payments against the lower export earnings have created a deficit in the current account," he said, adding that a pick-up in remittance is providing some cushion.
But, Bangladesh has to attract foreign direct investment and maintain an ample foreign exchange reserves to minimise the balance of payments deficit, Devesh said.
Bangladesh's GDP growth this fiscal year maybe 7.2 percent, which is lower than the government's projection of 7.8 percent, Anand said. Slowdown in global economic activities and hiccups in economic activities that usually take place on an election year are the main reasons for the lower GDP growth projection.
"This could lead to a loss in growth momentum," he said, adding that the situation this time is different though.
The country should maintain 14 to 15 percent private sector credit growth to ensure its sustainable GDP growth.
He also called for strengthening the banking sector's corporate governance to check the mounting non-performing loans (NPLs).
"The high NPL ratio is also accountable for the higher interest rate on lending than what is desirable," he said, while also calling for an increase in deposit growth.
As of 2018, deposit growth stood at 9 percent.
In a positive development for Bangladesh, companies might divert their investment from China because of its existing trade tension with the US, said David Mann, global chief economist of Standard Chartered.
"South Asian countries will eventually benefit from the scenario."
Subsequently, he called for enhancing the human capital, physical infrastructure and the ease of doing business to make the business environment more vibrant.