Home loans rise on falling interest: study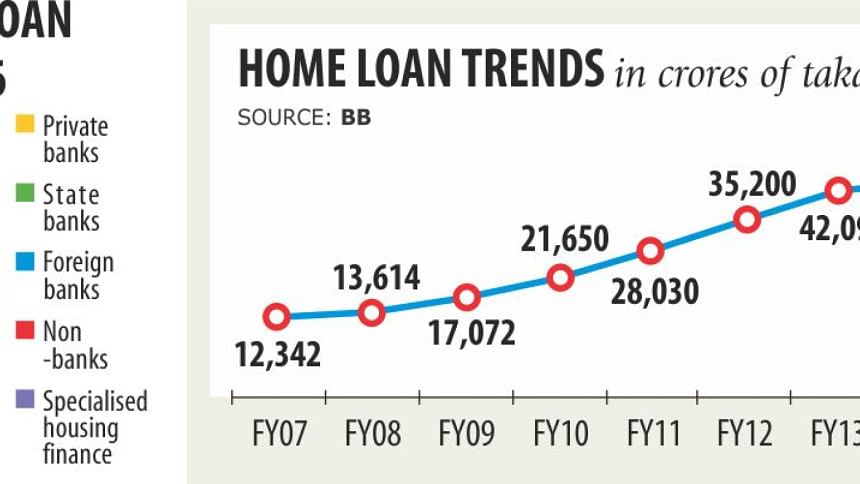 Bangladesh's banking sector has been seeing a surge in home loans for the last two years due to single digit interest rate and an increase in per capita income.
As of June last year, total outstanding home loans from banks and financial institutions stood at Tk 56,290 crore, which was 9.1 percent of total credit to the private sector, according to a study.
Mohiuddin Siddique, professor and director of Bangladesh Institute of Bank Management, presented the research paper titled "Home Loan of Banks: Trend and Impact" at a roundtable held yesterday at the BIBM auditorium in Dhaka.
Default loans in home loan are low due to good recovery: it was 3.12 percent in 2016.
Of the total outstanding home loans, private commercial banks provided the largest portion of 55 percent, or Tk 30,920 crore, followed by the state-owned banks at Tk 11,930 crore.
Intense competition among banks in attracting home loan borrowers pushed down the interest rate, the study said.
The interest rate for home loan is a minimum of 8 percent and a maximum of 15 percent. The loans ranged between Tk 2 lakh and Tk 1.2 crore.
The minimum debt-equity ratio spanned between 10:90 and 50:50. Most of the banks provide loan at debt-equity ratio of 30:70 for locals and 50:50 for expatriates.
Moreover, a home loan is relatively safe for a bank in comparison to a business-focused loan, according to the research findings.
Though home loan disbursement increased, it is concentrated in urban areas of Dhaka and Chittagong. Of the total home loans disbursed in 2016, 83 percent were in urban areas, according to the study.
The study found that the largest portion of home loans in 2016 were for construction: 66 percent. Flat purchase accounted for the other 34 percent.
The high interest rate is still a constraint for home loans, said Abrar A Anwar, chief executive officer of Standard Chartered Bangladesh, adding that the interest rate should be brought down more to make home loans more affordable.
He also suggested developing a bond market to collect funds for long-term financing like home loan. 
The government should reduce the registration cost to make the housing market more vibrant, said Helal Ahmed Chowdhury, supernumerary professor of BIBM.
He also said the provisioning requirement for banks against home loans should be brought down to 1 percent from existing 2 percent to create a level playing field as non-bank financial institutions maintain 1 percent provision.
The availability of low-cost loans with long-term tenure will make it easier for the middle-class to purchase flats, said Chowdhury, also an independent director of Islami Bank.
Yasin Ali, supernumerary professor of BIBM, said the limit on bank's home loan exposure of 10 percent of net consumer advances should be relaxed to reduce the gap in demand and supply.
"Increased home ownership is the real addition to national wealth," he added.
Toufic Ahmad Choudhury, director general of BIBM, chaired the discussion. SK Sur Chowdhury, deputy governor of Bangladesh Bank, was also present.