New payment app Dmoney launched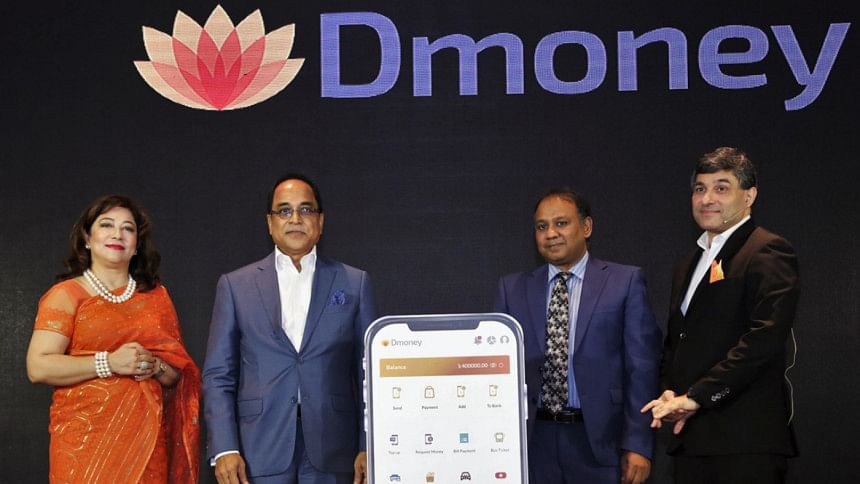 Local financial technology service provider Dmoney today announced its commercial operation aiming to create a solid position of the digital financial service in the country.

Dmoney, latest digital payment app, was launched in a press conference at the Westin Hotel in Dhaka.

Dmoney promises to cater not only to the digital payment requirements of the users but also seamlessly integrates users with latest lifestyle and financial services, the company said.

Users can easily open an account from their smartphones and connect Dmoney app with their bank accounts. Consumer can also bring money to Dmoney account from any debit card or credit card. Apart from sending and receiving money- Dmoney has a range of lifestyle services available within app, such as mobile top-up, bill payment, ticketing, foods, insurance, health and many more on-demand and basic day to day services of any person's daily necessity.

The app is available for download in both app store and Google play store.

Users will also get different touch points to pay bills through QR code and online gateway.  Currently, they are accepting about 2,500 offline and online stores.

Moreover, customers of multiple leading banks of Bangladesh- including One Bank, Trust Bank and Al Arafah Islami Bank will be a part of Dmoney's QR alliance.

In the program Dmoney has share their plan to grow its QR payment touch points to 100,000 by year 2020.

The company has obtained Payment Service Provider (PSP) license from Bangladesh Bank earlier in January this year.

On this occasion Chairman of Dmoney Anjan Chowdhury said rapid economic growth and digitization of the country is happening and that development inspires them to do more for the people of the country, especially the underserved.

"We have come up with a technology platform that will further accelerate the advancement of the people. This is an extremely proud moment for us Bangladeshis."

Sonia Bashir Kabir looks at technology as a problem-solver. The real problem to solve is the challenge of building an "ecosystem" around homes, small and medium businesses and offers them all the products and services they need to operate effectively with productivity and succeed in their endeavors.
Aref Bashir, the Managing Director and co-founder of Dmoney, a Silicon Valley tech veteran, said, "Dmoney is a full service Digital Payments Platform and Lifestyle app. The platform serves as an ecosystem builder as Dmoney believes it is through Technology and partnerships with stakeholders that we can break the cash to digital barriers."
"The app offers a rich set of services both lifestyle and payments and is scalable and extensible so it can grow richer week to week. We live in a mostly cash economy and Dmoney seeks to contribute to the digital transformative changes -  with ease of use security and rich services that meet user needs. This includes onboarding and digitizing merchants with QR to ease payment frictions," he said.
"Dmoney was built in Bangladesh by a talented team of engineers. We are very excited and proud to start operations and very optimistic about the market and the adoption," Aref Bashir also said.
Md Mezbaul Haque, general manager of Payment Systems Department at Bangladesh Bank, was also present at the programme.
Recently Dmoney Bangladesh Ltd has been named in the "10 Most Convenient Wallets to Watch in 2019" by APAC Business Headlines, a Hong Kong-based publishing house and become the only wallet from South Asia to make it to the top 10 position.