Bangladeshis pay highest migration costs worldwide: WB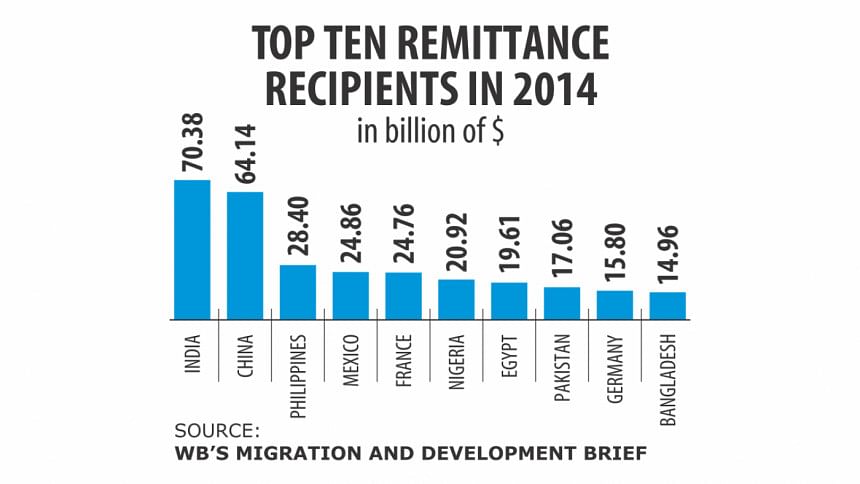 Bangladeshi migrant workers pay the highest recruitment costs in the world, the World Bank said in a report.
Citing a recent survey by the Global Knowledge Partnership on Migration and Development, the WB said worker-paid recruitment costs averaged $1,955 in Kuwait with the Bangladeshis paying the highest, ranging between $1,675 and $5,154.
Almost 10 million people use regular channels to migrate in search of employment every year. A large number of them pay illegal recruitment fees to recruitment agents.
"Recruitment costs paid by migrant workers to recruitment agents, on top of the fees paid by the employers, are a major drain on poor migrants' incomes and remittance," according to the Migration and Development Brief released in Washington recently.
A 2009 Bangladesh Household Remittance Survey conducted by the International Organisation for Migration found that more than half of the migrants paid over $2,000 in recruitment fees. Fees paid to smugglers for crossing international borders, a reasonable proxy for the black market recruitment fees, tend to be even more exorbitant.
For example, according to the European Union, smuggling fees to Europe ranged from $5,000 in the case of Vietnamese workers to more than $15,000 for Bangladeshi workers in 2013.
On top of these direct fees paid to recruitment agents, migrant workers are often subject to usurious interest rates of over 50 percent on loans taken to cover the costs of migration, the study said.
Recruitment agents are also often reported to offer bribes to the employing company personnel, with amounts ranging between $300 and $1,000 per worker and these costs are recovered from the workers.
The study also predicted that growth in global remittance, including developing countries, will slow sharply this year due to weak economic growth in Europe, deterioration of the Russian economy and the depreciation of the euro and ruble.
The South Asia region is projected to receive $120 billion in remittance in 2015, at a slower growth pace of 3.7 percent, compared to 4.5 percent the previous year.
Large scale construction activities and fiscal expansion in the Gulf Cooperation Council countries, which account for 60 percent of remittance to South Asia, and improving economic prospects in the US will continue to support inflows to the region.
Partly due to the appreciation of the rupee, growth in remittance to India, the world's largest recipient, slowed to 0.6 percent in 2014 (from 1.7 percent in 2013), amounting to $70 billion. In contrast, remittance soared to Pakistan (by 16.6 percent), Sri Lanka (9.6 percent) and Bangladesh (8 percent), it said.
Remittance is extremely important for several countries in the region: in Pakistan, Sri Lanka, Nepal and Bangladesh, remittance exceeded 6 percent of GDP in 2013, according to the latest available data. Growth in remittance to the region is expected to pick up to $126 billion in 2016 and $132 billion in 2017.
In Bangladesh, some 108,709 people found jobs abroad in the three months to March against 96,088 in the same period last year, government data shows. In March, overseas employment rose about 36 percent from the same month a year ago.
Officially recorded remittance to the developing world is expected to reach $440 billion in 2015, an increase of 0.9 percent over the previous year. Global remittance, including those to high income countries, is projected to grow by 0.4 percent to $586 billion.
The 2015 remittance growth rates are the slowest since the global financial crisis in 2008-09. Nonetheless, the number of international migrants is expected to exceed 250 million in 2015, and their savings and remittance are expected to continue to grow. 
The slowdown in the growth of remittance this year will affect most developing regions, in particular Europe and Central Asia where flows are expected to decline by 12.7 percent in 2015.
In line with expected global economic recovery next year, the global flow of remittance is expected to accelerate by 4.1 percent in 2016, to reach an estimated $610 billion, rising to $636 billion in 2017. Remittance flows to developing countries are expected to recover in 2016 to reach $459 billion, rising to $479 billion in 2017.
"Total remittance in 2014 reached $583 billion. This is more than double the ODA (oversees development assistance) in the world," said Kaushik Basu, chief economist and senior vice president of the World Bank.
The report estimates that as much as $100 billion in migrant savings could be raised annually by developing countries by reducing remittance costs and migrant recruitment costs, and mobilising diaspora savings and philanthropic contributions from migrants.
"The moderation in the growth of remittance will be hard on many poor people. The affected countries may have to consider creative ways of smoothing the shock. Fortunately, migration and remittance can be leveraged for innovative financing," said Dilip Ratha, head of the Global Knowledge Partnership on Migration and Development.