Dhaka to get 40-storey skyscraper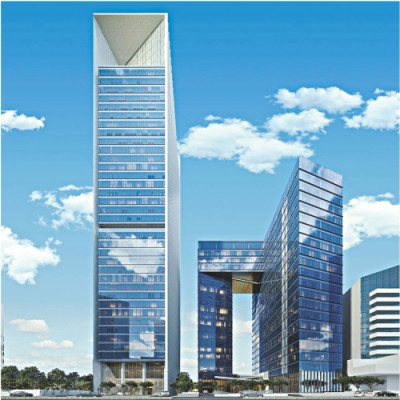 A skyscraper much like those in high-flying Singapore, Hong Kong, Mumbai and Malaysia is on way to radiate exuberance over the Dhaka skyline within three years.  
The 40-story Pinnacle, set to be the country's tallest building, is being constructed on 45 kathas of land on Bir Uttam Mir Shawkat Road, also known as the Tejgaon-Gulshan link road, by Shanta Holdings, a leading developer.
Rajdhani Unnayan Kartripakkha (Rajuk) approved the project in September 2018 and the construction started in November 2019. It is scheduled to be complete by December 2022.
Shehab Ahmed, the company's general manager, refrained from disclosing the cost to The Daily Star, saying their emphasis was on erecting an iconic beauty of quality that brings pride for Dhaka and served as a unique commercial district.
"We want to present Bangladesh in a different way ensuring world-class office environments which will draw foreign businesspersons into coming over for visits,'' he said.
Claiming it to be the city's first wind tunnel tested building, he said the top floor would be allotted to restaurants so that the surrounding views can be enjoyed by the public.
Any individual or corporate house be it a bank, multinational company or international organisation can avail space in Pinnacle, which will provide a welcoming environment alongside proper security.
Standard office heights are around 10 feet but the skyscraper's ones will be a spacious 11.5 feet with each floor having 14,500 square feet, which can also be availed in segments of 4,000, 5,035 and 7,250 square feet.
The building will be able to accommodate at least 12,000 people at a time.
The outer structure will comprise imported glasses capable of reflecting ultraviolet rays while there will be seven high-speed elevators and one service or firemen's elevator.
There will be five basements with a capacity for 340 cars to park at a time, each equipped with ventilation systems, prayer spaces, waiting rooms with entertainment and toilets for drivers.
The parking space will not only be for those housed inside but also for guests and outsiders.